How to (and why you should) leave reviews on the Google Play Store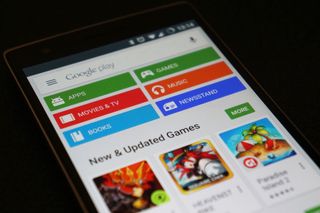 When you write a review in the Google Play Store, keep in mind that you're writing for three separate audiences — the app developer, other Android users, and Google Play itself.
While every app developer would love to just receive an endless stream of 5-star reviews, they should also value feedback such as what you liked and didn't like about the app, along with any constructive feedback on issues you had playing the game or using the app. This will help them improve the experience in future updates.
Sensible users will always check the reviews on an app before downloading just to see what the community consensus is. Every app review you publish in the Google Play Store is publicly linked to your account, so make 'em count. Last but not least by reviewing apps and games you're telling Google Play what you like, so it can recommend other content you'll enjoy.
Yes, this may seem like an obvious subject but I've found that it's all too easy to ignore those in-app reminders to leave a review, and it's in everyone's best interest for there to be more, high-quality reviews in the Google Play Store
How to review an app in the Google Play Store
Launch the Google Play Store app on your phone.
Tap the menu icon in the top-right corner.
Tap My Apps and Games.
Tap the Installed tab to see the apps on your phone.
Scroll down and find an app you're ready to review.
Scroll down until you see the rate this app section
Leave your overall star rating to begin your review.
If you're reviewing a game, you'll be asked to give a star-rating for graphics, gameplay and controls. For other apps, you'll be asked to confirm select features for the type of app
The last step is to leave a written review. This is arguably the most important step, as leaving a 3-star review with no reason as to why you didn't like it doesn't help anyone.
You can also follow the same steps to go back in and edit an older review of an app if you feel the need to update your review after a major app update — simply browse to the app page in the Google Play Store app and tap the menu button next to your review to edit. Don't forget this option if a good game goes bad after an update, or a bad app is significantly improved by the developers.
👍/👎
Do you leave reviews for the apps you download? Let us know in the comments below!
Get the Android Central Newsletter
Instant access to breaking news, the hottest reviews, great deals and helpful tips.
Marc Lagace was an Apps and Games Editor at Android Central between 2016 and 2020. You can reach out to him on Twitter [@spacelagace.
Yeah I do. Its also the best way to learn if a dev is committed to their games(when a dev reply with an obvious scripted reply vs someone who actually address your review particularly for bug reports).

Thanks for the article. I always read reviews before I download an app. And, most importantly, I leave a written review of the app.

I'm not good about leaving them mostly because I don't like them linked to my Google account. My pet peeve is when you get some type of incentive to leave a review

Perspective from an app developer - it's always great to get a well-written review that asks for features or fixes, the reality is, most users do 2 things poorly: 1) Leave a review that complains but doesn't give actionable feedback. "Doesn't work" isn't something I can work with. What doesn't work? How can I fix that? 2) Don't respond when I reply to your review, asking for more details. The net result is a drop in my apps' rating, but I can't do anything about it, and sometimes, if I do fix the issue, the effect of the negative review is still there. I'd much prefer that if you have a problem with the app, either a feature you think is missing, or something's not working well, start by trying to contact the developer directly. The Play Store listing usually has a website or email link for the developer. And most apps (mine included) have a feedback or help link - use it! And please, please, please; respond to the developer if they ask for more info. Doing this prevents a minor, fixable issue from permanently hurting the app's ratings, and ratings affects downloads for many of us.

Exactly right and to the point. I posted your reply on my app console cause this is what I also face with the users. I think that Google should use a two way review to let users post. In case of a review rating of 1-3 stars, that the user has use the contact email of the developer before posting his review. If there is no reply from the developer in a logical time (let's say 2 weeks) then the review will be marked also with a red 1 star from Google too - That is to make sure that the developer is also there for his users and in case of let's say 10 red stars, there will be a warning of ending up the app's presence in the Play Store.
After contacting was made with the developer and the problem still persists after a 3-6 months period (?), then the ( 1-3 stars) rating should be visible to the public.
If the problem is solved then Google should respond to the user's review informing him that the issue is no longer an issue and if he wants to check again and give a new review.
This will ensure that all engaged parts will take actions on the right direction (Users - Developers - Google Play) and there will be a right way to post reviews and handle them.

Leaving reviews that say nothing is pointless, but so many do so. I echo the comments about "doesn't work". Even more annoying is when there is a clear statement in the description that says (for example) an app needs a particular version of Android and their phone doesn't have it!
I try to email comments to developers too, but so often the email bounces because the address is invalid - even big corporations.

Very interesting and informative post. I'm agree with your point of view as you mention in 2nd paragraph.