Hearthstone to pick up new game mode and customization options in upcoming patch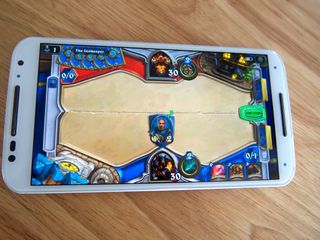 If you're a big fan of Blizzard's digital card game, Hearthstone, you'll be happy to know some big changes are coming. Perhaps the most notable of these changes is the addition of a new game mode called "Tavern Brawl," which is a repeating, temporary event that adds some unique flavor to matches. Here's how Blizzard describes it:
Tavern Brawls will be available to players that have at least one level 20 hero, and will run as temporary in-game events with different rule sets each time a new one starts.
Aside from the new game mode, Hearthstone is also set to pick up some new customization options that should be welcome from players. In an upcoming update, Blizzard is adding the first new hero since the game launched, the Dwarven warrior king, Magni Bronzebeard. Blizzard is quick to note that new heroes are for flavor only; meaning that it's a visual change only and hero powers will stay the same for each class. In addition, the company teased some upcoming heroes with silhouetted portraits for both the Hunter (Sylvanas? Alleria?) and Mage classes.
Finally, in the upcoming update, players will be able to assign custom card backs to specific decks, taking deck customization a bit further.
Blizzard says that these changes will come in patch 2.7, but the company didn't give a timeline for release. However, all things said, this looks to be a pretty awesome patch for us Hearthstone fans.
Source: Blizzard
Android Central Newsletter
Get instant access to breaking news, the hottest reviews, great deals and helpful tips
Excellent news. The only thing that I don't like about this game is the pricing models which to me seems horrendous. But, enough questing and everything you want will be available to you. I was hoping I would eventually have control over the back of the deck so that I don't get the latest one automatically that I can't change. The brawl stuff sounds pretty nice. I wonder how much effort they will continue to put into this one, cause I could see myself playing it for some time...but...only if they can keep pace with releases. I need new packs and instances opening bi-monthly or so. They haven't seemed to be keeping pace with pack distributions.

They do let you control the card back style. Its somewhere in the settings.

It's awesome seeing all the hearthstone related articles in AC. One of my all time favorite games to play on my phone and pc! Stoked for the new play mode, and will definitely be getting the alt heroes as they are released. I don't play warrior much, but getting stomped again and again by these grim patron decks i keep playing against almost makes me want to start playing it myself. The card backs got a sort of "ehh" response from me, since it literally takes just a couple clicks and 2 seconds to switch backs, but I suppose for lazy people it's a welcome addition. Can't wait for this patch to start a tavern brawl! EVERYONE! GET IN HERE!! -Grim Patron Sent from my Phabulous Note 4

I have been playing for a week. Having fun so far. The game is very approachable, but complicated enough to keep it interesting. I have been tempted to put money into cards, but trying to really see if I am going to play long term before I do. Posted via the Android Central App

Since this game is related to world of warcraft, I'm wondering if they will add the monk class.

Blizzard has said that they're not planning on adding any new classes and I believe them.

Too bad this game is a steaming heap of elephant shit. It's like poker without the skill and double the required amount of rng to win. It's a game that Blizzjew has cleverly marketed to capitalize on the "pay to win" mantra while making it seem like it caters to casual players

Tell us how you really feel.

You obviously don't play that much to know your statement is completely false.

The devs at Blizzards are some real brilliant minded guys... the game is fabulous.
One complaint would be that some sort of incentives to those who actually buy in-game purchases (like myself) should be rewarded a bit more than those who just do quest and buy stuff with golds.
Maybe some gold prizes if you buy card packs with $$$?
Anyhow, great game and Blizzard doing a good job at taking my pocket changes every day.
Android Central Newsletter
Get instant access to breaking news, the hottest reviews, great deals and helpful tips
Thank you for signing up to Android Central. You will receive a verification email shortly.
There was a problem. Please refresh the page and try again.