Have you given up on third-party launchers?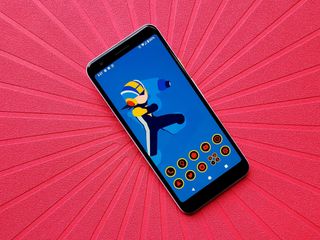 (Image credit: Ara Wagoner / Android Central)
In the world of Android customization, one of the best ways to change the entire look and feel of your phone is with a third-party launcher. Whether it be Action Launcher, Nova Launcher, Smart Launcher, or anything else in between, these apps make it easy to give your home screen a complete makeover with more fine-tuned controls than you get out of the box.
Third-party launchers can be a ton of fun, but ever since Android shifted towards gesture-based navigation, launchers have suffered in the process. The experience tends to be jankier than in years past, some phones work better with third-party launchers than others, and it's all just kind of a mess.
Some of our AC forum members recently started talking about the state of launchers in 2020, saying:
What about you? Have you given up on third-party launchers?
Get the Android Central Newsletter
Instant access to breaking news, the hottest reviews, great deals and helpful tips.
Joe Maring was a Senior Editor for Android Central between 2017 and 2021. You can reach him on Twitter at @JoeMaring1.
Nope, I bounce back and forth occasionally. But for the most part I'm a dedicated Nova prime user. Even somewhat customizable stock launchers like the OnePlus launcher I still find limiting compared to Nova. Full disclosure, I hate gestures. So not supporting gestures doesn't bother me at all lol.
Give me my buttons, they are more precise and much faster to use.
Anything that really needs the extra space can expand to fill screen like games or videos.
Gestures are pointless and slow down my productivity.

I occasionally try new ones but really since One UI came out I keep going back to it.

I quit using them a long time ago. I also prefer buttons over gestures, I tried them, just weren't for me.

I have been a Nova user since the beginning. I've played with Action Launcher, Microsoft's launcher, Lawnchair and many others over the years, but I always come back to Nova (that's on OnePlus, Pixel and Samsung devices currently). Over the last 10+ years I've developed a very specific workflow and UI preference that's based around what Nova can do (and yes I like gestures since I first used my Palm Pre Plus).

In the early days of Android I switched to Nova since they supported landscape mode. I've been a loyal fan ever since. I don't use gestures. I always find it funny that phone reviews either praise or hate the default launchers, its so easy to change! 😁

I been using Nova Prime for around 8 years, maybe more... and it works perfectly for me still (S20ultra), thankfully! I upgrade 1.5 times a year give or take. Sometimes I like the flagship S line, sometimes I go back to the flagship Note line. But yeah Nova had made it so that my experience has not changed at all in how my phone settings are set up. So I'm very happy with them as I don't like to change stuff too often. PS. Pandemic has changed my debt inducing addictive behavior of feeling like I have to have the bestest newest Samsung phone every year. Things have changed. I'm probably not alone on this issue either.

Yes I have. Android 10 navigation bar works only on system launcher, and MIU 12 animations are beautiful so I gave up on Nova Launcher. I miss some shortcuts from Nova, but MIUI 12 is good enough.

Nope have been using the Microsoft Launcher since beta and it's been great for keeping the important daily events in front of me and still being light weight on resources.

Nope, not quite yet. I like how MIUI and OneUI have themes so you can alter the icons on a system-level rather than a skin-deep one but I normally use a circular masking icon pack on MIUI and then load up Nova. I rarely use Google Feed so it is nice to have the LH homescreen be a page of widgets and/or controls. I'd use Lawnchair more often if it let you change which homescreen was the default one but it doesn't so unless you install lawnfeed there is no left-screen at all. MIUI is actually nearly perfect but for reasons unknown to me it doesnt let you resize widgets.

I've almost given up on third-party launchers. My first Android phone was a T-Mobile G2 with an early version of pure Android. Then I had Samsung phones for a while and hated TouchWhiz, so I became a loyal Nova Launcher fan for the longest time. My latest phone is a Google Pixel 3, and I *almost* love the stock Pixel launcher that ships on it. Almost. Enough that I gave up on Nova, and I'm currently using Lawnchair, because it's so close to the stock experience except with most of the little tweaks that I prefer. I have to say, I don't understand Google's attitude toward launchers, though. I mean, I see enough people on boards complaining that they can't get gestures to work if they've got a third-party launcher (I've not had a problem, but I've also heard that somehow having a Pixel phone makes a difference). On the one hand, it's like they want the stock Pixel launcher to be everyone's go-to, but it's so stinking bare-bones. For an example for me, the search bar at the bottom, it's a nice thought, but it doesn't tie to Chrome to do its searching - which, for me, means I can't limit my searches by time, which I do a lot. So in stock, it's a waste of space, because I end up just going into Chrome. But Lawnchair lets me customize my search engine, utilizing Chrome instead of the Google app, and the whole process is a lot more efficient for me. It also lets me slide up on a folder or an icon to open a different app, so I can slide up on my Gmail icon and open my work email app instead. Simplifies things while allowing me to keep a nice, neat, stock appearance. If Google and Samsung and all the other phone companies want their launchers to be the do-all-end-all, they really need to take a look at the alternative launchers and see which ones are so popular and why. Especially Google, since there's a lot of clones of the Pixel launcher out there, some of which are even open source.