Have you ever bought a phone knowing you weren't going to keep it?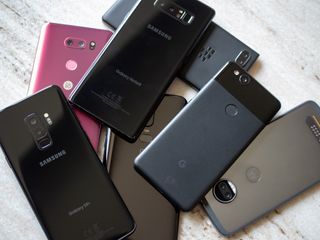 (Image credit: Android Central)
Buying a smartphone in 2019 is a big deal. There are endless options to choose from at various price ranges, a laundry list of features to consider, and with things like size/feel-in-hand, you sometimes need to get your hands on a phone to get a feel for whether or not it's a good fit.
With all of that being the case, some people go the route of buying a phone with the sole intent of not keeping it. That way, if you're uncertain about a particular handset, you can try it for a few days, test it out, and then send it back during the return window.
Here's what some of our AC forum members have to say about this practice.
What about you? Have you ever bought a phone knowing you weren't going to keep it?
Joe Maring was a Senior Editor for Android Central between 2017 and 2021. You can reach him on Twitter at @JoeMaring1.
The only way I would return a product is it were defective. Seems dishonest somehow.

I bought an iPhone once knowing I was going to return it. That was when I had 2 note 7's that I was forced to return and they didn't have any other phones that looked good to me. So I gave the iPhone 7plus a try. Hated it. Won't do it again.

As I represent LG Mobile in Belgium, I'm already on my fifth (sixth is on its way) phone by knowing I won't keep it :
- LG Q6 (surprisingly I kept it even though it wasn't supposed to be the case and now is turning on with ThinQ mention),
- LG G7 ThinQ,
- LG V40 ThinQ,
- LG G8S ThinQ (2 times),
- LG G8X ThinQ (coming in the next days). Couple of years ago, in 2013, I received the HTC 8X from the HTC Technical Support as my HTC Titan lived most of its time there in stead of in my hands. I already decided this phone to find an other user than me before receiving it.

I've never returned a phone that I've purchased. Not that every product was perfect but I usually buy a new phone every year so I never expect to keep it long.

I bought a Windows phone with that idea. It was a Nokia. The phone and OS ended up being better than Android. Unfortunately, it never gained enough app support so I did end up selling it. Every other phone I've purchased was with the intention of using it as my main for at least a year.

The closest thing to buying a phone I didn't plan on keeping was the Passport on pre-order. A few months after I received it, it started doing things that pissed me off, and knowing BlackBerry was about to swan-dive into oblivion, I bought my Note4.
Android Central Newsletter
Get the best of Android Central in in your inbox, every day!
Thank you for signing up to Android Central. You will receive a verification email shortly.
There was a problem. Please refresh the page and try again.