Hate an app icon? Here's how to change it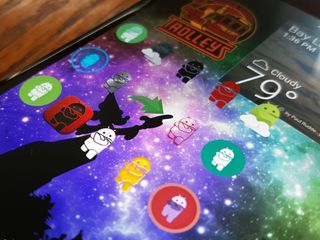 Stop me if you're heard this one: you've got an app you love to use, one with excellent features and snappy response time. But every time you go to open in, you just shake your head and wonder what the developer was thinking when they were creating that icon. Some of us hide ugly icons in folders, just so we have to look at them less. But there's another way, a better way.
We can replace that icon entirely. And you don't even have to use a fancy theming launcher. You just need Awesome Icons (opens in new tab).
Awesome Icons is a simple app with a simple premise: it's a shortcut creator. You pick an app, an icon, and a label, and Awesome Icons creates a new app shortcut on your home screen to use instead of the one you'd find in your app drawer. The shortcuts can then be moved around to your intended place on the home screen, even folders and docks.
When you open the app, you'll see a list of your installed apps, and under each app will be a carousel of different icons available for that app from installed icon packs. If you tap on one, it'll bring up the shortcut creation screen, where you can see what app you're linking to, the icon you selected, and you can change the label to read something other than the default app name. Once you hit OK and go back to the home screen, there's a shiny new shortcut waiting for you.
For your theming convenience, you can dim the rest of the screen except the icon, which can be useful in selecting icons for a dark theme or for weeding out icons with a lot of white in them that may not be as visible in the normal view. If you want to create a shortcut with a different icon than the ones in the carousels, you can tap the + in the top bar to open a blank custom shortcut.
Select any app and icon you like, change your label as needed, and then it's ready to for your home screen. This is also a good tool for hiding apps that you may not want other people seeing on your home screen, like a banking app or your adult apps (opens in new tab).
While you can use this to theme every icon on your home screen in launchers that don't work with icon packs — or don't work with icon packs from the Google Play, like Samsung TouchWiz and HTC Sense — it can get time-consuming. I still recommend using a launcher that supports icon packs before using Awesome Icons to replace them all. Also, these shortcuts won't change the icon in your app drawer, but at least you can have beautiful icons on your home screen. And if you have beautiful icons on your home screen, you won't need to seek out the ugly icon in your app drawer as much. What app icons do you want to hide?
Download: Awesome Icons(Free) (opens in new tab)
Ara Wagoner was a staff writer at Android Central. She themes phones and pokes YouTube Music with a stick. When she's not writing about cases, Chromebooks, or customization, she's wandering around Walt Disney World. If you see her without headphones, RUN. You can follow her on Twitter at @arawagco.
I've mentioned this app to just about anyone who would listen that said you can't change the icons in touchwiz with out using a theme. Ara is one of them! ;) Glad to see it here now though!

I prefer apps and launchers that'll change all my icons at once, but if they're dead set on using touchwiz shudder, then they should be able to easily find the workaround. And it's a good reference to send people to during our theme instructions.

I would assume the vast majority of Samsung owners use Touchwiz and don't even know how to change the launcher, so this is good stuff. Posted via the Android Central App

Had my Galaxy for about 8 months but I found out about Nova and boy oh boy I could never go back. Haven't tried any other launchers but suffice it to say I've been extremely happy with Nova. Used the free version for about a day before I bought the premium. Worth every penny. ~TheRealFixxxer

SOMEONE NEEDS TO STOP TOUCHWIZ!

But...but....but i like it.....

Just blew my mind! Posted via the Android Central App

Neat app if you insist on using the stock launcher. But really, why would you? I guess this might appeal to the Google fanboys who think the Google Now launcher is the greatest thing since sliced bread. One disappointment, though: It doesn't work with the Edge launcher on the GS7 Edge. There doesn't seem to be any way to put a shortcut there, only apps.

Not a fan of the Google launcher, personally. Just too simple for me.

Thank you. Finally someone gets it! This Galaxy Note 3 with the AC App is On Fleek.

Your comment is a bit misguided. I'm certainly not a Google fanboy but I do enjoy the simplicity of the now launcher, having Now living to the left of home, etc.
I don't like how busy Android can get, so I stick with the stock Google now launcher for that reason. The only thing i don't like about the now launcher is more of Android thing. Where app icons differ in size from app to app. This app sorts that out for me and allows me to keep the launcher of my choice. Why does everyone have to take a line of "Only fanboys like vanilla stock Android and it's simpleton launcher with big gaudy icons!" It's too prevalent on all the MobileNations sites and it's getting old. Posted via the Android Central App

I think people call them stock fanboys without realizing that there are very few instances of truly stock android that find up on finished devices. They may not have changed much on the surface, but Android has to be optimized and tailored to each device and each hardware setup or performance suffers. And I think a lot of people like Google Now Launcher that don't care about launchers at all. I personally can't take a launcher where I can't edit my icons or folders freely because they end up looking lopsided and ugly, but that's just me, and I accept that I spend more time on my themes than most people would consider acceptable.

Every Android device I have owned... the G1, Touch, Droid 2, Desire Z, a few more I can't remember, the Note 2, 3, Moto x 2014, Nexus 6p I have always want the cleanest or simplest look. I spent so much time on launchers and icons to get that perfect setup. Eventually I sacrificed on the look and layout of icons for the, at least for me, ease of use and appeal of the now launcher. I would fire up Nova from time to time, but I prefer the stock launcher on a device like the 6p or X 2014 before it. This app highlighted in this article gives me everywhere wanted, the now launcher with any icons I want. Sure there is time involved in pinning each app shortcut but it is worth it for me. Posted via the Android Central App

I happen to like the stock TW launcher on my S7e. But i also like to change the look of my icons from square ones to round ones with different colors to suit my mood.

Yup, the edge launcher, the app drawer, the application section of Settings, shortcuts made my Awesome Icons do not reach there. If you want to effect those on TouchWiz, I suggest checking out Samsung Themes and seeing if there's a pack that doesn't look horrible to you. Just keep in mind those themes often tread third-party apps horribly.

Is it weird that I find myself designing my own app icons at times, even though I have no experience in UX design?

Nope, I was doing custom icons for my dock long before I even cared about Android as more than just what my phone was running.

One of my favorites is the Proton series Icon packs from PhunktasticDesigns, in the Google Play store... Posted via the Android Central App

Wow. I thought I was the only one who cared about app icons. There are some apps, that despite me using them often, I won't tolerate on my home page as the icons are so ugly. (file commander I'm thinking of you) Posted via the Android Central App

Wow. I thought i was the only one who cared about app icons. I sometimes find an icon so ugly I refuse to allow the app on my home screen, despite using it often. File Commander, for instance,has the most dreadful icon. Every time I open it I wonder what on earth it's designer was thinking of. Posted via the Android Central App

#FirstWorldProblems lol :) Posted via the Android Central App

You mean #nerdworldproblems Posted via the Android Central App

How do I change the folder Icon in Marshmellow? Really don't want to change the launcher. Posted via the Android Central App

I don't think you can on a stock launcher. Would need an alternative launcher AFAIK. Posted via the Android Central App

This app creates new shortcuts, but can't edit folder icons. For that, you'd need a new launcher that supports folder icon editing, I believe. Or maybe a custom widget that pops up the folder when you tap it?

Way better things to devote your time to than this imo. I'll admit I've seen some ugly icons before. But they could be the ugliest gotdamn things I've ever laid my eyes on, they're staying that way Posted via the Android Central App

Ara is the queen of custom! Posted via the Android Central App

I'm expecting a crown for my birthday, gents!

This is gonna be useful Posted from my Moto X 2nd gen and my Nexus 9 both on Android Marshmallow

So sweet. I hate some of the icons on TouchWiz and it's nice to finally be able to change it. Reminds me of an old app called Droid icon that I'm pretty sure doesn't exist anymore

This exactly what I was looking for! I'm using Nova Launcher with Marshmallow icon theme, but the horrendous default icons from TW are still there, this will take care of that problem. Is there one for emojis? I really miss stock Android ones. Posted via Samsung's beast S7

You can change how emoji look in some keyboards, but the moment you tap the button you'll see the emoji that came with your phone again. I couldn't get over how much the emoji on the G4 suck. Also, if you're using Nova, you don't need this app. Long-press on any icon on the home screen or in the app drawer. If on the home screen, select Edit. If in the app drawer, drag it up to the Edit option. Tap the icon, select your icon pack or gallery app and pick your icon.

This is a nice one, but I think "Icon Changer free" is much better.
Because it basically does everything this one does AND it gives you a lot more control over the icons you create like icon size, edges, borders, an entire colour control system (brightness, contrast etc) and even give you filters for your icons.

If only if only Google allowed simple customization like App icons on the Google Now Launcher which I love for simplicity and the quick left swipe to Google Now including maybe customizing the background color of the app drawer. I'm not accustomed to Nova Launcher and I just can't go back to Google Now Launcher because I love the icon packs I can throw at it and the pure black goodness of the app drawer. #TeamFrosty Nexus 6P

If only it was possible for other launchers to have swipe right to Google Now, we wouldn't need Google Now launcher, would we? Posted via the Android Central App

Does this also allow browser shortcut icons to be changed as well, or does it have to be an installed app?

Awesome Icons only changes app shortcuts, not browser shortcuts. For that, you still need a launcher that allows icon editing like Action or Nova.

The only app icon I have that I truly dislike is Peel smart remote, which HTC dumped on us when they discontinued the very good Sense TV. However, I don't care much since I disabled it due to excessive battery drain. I might play around with the others though... Posted via the Android Central App

So...its desktop visualizer...(2009?) Posted via the Android Central App

The only app icon I can't really stand is Google's Messenger. I used Awesome Icons to change it. I also use it to remove the icon labels. Google Nexus 6P

As a newbie to these sorts of things, I found this recommendation super useful. Had no idea I could change the icons. So thanks so much! Posted via the Android Central App

Not worth the time imo Posted via the Android Central App

+1. So much easier to just download a much more intuitive launcher, change them all at once. As far as owners of TW, why waste who knows how long personalizing individual icons on a launcher that doesn't even let you hide icons you don't use, don't want showing, or can't disable. Also one that reorganizes itself in the most frustrating way possible making you have to constantly put it back in alphabetical order. And those are just a couple things. There's several more :-/ The tip is not included! So tip your Uber driver.

Hold yr finger on it! Posted via the Android Central App

Hey Ara Wagoner, does any one at AC office have Zuk Z1 or any other device running Cyanogen OS? If yes, then I strongly recommend checking Pitch Black theme in Play Store. You are definitely gonna love it. The monotony and the style of that theme is really amazing and eye pleasing. Posted via the Android Central App

I want to uninstall the text to speech on the phone and go back to text with the keyboard. How do I do this?

Hey Bro I have a solution for that. If you have rooted your phone then simply install the "app remover" app and uninstall what ever you don't want to keep. It will work only for rooted phone...☺☺☺☺☺
Android Central Newsletter
Get the best of Android Central in in your inbox, every day!
Thank you for signing up to Android Central. You will receive a verification email shortly.
There was a problem. Please refresh the page and try again.