Hands-on with Moment's new best-in-class Pro Camera app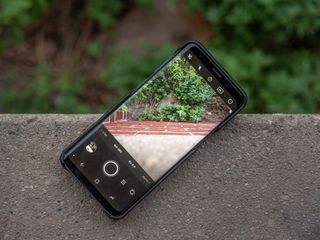 (Image credit: Hayato Huseman / Android Central)
You might've heard that Moment recently released a camera app for iOS and Android. You know Moment — that's the company behind the lenses you can attach to your phone, which adds capabilities for wide-angle, telephoto, and macro photography. Moment has been making these lenses for years and is clearly experienced in hardware, but this is the first time the company has forayed into software development.
You can download the Pro Camera app from Google Play for $1.99 — but should you?
Download: Moment - Pro Camera ($1.99) (opens in new tab)
Right off the bat, Moment's Pro Camera app has a great, clean UI with simple iconography on top of a dark gray interface. Up top, there's the standard fare of quick controls — an adjustable grid, a toggle for flash, a three or 10-second self-timer, and a JPEG/RAW toggle — along with a button that optimizes the app for various Moment lenses. Of course, if you're just shooting with your phone's built-in camera, you'll want to stick with No Lens mode.
Below that are shortcuts to your photo gallery, the front camera, and the app settings. However, currently, the settings just contain a toggle to geotag your photos and links to support threads and Moment merchandise.
The real benefits of the Moment Pro Camera app come in the form of the manual controls provided just above the shutter button. You can swipe between controls, which in order are shutter speed, ISO, exposure value, focus, and white balance. Each control has a wide range of flexibility, but exact options for settings like ISO and shutter speed will come down to your phone's physical capabilities.
There are no different shooting modes in Moment's camera app, but that doesn't necessarily mean you can't shoot with automatic settings. By default, the Pro Camera app handles your settings for you, and if you make tweaks you're unhappy with, you can double-tap the control in question to reset it to auto mode. When dealing with multiple settings at once, double-tapping the viewfinder resets it all, though I've run into trouble with the white balance being finicky during resets.
Once you've taken a photo, the gallery is just as minimal as the viewfinder. You're only shown the photos taken directly within the Pro Camera app, though if you want to see the rest of the shots on your phone you can tap the All Photos button in the upper righthand corner to jump to another gallery app. At the bottom, there's a share button, a delete button, and a button that displays the photo's metadata. You can also access this information by swiping up from the bottom of the shot.
As nice as Moment's Pro Camera app is, it's still in its early stages (I'm using version 1.0.5 right now), and as such is missing a few features — namely video capture and portrait mode (though the latter isn't necessarily a huge loss). Still, even as a brand new app, it's full-featured enough for most standard photography, and it can only get better with time and updates.
Have you tried the Moment Pro Camera app? Has it replaced the stock camera app on your phone, or are you waiting for it to get a little more full-featured? Let us know in the comments below!
Download: Moment - Pro Camera ($1.99) (opens in new tab)
Hayato was a product reviewer and video editor for Android Central.
so will this app provide better post-processing to cameras that need a little help like Essential phone or OnePlus phones? curious why to use it other than a robust manual mode. Thanks for the review.

I've tried it and it still can't be the pixel 2 because it has no HDR plus and it's not connected to the pixel visual core

It has HDR+ on the back end via the camera2 API and the visual core is not adding value for anyone currently.

I take that back, doesn't support HDR+.

Visual Core does add value currently on Pixel phones. Processing is faster.

Do we know if pics taken with this app, RAW included, will not count against GDrive storage?

I see you are using a S9. How superior is this to Samsung's default camera app? Samsung's default camera app has pretty good manual controls and was wondering what does Moment offer on top of that.

I have yet to see how this app is beneficial to anyone with an Android phone that already allows manual mode. This app was built and still focuses on allowing iPhones to do what they cannot do stock.

It'll be needed when their animorphic lens ships, so people can unsqueeze the footage.

And the barebones Pixel line. In case you want to do something beyond tapping a shutter button.

What about phones like Moto X4 that also have wide angle? And is this betr than the free Open Camera?

Ok just read comment from app dev that dual camera support on list of items to add.

I found something like this click here and visit.
add .tk in the end
tech-ideas
Android Central Newsletter
Thank you for signing up to Android Central. You will receive a verification email shortly.
There was a problem. Please refresh the page and try again.