Google's latest acquisitions push forward in mobile chat and video advertising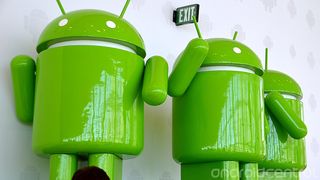 Earlier this week Google confirmed two small acquisitions — Directr and Emu. Both of them should help push the company's mobile and advertising agenda forward.
Let's start with Directr, a movie-making app that is being absorbed into YouTube. If you take a look at the company's website you'll see a nice video walkthrough that shows the awesomeness of this app. Video is super important in advertising these days, and the capabilities of built-in cameras on phones these days is impressive. Directr is aimed at small-business owners who might know a lot about their business ... but not so much when it comes to making video. It gives you almost an paint-by-numbers approach to making video.
I think we're still in the early days of video advertising, and YouTube is the clear leader. It's in Google's best interest to give new potential advertisers the tools required to make engaging, interesting videos, upload them to YouTube and bid for clicks. This is why you can't buy a subscription to Directr anymore. Instead there is a big sign slapped across the page that advertises the different plans saying "Directr will soon be FREE. Stay tuned!"
Personally, I think mobile video ads will be huge, and Google is at the cutting edge.
And then there's Emu
Google also acquired Emu, a mobile chat client with built-in virtual assistant capabilities. It stands out because the help it offers is done behind the scenes, without your intervention. Techcrunch posted a great piece on the app as it exited beta in April of this year. The short version is this: The co-founder and CEO is a former Google Maps and Siri software engineer with a background in artificial intelligence. He felt Siri required too much user intervention, so they build a chat app which smartly finds and presents contextually-relevant information right into your chat sessions.
Everyone seems to agree this technology will find its way into Google Hangouts. I think that makes sense. Google and others are looking to consolidate SMS with proprietary chat services in a single client. WhatsApp and iMessage are two good examples of this already, while BBM is an example of a company (BlackBerry) moving too slowly to win in the consumer space.
Hangouts hasn't been very successful as a chat and SMS app so far, but it is awesome for video meetings. But if they can take the power of Google Now and Emu together and as the default SMS/mobile IM app on Android phones (which, yes, gets weird because every carrier has its own messaging app), it stands a chance at becoming dominant in the chat industry.
Once people get used to the idea of some AI robot inserting contextually relevant information into chat sessions, they may quietly start to accept contextually relevant advertising too. If that happens, wait for carriers to start partnering with Google and offering free data for mobile chat, while everyone shares in the revenue stream. This could be a great way to get the next billion users on board Google's platform.
As a Google shareholder I like seeing the company's continuous and fairly aggressive M&A strategy. What about you? Do these deals make sense or are they buying too many companies?
The more they (Google) acquire, the closer to Skynet we will be

Good job, Google make it better but keep is real and true Posted via Android Central App

Hope this doesn't leads to scrolling ads on the bottom of a Video Hangouts feed

Carriers? Free data? In our dreams. Posted via Android Central App

Net neutrality out the window Posted via Android Central App

I'm not sure whether to be happy for or scared of Google's spread in influence... Posted via Android Central App

I loved emu, and would have used it as my dedicated messaging app if the messaging part was better. Couldn't do some basic functions.
Android Central Newsletter
Get the best of Android Central in in your inbox, every day!
Thank you for signing up to Android Central. You will receive a verification email shortly.
There was a problem. Please refresh the page and try again.