Google will warn if a mobile site's lousy with Flash content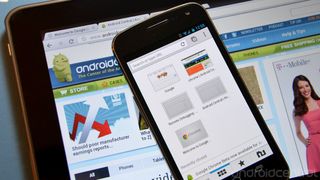 (Image credit: Android Central)
Google has announced it is adding a new feature to its search results that will indicate if a web page will have issues being viewed on certain mobile devices such as an Android smartphone or tablet.
While the vast majority of web pages can be viewed in full on a modern mobile web browser like Chrome, Google points out that some sites might still have issues viewing content when accessed by a smartphone or tablet. In particular, pages that still use Adobe Flash won't be able to be viewed in full on devices that use Android 4.1 and higher.
So now, if a person makes a search on Google, they could see a reference in the search results if a page uses Flash, with a note stating that it may not work on their device. Google says they want to encourage website creators to make pages that work on all types of devices, and that HTML5 is an example of a platform that does just that.
What do you think of this new way for Google to let mobile device users know if a page will display correctly on their browser?
Source: Google
That's good Posted from my Nexus 7 2013 running Android L or Samsung galaxy S5

viewing and typing this using Chrome on a HTC One M8.
THIS site uses many features which make it work less than perfectly using a mobile browser.... and have ever tried to get Chrome for android to display the desktop version of ANY web page ? It will fight you to its last dying breath before you give up in disgust and switch to Dolphin browser to view the desktop version of the web page.

TRUTH. Every now and them Chrome for Android PISSES me off and I'll go test out something else. Lately I've been trying Javelin, and right now I'm posting this from Now Browser.

Chrome had had serious issues since the beginning of April. I Think that it's been fixed now, but I wouldn't recommend it for my main browser. Personally, my primary choice is Dolphin Browser.
Posted via Android Central App

Lol I use IE. I used to hate it and used Chrome. But it kept crashing my PC. Went to Firefox. Then I downloaded IE 11. As fast as Chrome, faster than Firefox, no lag and crashing anymore, fluid, more options, toolbars, and it just works. Just some sites are not designed for it because most people are in the mindset of the Windows XP IE and don't move forward. Go ahead. Laugh. Idc.
Posted via Android Central App

I would recommend using the app.
It's a hell of a lot better than the mobile web page. Posted via Android Central App

I use the Android Central App for viewing this site on my phone ... and I use the mobile version of the site for viewing the site on my desktop ... it bascially get rid of most of the ads. ;)

Yea as the other guy here said above me, at least for AC in particular, the app is way way better. It looks brilliant. Also when AC articles come up in my blinkfeed on my m8. Posted via Android Central App

The faster we move away from flash the better. Posted via Android Central App

Amen. Rip adobe. Posted via Android Central App

Lol wtf Flash is AWESOME. You can actually play games with that.
And no we are not doing heavy gaming on our frucking phones. Geez. Wtf.

That feature might end up being more useful than expected. There are plenty of times I've attempted to get some infomration and the site just won't load correctly on my phone.

I still use flash player on a daily basis! I don't know what's the point of removing it!! Posted via Android Central App

My grandmother still uses a rotary phone and sees no point in removing it either. To each their own but the rest of the world is moving on to more useful platforms. Posted via Android Central App

Flash Player is still used on many important websites! I personally use it to watch streaming video online especially for my football games when I'm out of the house or in my room. My Math class website where i do the homeworks uses flash player. And many more. So i hope u see my point now Posted via Android Central App

Amazon video only works on non-Fire devices thru Flash too, and it works decently, dunno why they won't give in and make an app already... If only for paid content rather than Prime stuff.

Oh it's apps. Great. Google is trying to kill Flash. Like wtf. It's a damn phone. We literally try to do everything on it. It's dumb. Just get a Surface with Flash or a PC. Like wtf. It's HAARD to do things on a phone. DAAMMNN!!! Posted via Android Central App

Because Steve Jobs said so.
Everyone at first laughed and then realized that his hissy fit was spot on and followed suit.

Interestingly I use a Xoom tablet running a custom Omnirom Android 4.4.4 Rom. I've also installed the latest version of PA-Gapps. This combination is very smooth, and quite fast, running just about anything the developers could throw at it. I also run Dolphin Browser, and a version of Adobe Flash Player that was hacked especially for Kit Kat.
This tablet runs HTML 5 and Flash protocols very nicely thank you. I really think Google needs to keep it's hands off of the issue of Flash. It's not that hard for us to get hold of the software needed, and to modify our tablets and phones to work flawlessly.
Rob
Posted via Android Central App

Do you really expect normal users to hunt down a hacked version of flash for their android devices? It was Adobe that killed flash on Android, Google is just trying to improve the user experience by adding this relevant and often useful information to their search results. Posted via Android Central App

Lol just get a Surface. Kickstand, flash, USB ports, Office, and snap-on keyboard with TouchPad. And the RT's are cheap. I laugh when Android users turn the simplest things into rocket science. Lool. Like the time I put Ubuntu on my PC. :p Posted via Android Central App

I can't believe we could view websites better on Gingerbread than we can on KitKat in many cases. Pretty sad how long it takes to move away from something like Flash.

Great idea. Have had quite a few disappointments. Posted via Android Central App

Nice! I hate those dumb web sites that won't change their old format. Posted via My Galaxy S5...

Yes! Like Apple's. Apple.com
LOOL!
Disappointing... Posted via Android Central App

I feel like this sets a bad precedent. Google is now using its search giant status to try to force people to format their websites for mobile by discouraging people from even clicking their link. Just another way for them to manipulate your search results to encourage you to visit sites they want you to visit. Posted via Android Central App
Android Central Newsletter
Get the best of Android Central in in your inbox, every day!
Thank you for signing up to Android Central. You will receive a verification email shortly.
There was a problem. Please refresh the page and try again.