Google pushes RCS forward by rebranding Messenger to Android Messages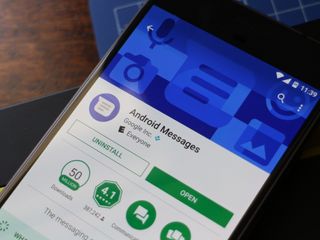 Google Messenger has picked up an update that renames the app to Android Messages (opens in new tab). The core functionality is still the same, and barring the name change, the update doesn't bring any new features to the messaging app. However, the app will now be installed on default on handsets from over 20 phone makers as Google pushes ahead with RCS.
The changelog notes bug and stability improvements, and simpler sign-up for enhanced features on supported carriers. The last bit has to do with RCS (Rich Communications Services), which is what this name change is all about.
RCS is a communication standard that is a natural evolution from SMS and MMS, offering better multimedia support, read receipts, group chat, and other features to bring texting in line with Hangouts and Facebook Messenger. RCS is a universal standard, and carriers that have agreed to use the "Universal Profile" — Deutsche Telekom, Globe, Rogers, Orange, Sprint, Telenor, and Vodafone — will fully support rich text messages on their networks, bringing the total number of subscribers that are covered by the standard to over 1 billion.
What is RCS and why does it matter?
With RCS gaining adoption by several carriers around the world, Google is now pushing for Android Messages as the default messaging app for the platform:
Google will be showing off RCS messaging later this week at Mobile World Congress, and has provided use cases where businesses can provide rich interactions to their customers by leveraging the communications standard.
The company has also announced that over 20 manufacturers have agreed to use Android Messages as the default SMS app on their phones, in addition to its own Pixel and Android One handsets:
LG
Motorola
Sony
HTC
Micromax
Nokia
ZTE
Archos
LeEco
BQ
Cherry Mobile
Condor
Fly
General Mobile
Lanix
Lava
Kyocera
MyPhone
QMobile
Symphony
Wiko
The list doesn't include Samsung, but Google is hoping that the momentum with RCS will convince other carriers and manufacturers to adopt the standard.
Android Central Newsletter
Get instant access to breaking news, the hottest reviews, great deals and helpful tips
Harish Jonnalagadda is a Senior Editor overseeing Asia at Android Central. He leads the site's coverage of Chinese phone brands, contributing to reviews, features, and buying guides. He also writes about storage servers, audio products, and the semiconductor industry. Contact him on Twitter at @chunkynerd.
I was excited to try out the new version. I launched it and found no messages at all. Is there any way to get the messages already on my device into the Messages app? They show up fine in every other SMS app except for this one.

All my old messages are still there after the update. Maybe try reinstalling or rebooting.

Odd, mine updated and tbh, I can't tell any difference from the prior version on a Nexus 6P.

Has anybody been able to use RCS with Vodafone UK on this app?

No. I contacted Vodafone and was told that they are enabling it in batches. I have read that some Vodafone users have received texts from Voda to tell them that it is now active.

Android messages the imessage equivalent for android?

I would love for it to be an imessage clone. They just need to get big V, Att, and Tmo on board I think that along may (I say may) push samsung to move to it. When I picked up my Axon 7 I was pissed I didn't have a good way to transfer my messages over. I was able to use a 3rd party app to get most of them, but lost some MMS.

It doesnt matter to us whether they adopt Android Messenger as Default. You can download it yourself at the Play Store

But without carrier RCS support it's just an SMS app.

Google, where are you going? Why do you have so many message apps?

Is RCS as hideously insecure as SMS or is there going to be some form of encryption involved?

Recode had a good article on RCS security. Bottom line, it is less secure than imessage, Gmail, or hangouts, as it's security is in the hands of all of its supported carriers. From Recode, "it's designed, according to experts, to default to the least fortified carrier security system, since many operators are tightly regulated (or in some cases run by) national governments.".

Hopefully Three supports RCS soon.

I kinda happy to move messaging away from my cell provider. I think that I'd rather move towards using a data connection as a dumb pipe rather than be beholden to some arcane standard that needs to be agreed by every cell provider to work!
I get that Google is trying to break imessages USP but, really, can we not just let SMS die?

Nice of Google to push this forward but these carriers need to get on board.

Okay, okay. Since everyone is saying that RCS is kinda like iMessage i have a few question. Firstly, sending a RCS message from phone to phone that supports this standard is going to be free? And my second question - is it encrypted and is it's encryption any good? I don't want carriers going through my correspondence.

This right here. Does it support end to end encryption?
I'm in the boat that doesn't care how cute my messages look but are they being read by someone that they weren't intended for?

Totally agree, but for different reasons. In the age of HIPAA, I as an IT Pro have to look at spending money on a secure messaging platform because SMS doesn't meet the security guidelines. End to end encryption wouldn't take much to implement.

Why, as someone has said before, are you sending nuclear launch codes?

Does one have to send nuclear launch codes to want end to end encryption in 2017?

Hmmm... I got this update a month ago.

No AT&T....dammit this and crappy unlimited plan. As soon as my DirecTV agreement ends I am going back to Verizon.

Not much love from China!

The first business that provides me a rich interaction like that Walgreens example will never get my business again

While I like the idea of Google further investing in RCS, what's the point of having both Android Messages and Duo? I can justify Allo (strictly video messaging) and Hangouts (business purposes, although the name suggests anything but), but it feels like Android Messages is just a better version of Duo.

Duo is the video messaging app....

Sorry, mixed them up. Probably not great.

You have Allo (the IM client) and Duo (the video client) mixed up. Other than that, I agree with you. Launching a brand new messaging platform in 2016 - after WhatsApp and Facebook Messenger have become the de facto standards - was one of the dumbest things Google's ever done.

Lol Samsing isnt participating? Let me guess, they will have their own proprietary S-RCS version? What a mess. Samsung.txt And no Apple? Its going to be a mess.

I imagine Samsung will eventually attempt to implement it into their own default messaging app.

They already have. It's called Enhanced Messaging in the settings of the messenger app.

Not on Verizon versions...but I found that enabling Verizon Message+ (and either using it or Google Messenger) at least allows the non parsed texts between Sprint and T-Mobile...thru whatever implementation of rcs Verizon is using. Also allows texting and mms through WiFi.

Sorry about that. I was referring to Sprint Samsung phones.

Only my AT&T Galaxy S7 Edge the setting is called Advanced Messaging. I want to use Android Messages but I cannot receive messages to my Gear S3 Frontier unless the Samsung messaging app is set to default. :(

Go to the Gear app on your phone. Open Notifications, scroll down to the app you want, then flip the switch.
Set default Messaging to Android Messaging. Now you get texts on your Gear S3 or S2.

Why would Apple use the Android messaging application?

Because RCS is the only true cross-carrier standard. Let's face it, Apple won't participate because of iMessage lock-in. It's their primary competitive advantage. I wish the would though, but profits always come first. Would be nice if all carriers and manufacturers support a common standard. Otherwise we stay in the archaic SMS/MMS world where videos are compressed to hell and most give up and buy an iPhone since most everyone in their social circle uses iOS. Having Apple support RCS isn't indicative of them using "an Android messaging application." It simply means they adopt the next-generation SMS/MMS standard like everyone else. They want to keep SMS/MMS in the stone age so people get frustrated and buy an iPhone. Truth be told I have an iPhone because of this. Yes, I'm one of them who uses an entirely different platform for iMessage. Unbelievable, I know. If RCS worked across Android --> iPhone, I'd switch back to Android full time. Insert nobodyusesiMessageoutsideoftheUS.com

I still use Hangouts as much as Messenger, and don't use Allo (or Duo for that matter) at all. I just wish they just stuck with Hangouts, the most versatile of them all, and just enhance that further?

Nobody uses Allo or Duo, lol.

Unless it integrates with Hangouts, it's a non-starter for me. Way too convenient to have all my messages in one place. Not to mention that on Project Fi I can text, call etc using hangouts from my ipad, computer and phone!

Until Android Messages supports sending scheduled text messages in the future like Textra, it's going to be a no-go for me. That's a killer feature IMO from Textra. Also, in its current implmentation, WhatsApp still blows this out of the water. But I see what Google is doing. They're trying to get all Android phone manufacturers to use this as the default messaging app to create Google's version of "iMessage". It may work but it will take a LONG time. Until then, Textra for me.

Lol, without Samsung on board this has no chance.

Well, can not I install Android message and ignore what Samsung gives ? This is what I have done on the current S7 I have. I know this is an additional step, but this is still possible ?

Which is too bad, since Samsung's messaging app is utterly hideous.

You call it hideous I call it elegant with the customization Samsung allows you to do unlike Google's messaging app. Besides why would you Samsung jump into something Google has been a total mess with? They have changed apps and names how many times now? I think it's best Samsung sticks to their native apps that work well.

I agree. It's really annoying with all the name changing. It's always a toss up between naming something Google, Android, or Chrome- something. i.e Chromecast then Google cast or Android TV then Google TV.

How is it hideous when they allow you to customize it to your liking? Sounds very stupid to me. Probably don't even have a Samsung device.

Wow all the features Verizon Messages + has had for awhile

After update on my motorcycle z Force the messages icon on the dock keeps showing that I have a new message when I get a new message even after I've checked all new text messages.

IDIOTS. Integrate Messenger into Allo already and make it mandatory for Google Play Android devices. Seriously it's that simple. Then you'll actually have the "lol but iMessage is the best" people actually leave iOS.

I'm not sure this is the future, its' tied to your phone number. I don't want to have to give out my phone number all the time, I want to be able to message from the web or tablet or even Xbox or PS4 etc. Everyone I know has a Google account, yet I can't contact them just using that information. Hangouts is great, it needs a little work, but it works for 99% of what I want to do.

I don't understand the comparison to imessage, this just sounds like a new version of SMS/mms texting with your phone number /carrier. To me imessage was more akin to hangouts. You'll never be able to imessage someone from your Android phone. Third party would be the only way but many iphone users don't know they exist and get confused when thier imessages didn't reach that one person they know with a Galaxy phone.
Android Central Newsletter
Get instant access to breaking news, the hottest reviews, great deals and helpful tips
Thank you for signing up to Android Central. You will receive a verification email shortly.
There was a problem. Please refresh the page and try again.