Google Play Music's new web interface goes Material with fresh Android-like design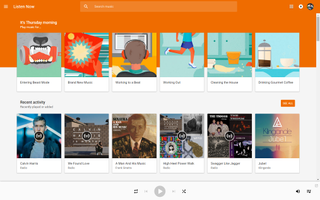 If you fire up Google Play Music (opens in new tab) on the web today you're likely to be greeted by a refreshed interface, pulling it closer in line with what you'd find on an Android phone or tablet. The new look is very familiar to the landscape layout you're already used to seeing on a large tablet today, with a deeper orange color and large cards taking up the entire screen. The left-side panel is now hidden by default, exposed by clicking a hamburger menu button just as you'd see on mobile devices, and there's a more prominent giant search box at the top of the screen.
When viewing your library individual artists now have circular avatar windows, just like you'd see on Google+ and elsewhere. And your upcoming music queue is no longer a full page affair — you access it from the music note button in the bottom-right corner of the screen and it pops up for quick rearranging. The pop-out mini player also looks nearly identical to the large widget you get on Android. Topping it all off is a new browser favicon that matches the new Android icon.
Image 1 of 4
The interface takes a little getting used to if you were familiar with the more information-dense design of old, and we do notice a little interface slowdown and a few stutters here and there. Chances are those issues will be ironed out as Google rolls this to all Google Music users.
There's nothing you can do to force yourself onto the new interface, but considering how Google rolls out things like this you should have it soon enough. And unlike some major feature releases, this time around you're simply waiting for a redesign. So put on some of your favorite music in the old interface and wait it out — maybe the next time you refresh the page you'll be brough into the Material Play Music future.
Android Central Newsletter
Get instant access to breaking news, the hottest reviews, great deals and helpful tips
Andrew was an Executive Editor, U.S. at Android Central between 2012 and 2020.
I am glad that functionally nothing seems to have changed. The new design will take some getting used to though. Once you open the menu pane it stays open until you close it while browsing the interface which is nice. It it would have been clunky to have to open up each time you browsed to a different part of the interface.

I'm seeing one functionality change that bums me out. Formerly a Labs setting allowed you to use a 5-star rating system instead of the blunt thumbs-up/thumbs-down. That setting is no longer appearing for me in the new interface. I rate this change 1 star.

Someone started a petition to bring it back; http://www.ipetitions.com/petition/bring-back-the-google-music-5-star-ra...

Looks less bright. That's good. I'll be dreaming of a dark materiolo Play Music until we get our next design UI at I/O. /half-sarcasm That said, as often as I listen on my Chromebook, I wanna kiss whoever allowed up to check the queue without navigating away from our current page.

Yes. Dark Material needs to be a thing. I want Android M to have features that a lot of the mainstream phones are coming standard with, like theme engines and more customization. Posted via the Android Central App

You aren't one of those emos always clamoring for more black are you?

I'm a very emo(tional) young woman who wants her phone to be darker so it isn't burning my eyes when I spend half the night staring at it. And the occasional battery benefits with my AMOLED Moto X, and the general appeal of a well-done dark themed app. When I first came to Android and Google Play Music, the app was black and blue... and then they inverted it.

I'd like to submit my vote for a subset of the Material Design guidelines called Dark Matter that focuses on making Material themes that look good with dark colors, instead of just slapping #000000 on everything and calling it a day. Looking at you, Feedly (although it's slowly improving).

I have tried both Xbox Music and Google Music and Xbox Music and the new design of Google Music looks like a bad copy of Xbox Music.
The artist on the background was first done by Microsoft.
Is google getting out of ideas lately? It looks like.

Except that that look and design has been on the Play Music App for some time.... This is just bringing the look and feel of the app to the web interface.

Lol no just no. Posted via the Sailfish iMore app

Stopped using Google Play Music when they replaced my songs with clean versions with no way to switch back unless deactivating.

Did you buy the songs from them explicit or did you upload them from elsewhere? Just curious. Posted via the Android Central App

"Uploaded" from my iTunes library. Google replaces your "upload" with whatever they have on their servers.

*edit* sorry, I just seen stillMAT1k has already reply with this solution*
Just right click (or click on the 3 dot menu) for the the item that's been replaced and then click "Incorrect Match".
After a while Music Manager will upload your version of the file to the servers and you'll get your sweary version back. I've had to do this a few times where tracks have been replaced that must have come from versions of other albums as they start fading in to another song,

Agreed! Probably the most frustrating thing about Google Play Music. I still use it because, well it's convenient. There is actually a way to fix it without deactivating. If you click the "menu" button for whatever song is clean, you'll see an option that says "Fix Incorrect Match" if you tap that, it'll re-sync with your computer and re-upload the original song. It's a ****ing pain in the ass, but unfortunately the only way to fix the problem at the moment. :\

I read about that. Hardly practical to do with 1000+ songs. I see the value in Play Music though.

That sounds terrible. Glad I don't listen to anything with lyrics. Hope google fixes it for you guys soon. Posted via the Android Central App

That is so strange. A few of my songs have some F bombs and stuff in them and they are not clean versions. Interesting.

Gapless playback. That's what I want.

Same. It already works on mobile, but not in the browser for some reason.

I want gapless on web, and as crazy as it sounds, sometimes I miss the old shuffle function where it would only shuffle what hadn't been played in a playlist yet.

Instead of spending so much time fixing the GUI, I wish they would invest some time figuring out a better way to "save space" on their servers rather than replacing my explicit songs with clean ones all the damn time! >:O

Now if only the Android app would! (and Hangouts!)

I'd like to be able to turn off instant mixes... but still no.

Could somebody please answer my question because I need to know if something is wrong with my device. I use Google Play Music on my computer and I was using it on my smartphone until I noticed It was constantly running. Is it normal for Google Play Music to be constantly running? Posted via the Android Central App

Ive not noticed it constanly runnng on any of my devices.

Okay? WTF LoL Posted via the Android Central App

Well, it's always running for me (until the Lollipop memory bug kills it), but that's because I'm always listening to it.

That's cool but I always can't be listening to music while on the job and I was just wondering if it was normal for it to always be running even though I didn't turn it on in the first place? Posted via the Android Central App

Well, do you see the app running or just one of its services?

I might just be one of its services, I'll have to reload it and check. Posted via the Android Central App

Okay I just reinstalled GPM and it's not running in the background now. Maybe the update fixed it? Who know but I like LoL Posted via the Android Central App

BTW I love the hard-hat........ Posted via the Android Central App

I hadnt read about the update and refreshed my tab and it changed. At first I thought something was wrong. I like it.

I love it. #nowplaying "Rock with You" by Michael Jackson.

It was a welcomed surprise when I opened it on my Chromebook this morning! Posted via Android Central App

It's about time they added some smart playlists. I want to be able to have a playlist of the songs I thumbed up in the last 2 months so I could get a mix of new and fresh music rather then everything I have ever liked. Or to be able to make playlists based on genres when I want to hear different types of music. This is the only feature I miss from iTunes. Actually quite surprised Google hasn't implemented this yet.

They've had the three smart playlists (Thumbs up, Last added, Free and Purchased). It works quite well for me, as the first two are the ones I use the most. I create my own playlists outside of that. Being a GPM subscriber from day one, I still love this service, and I love the redesign so far. The only thing I hate about GPMAA (outside of the name) is the deauthorization limit!

Smart Playlists, an offline option for computers/Chromebooks, the ability to set start/stop times in a track (edit a track down without really editing it), dark theme, a better de-auth system, Posted via the Android Central App

That web interface looks... horrible.

I find this "materialized" overhaul make everything seemed crammed and not for use on the desktop. The top bar is unnecessarily thick, they should trim that down a bit. It feels like this is really the mobile version and not really suited for desktop use. While they're at the materialization of all things Google,. maybe properly implementing Material Design on Hangouts for Android would be better than this.

Well, they obviously didn't look at it on any small-screened Chromebooks... Posted via the Android Central App

"this time around you're simply waiting for a redesign"
oh really ??? Where's my chromecast icon then? Seriously Google... where's the damn chromecast icon?!?!? edit:
-------- OK, so apparently it's there, it's just very very buggy.
Open through web-app shortcut -> never shows
Open through web interface -> shows, but click and nothing happens
Cast the tab, then enters the web interface, then start playing song , then click the button -> finally, music on my big speakres.

Extremely laggy opening the hamburger menu, even on Google Pixel 2 LS. Pathetic. Posted via the Android Central App

Clicked on Trash. Went into never ending loading screen and froze Chrome. Pathetic. Posted via the Android Central App

Does Google test ANYTHING before releasing it??? Posted via the Android Central App

My only complaint with Google Music on my Nexus 5 running Lollipop was that the orange color, including how it it also changes the notification pane to orange, made me think the phone was running in Power Saving mode. I submitted a suggestion that they should change the color. Not sure why thwy love orange so much.

I have never purchased any music app before, but with my new Samsung S6 edge, I pretty much live with this thing. So after doing tons of research and reading reviews, I decided to put a few to the test. I pretty much love and have loved Pandora because it's free, because I have spent eight years tweaking certain channels, but there was a repetition and a push of artists that I was getting really tired of. The alternative to this has been Milk Music. I absolutely love it, they have excess to slacker radio which triples the amount, the preset stations of which there are 200 are amazing, I can pick and choose if I want new music and be surprised or have every other song be one of my favorites. That covers the radio type apps. Looking at actually purchasing and paying monthly for music I compared Beats, Spotify, Rdio, iTunes, and the reason I'm here: Google Play Music (all access). Reason being is I have over 500 gigs of music stored on an external 2 TB Passport. Most of it has been catalogued using iTunes which is the only Apple product I have ever used, not even an iPod. The idea of uploading it to the cloud and playing my music up to 50,000 songs without any charge was absolutely the selling point. Once everything is uploaded and I like this set up, then I will check out the 30 days of free listening to hear how they steer you towards new music. I am always on the lookout for that undiscovered new sound or bands. Some people have responded that Google Play Music plays too much of their promotional artists or partners. No biggie. My question comes down to music quality!! I uploaded a bunch of MP3s along with a few FLAC files of artists totaling 12,000 which took two days to complete the uploading process. It has taken even longer to go through and correct album covers, track listings, genres, and put everything as Radiohead would say "in its right place". But if I am going to upload the whole Beatles collection to use as an example, would you upload to the cloud: 1) every album in FLAC and let Google convert to MP3. 320 kB per second is decent sounding but takes forever. 2) every album that I have already converted from FLAC to AAC so I could catalog it in iTunes. I just have a folder inside the folder. Files are big or bigger than an MP3 but it is lossless. 3) every album I have in MP3 format even if it's 192 kb/s up to 256 or 320 kb/s. The only thing I noticed when I played around is that sometimes using Google chrome to upload my music instead of Music Manager, is that it gets stuck. I can't figure out which files are doing it. But I have a lot left. I have all of Led Zeppelin, all of U2, the Beatles, Tom Petty, Pink Floyd, you get the point. All in FLAC, all available in MP3, and all have been converted so I could put them in iTunes library. Suggestions, feedback, advice... Would love it! SORRY! Just so there is no confusion, I use dbPoweramp and convert the FLAC files into .mp4 not AAC.

What is the quality at which Google Play Music streams the radio stations?
Android Central Newsletter
Get instant access to breaking news, the hottest reviews, great deals and helpful tips
Thank you for signing up to Android Central. You will receive a verification email shortly.
There was a problem. Please refresh the page and try again.