Google Play Music updated with new widgets, public playlists in search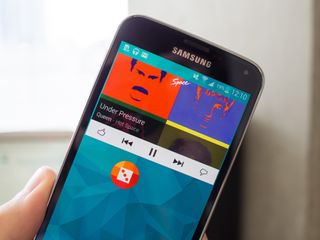 Google Play Music is receiving a relatively minor version bump to v5.6.1616 (from 5.6.1609), but it packs two new widgets, public playlists in search results and better management of your downloaded music. First up are the two new widgets, the first of which is basically a complete rewrite of the old 4x1 Play Music widget. It now changes sizes from 3x1 up to 4x4 — and everything in between — scaling the controls and album art accordingly. It also takes on a white design from the previous black one. The other widget is simple 1x1 "I'm Feeling Lucky" widget, that will simply start playing an I'm Feeling Lucky radio station when tapped. It doesn't even launch the Play Music app to the foreground — it just starts playing music.
The latest update has also started to surface public playlists in search results from within the app. Now when you search for an artist or song, at the very bottom of the results you'll see user-generated playlists that have been marked as public. You could previously make playlists public and share them directly with certain people, but to our knowledge this is the first time they're showing up in general search results within the Google Play Music app. You can "subscribe" or download these playlists just like they were your own.
Finally in this update you'll find an improved download management area, which has been renamed from "View download queue" to "Manage downloads." The function is basically the same, except now it will show how much room your music is taking up in relation to your entire device storage, and give you simpler ways to clear downloaded music or view the songs that are taking up space.
The latest version of Google Play Music is rolling out right now, and you can check for the latest version from the Play Store at the link above.
Andrew was an Executive Editor, U.S. at Android Central between 2012 and 2020.
How about gapless playback Google? When is that coming? Oh, and by the way, the download feature isn't working either.

Or what about the dissapearing album art?

Same problem here. Posted via Android Central App

Downloads work fine here.

Had hapless playback for about 2 years now. What's it like in 2011?
http://m.androidcentral.com/google-play-music-updated-gapless-playback-s...

Ummm no it does not. I really notice it when I listen to live concert albums.

There's gapless, I listen to nothing but official bootlegs, no gaps, maybe you should stop using VLC...

Sent me a link of something you have that is gapless and I'm play it and see. Posted via Android Central App

I don't have gapless either. I do with Poweramp but not Play Music.

Take a look at the way it's encoded. I noticed on certain devices (my Zune) and players, V2 variable bitrate mp3 wouldn't play gapless. Also make sure your encoder isn't adding some silence time to the end of your files.

Gapless only seems to be available on some devices. I tried for months working with Google on this issue and got nowhere. Their customer support really stinks. Leave it to Google to not be able to do something with their own OS that third party developers like Spotify figured out long ago. Posted via Android Central App

I've noticed that gapless is available on my Nexus 7 2013, but not on my HTC One M8. Posted via Android Central App

I will be a serious fan of the adjustable widget.

After the update all my album covers are missing. Posted via Android Central App

I get item not found. Posted via Android Central App

Item not found =( Posted via Android Central App

Yup, item not found Posted via Android Central App

+1. They must have an update we don't know about. AC App via Nexus 5

I can' t wait until this update hits my phone or I get my hands on the .apk. That widget looks beautiful, I'm adding it to my home screen. Speaking of Google Music anyone notice in Play Store app, when searching by genre, the new release section hasn't been updated since last year?

Hoping they'll add swipe to skip forward/back option for lockscreen controls soon.

New 4x1widget is awesome, it changes format as you resize it. You could now have a full size album art showing on your home screen. Posted via Android Central App

Glad to see the downloaded music handling get a update. The widget looks pretty good too and I might actually use it. Posted via Android Central App

The widget now follows Googles "make it ugly and low contrast" design cues. The I'm feeling lucky widget is a cool idea though. Posted via Android Central App

Anyone have a direct link? Posted via Android Central App

Is getting rid of all my album art part of the Material Design guidelines? Everything looks cleaner with just gray squares and orange accents.

+1 Posted via Android Central App

You're the second person to say this, so, uh, guess I'm not updating for awhile...I can't live without my album art. Sometimes I just stare at them for hours.

Hot space album by Queen...you sir have been dipping into my collection. Sent from my toaster

Good play music needs a lot of work compared to PowerAMP Posted via AC app from my amazing Moto X

When you going to add a sleep timer Google. Such a basic feature of a music player. Posted via Android Central App using galaxy s4

Everyone is saying they're losing album art but I didn't. In fact I cleared app data to remove it all on purpose and it redownloaded straight away.

Whoa, finally can search other people's playlists? This is one thing I always felt Spotify had over Google Music. Might be time to trial All Access.

All my album covers have disappeared with the latest update!

Thank God I'm not alone. xD

It doesn't show me the Album Art anymore. o_O Clean installed latest CM11 Nightly @ Nexus 4, Tried clearing data but nothing happened. Meh :/

I would just like the unknown artist title issue from years ago to be resolved. I still have numerous albums uploaded that are missing song tracks. It's one reason why I use Amazon music instead. Posted via Android Central App

I can't get mine to update at all Posted via Android Central App

Today's update to the update resolved my cover art issue. Play away!

Update finally reached my device. Great update. I am really loving the visual storage space indication. It's nice to know what is hogging up all the room. Also the new widget ROCKS. very nice. Looks great. Posted via Android Central App
Android Central Newsletter
Get the best of Android Central in in your inbox, every day!
Thank you for signing up to Android Central. You will receive a verification email shortly.
There was a problem. Please refresh the page and try again.