Google Play Games adding new developer features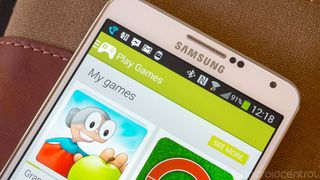 New statistics, service alerts and increased storage for games
The Google Play Games app has only been available for a few months now, but Google is expanding the developer tools related to the service starting today. First up are game services statistics in the developer console, which will give devs information about player activity such as how many players have signed into the game via Google, the number of players who unlocked achievements and how many are participating in leaderboards.
Next up are game services alerts in the developer console, which will give devs a heads-up about issues related to Google Play Games in their apps. Google is also doubling the amount of Cloud Save storage available to game developers, up to 1MB per user from 512KB, letting more game save data to be saved and synced between devices.
Google says that three out of every four Android users are playing games, and that number can certainly increase if platforms like Google Play Games improve the experience for users. Hopefully with these new changes — and more to come, surely — even more developers will take advantage of the new gaming features.
Source: Android Developers Blog
Andrew was an Executive Editor, U.S. at Android Central between 2012 and 2020.
Awesome! I was working with Cloud Save yesterday and noticed the slot size increases (from 128K to 256K). Always glad to see API and service improvements. Posted via Android Central App

I love you. I have no idea what game you make but thank you so much for cloud save. I can't tell you how lame it is having these awesome games on my Note 2 and N7 only to have to limit myself to playing them on one device because I don't wanna redo everything... What games do you make? I wanna go download them.

Agreed. More Devs need to take advantage of cloud saves. Posted via Android Central App

You're awesome, Sir. Posted via Android Central App

So the game saves.. does this mean that if devs actually take advantage of it, our saves will transfer to a new device or return after wiping all data (the go-to fix for any carrier service call)?

The game saving means game progress saves in the cloud so that you can pick up on your phone where you left off on your tablet. It will also save game progress in a factory reset. Posted via Android Central App

I still have yet to see a game that uses the cloud saves. Does anyone know of any?

Riptide GP2. Posted via Android Central App

Pandemic, Battle Dragons, Clash of Clans... Those are the three I am playing now and they all use it.

Real Racing 3, Dead Rising, Riptide GP2. There are more but those are the 3 I use and have noticed the cloud save feature on.

Games I want to implement play games and by extension cloud saves. - Pitfall
- Ninjump
- Great Big/Little War Game
- Ski Safari
- Fieldrunners 2
- Tank Hero

Theres no reason Android doesn't back up to our google drive accounts. Our google play store id should track all our devices, and each device data should save to our drive account. This should not be left up to devs... Don't agree? How's that menu button issue working out? Posted via Android Central App
Android Central Newsletter
Get the best of Android Central in in your inbox, every day!
Thank you for signing up to Android Central. You will receive a verification email shortly.
There was a problem. Please refresh the page and try again.