Google Play expands social horizons with official Twitter account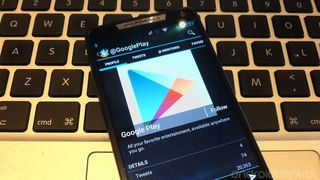 We know lots of you still use the Twitters for a lot of your social networking needs -- no matter how good Google+ becomes -- and so we bring news of a hot new account that you all should follow. Google Play is widening its horizons, and now has an official Twitter account, @GooglePlay.
The first tweet from Google Play read like this:
We don't know about you guys, but special promotions on its own makes it worthwhile. Hit the source link below to get your follow on.
Source: @GooglePlay
What's that Twitter client called?

I believe they're talking Twitter account, not Twitter app.

I basically just use twitter as "rss feed" program o.O
Android Central Newsletter
Thank you for signing up to Android Central. You will receive a verification email shortly.
There was a problem. Please refresh the page and try again.