Google Maps 5.7 brings public transit navigation, better search, improved Places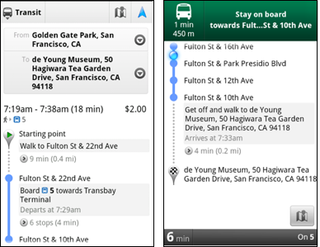 Google Maps just got a sizable update, with a slew of new features that those of you in major metro areas are going to want to check out. First and foremost is the addition of Transit Navigation. It's in beta (of course), but gives you directions via public transit in more than 400 cities worldwide, tying it all into turn-by-turn directions.
And speaking of directions, you're getting easier access to the nav button (anyone who's ever used it will be thankful for this). Also, Google Places are easier to get to, and they're better integrated into the search results. Also, photos are now integrated into Places results.
Here are the bullet points you'll see after updating:
Get GPS stop-by-stop public transit directions in Navigation (beta)
Receive search suggestions based on previous direction destinations and visited Place pages
Get directions in fewer clicks with the updated directions experience
Improved battery power management for Navigation (beta)
Browser photos of Place pages in a gallery view
Use the Download Map Area lap to save map areas for offline viewing
Google's demo video and Market links are after the break. Get to updating, everybody!
Source: Google Maps Blog
This is a cool feature, but if you're underground on the subway, you won't have a GPS feature. How will the public transit thing even know where you are, more or less tell you which stop to get off at?

can't figure how to delete.

There is often cell repeaters in subway stations sufficient for determining where you are. But your question suggests you want a simple software update to totally revise how the gps system works and enhance them with ground penetrating radios. How lost can you get in a subway!

You completely forgot to mention that you can now download map data. Go into the labs section and check it out!

Exactly "new"! You beat me to it. Was just going to mention the ability to download maps....which is the biggest addition IMHO.

I agree completely. Maps was already awesome and the ability to download maps of an areas beforehand doubles the awesome factor in my book. But as I reread the article I see now that I somehow missed the bullet point pointing out the download feature.

Google Maps.....it just keeps getting better and better.

Download maps is not new. Anytime you started you navigation of a route Google maps always downloaded maps so that even when you lost cell service it still had enough mapping data to get you there.

if you had read this hasn't nothing to do with solely gps nor navigation. You can download a map of NYC be in airplane mode and be able to look up things without a data connection. something you were definitely not able to do before.

Where is the "Save this area" option? I just updated the maps and can't seem to figure out how to save a portion of the map for offline viewing. Help would be much appreciated. Thanks in advance.

Figured it out; there's a Labs extension (Menu->More->Google Labs) that allows the user to download and cache map tiles explicitely, without having to physically be there. Very useful for when there's no signal, or while roaming abroad.
The tile size is fixed at 10*10 mls, so download is a bit cumbersome for large areas.

is it just me or did the update just freed up like 10 megabytes...! yeah...!

are you sure about that? Maybe it was just the maps data or cache that the new install happened to clear. What's the size of the app in the manage apps list under settings?

Does anyone know how well/if this works for that other phone.....the name escapes me right now, oPhone? uPhone? mePhone Damn....I forgot the name....y'know, that MAGIC one?

I'm a bit disappointed myself. I can SEE an New York MTA Metro-North train station from my home, yet when I try to do a transit directions from here to 200 Park Avenue (literally around the corner from the train's terminus at Grand Central Terminal), it tells me No Route Found. Please, please Google, add Metro-North.

Where did view "Buzz" go?
Android Central Newsletter
Get the best of Android Central in in your inbox, every day!
Thank you for signing up to Android Central. You will receive a verification email shortly.
There was a problem. Please refresh the page and try again.