Google goes back to school with Drive for Education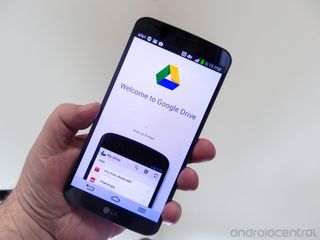 Google will offer an unlimited amount of Google Drive cloud storage space for free for all of its Google Apps for Education customers as part of a new program called Drive for Education.
Google says, "With Drive for Education, users can put an end to worries about storage limits and more easily maintain a safe, effective and compliant learning environment." Here's a quick run down of the program's features:
Unlimited storage: No more worrying about how much space you have left or about which user needs more gigabytes. Drive for Education supports individual files up to 5TB in size and will be available in coming weeks.
Vault: Google Apps Vault, our solution for search and discovery for compliance needs, will be coming free to all Apps for Education users by the end of the year.
Enhanced Auditing: Reporting and auditing tools and an Audit API easily let you see the activity of a file, are also on the way.
Do you think it's a good idea for Google to offer free unlimited cloud storage for students and educators?
Source: Gooogle
Get the Android Central Newsletter
Instant access to breaking news, the hottest reviews, great deals and helpful tips.
How will they know who's a student or not? Posted via Android Central App

likely your email address.

So let's say my s school isn't part of Google Drive Education. But I want to sign up anyway. Posted via Android Central App

Not going to happen. Google Drive for Education is at the organization level and not the individual user.

This isn't based on whether you are a student or not, but whether your organization uses Google Apps for Education. This is essentially the Google suite of apps but with additional support for the organization.

What about for Jennifer Lawrance?

The two most overrated people in Hollywood. Posted via Android Central App

Kate Upton? I lost faith in you!

Yeah, I don't know a single guy who doesn't think she's a total babe.

Too bad "knowing me" over the internet doesn't count, she isn't one for me.

neat... wake me up when we have instructions and i can actually activate/take advantage of this.....

Google is effectively eliminating every excuse the competition is giving to not go with a Chromebook solution in the education space. Once Android on Chrome goes completely live what excuse for Windows will remain for 99% of use cases? You'll be able to put all students' textbooks on it, storage is monitored and in the cloud, and the app argument goes away. Heck, you'll even be able to program and use Photoshop on a Chromebook. All for less than half of Apple and Microsoft solutions. This is good news for cash strapped school districts AND students. Posted via Android Central App

You still need high speed WiFi to use Chrome OS. And not to mention most schools still use legacy Windows software. And using Chrome means you are at the complete mercy of Google and their data collection. It's not gonna happen. Posted via Android Central App

"still use legacy Windows software" lol what?? technology has never been part of schools for a long time. Students used books and have computers in lab to do word/spreadsheet/presentation documents and check email. using chromebook just gave the same tool to students but they will use Google docs instead of office and will check email in a browser. Also none of the education device will do data collection. Google made this change long time ago.

technology has never been part of schools for a long time? maybe you should go to school and find out first hand how wrong you are. also, google docs is not nearly powerful enough for serious projects.

Honestly the idea that you "need" wifi at all for Chrome OS is no longer valid. Many things work offline, docs, email, etc. And most schools, my college included, offer free wifi. So all in all Chromebooks are perfect for college.

Many schools already have WiFi coverage throughout the building, and many more are making the change. Why? Because it saves money over time. Most were already looking at iPad or Surface solutions, but Google has steadily made inroads because its solution is both cheaper and easier to manage. It's easier to lock Chromebooks down, easier to manage their data, easier to ensure approved apps are all that's installed, easier to manage theft. They are nearly half the price of competing solutions, and Google Apps drives that down even further. Now school districts won't even have to worry about storage costs? Another feather in Google's cap. Posted via Android Central App

We are in 2014, almost every location has WIFI

I concur with it in 100%, furthermore believe that those client interface ought to be noncompulsory, implying that the client would have the decision to have it or not. Perhaps producer could give bundles that give approaches to empower those hardware(or just programming) gimmicks that make that gadget have the separation element among others 'http://ezy4gadgets.blogspot.com

That's enough to make me migrate back to my college account.

Individual file size limit? Sigh, there's always a catch! In seriousness though this is damn cool! Providing you have a .edu address... Posted via Android Central App

dont know if you are sarcastic but the individual file size limit is 5 Terabyte not Gb or Mb

Yeah, I was being sarcastic lol it's my default state. I'm not sure I could hit 5TB even if I compiled all the date I have into one file... Well, with the possible exception of my video game collection :) but even then... Posted via Android Central App

As an educator, I love this! My school uses a Gmail based email and through that we can use drive and the new Google classroom (which really needs an app for both android and ios users) This really makes it nice and simple for me to create a more efficient classroom Posted via the Android Central App

Is this worldwide or US only? I know several school boards are already on board with Google here in Ontario (the province in Canada).

I am a student at a technical university in Switzerland (ETH Zurich).
We are banned from using Google Drive or Dropbox or any other American cloud provider for fear of industrial espionage. Only acceptable is Wuala (Switzerland) or our own cloud storage.

You can thank Snowden for that. Posted via Android Central App

First, industrial espionage existed way before Edward Snowden was even born. Second, Edward Snowden is not known for, and as far as I know, has never engaged in any industrial espionage. You can thank legitimate concerns over IP theft, US companies and institutions do the same thing, and always have. Posted via Android Central App

Seeing that LaCie (makers of Wuala) store your data redundantly on servers in Germany and France, you aren't really getting any additional privacy from being in Switzerland. Their encryption scheme is good, but Spideroak already provides that, and I get 12GB for free with them.

So instead of singing in with our google account. We'd sign in with our .edu account? Does it matter if my .edu account uses office 365?

I think you'd have to get your own domain and then sign up with it. I'm currently debating whether I want to do that..

It sounds like your school uses Microsoft for its backend. If so, then you are ineligible for this program as your University/School must subscribed to Google Apps for Education. It's not designed for individual users.

Ahh damn it :( unlimited storage seemed too sexy

Time to find a school that uses Google Apps for Education or we can open our own K-12 or higher educational institution that is not-for-profit and formally accredited, Posted via Android Central App

Just so everyone knows, your school/institution must be using Google Apps for Education already in order to use the new unlimited storage. If you register your own domain and sign up for Google Apps for Education, Google makes you go through a verification process to prove that you are an educational institution (not just an individual student).

This is an excellent idea. The school I work for just emplamented new tablets and Google Apps for education. Posted via Android Central App

Note for John - you're on page 3 of the search results with your source credit ;) (it reads Gooogle) Posted via Android Central App