Google Earth updated, optimized for Honeycomb tablets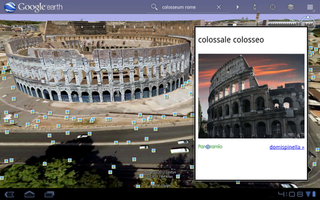 Google Earth version 2.0 is now available in the Android Market, bringing with it optimization for Honeycomb-powered tablets. Google says that the app now takes full advantage of tablets' large screens and advanced processing power, with a few new features in tow, including a new action bar with access to search, my location, layers, and reset-to-north.
Utilizing the large screen real estate, users can now explore fully-textured 3D buildings while browsing user photos on the side, just one of the experiences that was formerly limited to the desktop version only. If you're toting a tablet and want to take it for a spin around the world, hit the link after the break to download the update.
Source: Google Mobile Blog
Android Central Newsletter
Get instant access to breaking news, the hottest reviews, great deals and helpful tips
What Ho!, and hour after story appeared, we can finally post about how well this works. On my Acer Iconia A500 (you know, the one that AC doesn't think warrants either a review or a forum), this version if Google Earth is blazingly fast. Perhaps it is modified to take advantage of the Dual Core processor or the GPU, I don't know, but I'm impressed. Its faster than some laptops. Flying thru the 3D buildings of downtown Seattle is amazing, and the multi-touch controls are intuitive. Two finger drag to change Angle of view, one finger to move in the desired direciton, pinch to change eye elevation. Do a search on "bin laden compound abbottabad Pakistan" and you fly right there very smoothly, just like on a desktop machine. Tap the mic and say Eiffel Tower, and you are there instantly. I wouldn't try this on 3G. Especially 3D buildings, but on fast wifi the performance is awesome for a tablet. Warning: its 23Meg installed, and it can quickly chew up 150Meg in data storage (in addition to 5 or 6 meg in cache). So the minimum working set clocks in around 178Meg. Still, I haven't made much of a dent in the Acer's 16Gig of onboard storage even without an SD card. No crashes in an hour of playing with it.

Yeah, this does work amazing on the Acer A500.
Android Central Newsletter
Get instant access to breaking news, the hottest reviews, great deals and helpful tips
Thank you for signing up to Android Central. You will receive a verification email shortly.
There was a problem. Please refresh the page and try again.