The Google Cardboard apps you shouldn't miss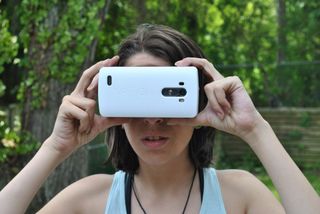 By now you've no doubt heard about Google Cardboard (opens in new tab) and its ability to turn your phone into a 3D projector you strap to your face. The best part about Cardboard right now is the volume of apps to check out, but as is often the case that causes a new problem. With so many options for apps on the Play Store, it's easy to get overwhelmed. There's more than a dozen roller coaster apps, some games that require full controllers to play, and others that don't quite work as advertised.
We've gone through dozens of games and app in the Google Play Store recently, and made a short list of the stuff you should be trying out.
READ NOW: The VR games that caught our eye
Labyrinth VR
Okay, we'll admit it. This is probably the dorkiest of the games on the list, as it's an escape the maze game. The controls are just turning left and right to navigate through the towering walls of stone. Like any maze, these ones can be tricky. They aren't small by any stretch either, and with the height of the walls it's really easy to get disoriented and then subsequently lost. The easiest way to get around that is the trick of always following either the right, or left wall — even when it means going down a dead end for a moment.
Best of all the app is just $0.99, and while it isn't an intensely immersive experience even with headphones on, it is a ton of fun.
Download: Labyrinth VR ($0.99) (opens in new tab)
Cosmic Rollercoaster
Like we mentioned earlier, you can't throw a rock without coming up on a roller coaster app in the Play store. We played with a bunch of them, and while they were all varying degrees of fun, this one stuck out to. Instead of a normal coaster, you are taken on a trip through the cosmos. The visuals are gorgeous with vivid sights during your ride including planets and what appeared to be a space station.
The trip itself isn't particularly long, but it is a lot of fun and a great way to introduce other people to Google Cardboard.
Download: Cosmic Rollercoaster (free) (opens in new tab)
Subway Surfing VR
A basic game that can also be played without Cardboard, the aim is simple. Ride the tide, and stay afloat while collecting coins to compete on the leaderboards. Tilting your head left and right with help you navigate, and make sure that you don't tip over. A gauge in the middle of the screen helps to let you know when you're close to falling over, which is definitely key to staying alive. You'll end up wiping out almost immediately if you aren't paying attention.
The music isn't amazing, but it is fun and sets the mood for this arcade style game. It's a fun, simple and free game for you to check out with Cardboard.
Download: Subway Surfers (free) (opens in new tab)
VRSE
This app goes in a very different direction than anything else on this list. Rather than a game, it involves immersive virtual stories that you are in the middle of. You don't move around much, but watching the videos with a full 360 view lets you see the story how you'd like. We watched a few of them including Evolution of Verse and New Wave. Both of them took my breath away, in the best possible way.
Binaural sound means that wearing headphones makes it feel like you've been 100% transported into what you are watching. You can even watch the video a few times and get a different view with each go, if you're using Google Cardboard you have got to make sure you check out VRSE.
Download: VRSE (free) (opens in new tab)
Sisters
So there is a reason that we saved Sisters for very last, and it's because of the apps and games here this one is a cut above the rest. It's perfect for giving someone new to the platform a scare, but even seasoned Cardboard users will be impressed by the volume of detail in this creepy little app. Sisters is a horror sim by Otherworld Entertainment that stick you in a room during a thunderstorm with two creepy dolls, a handful of furniture, and something else in the shadows.
The controls really just involve turning, since it's 360 degrees, but paired with the visuals and audio it is extremely creepy. The room periodically goes dark, brightens, or gets hit with flashes of light from the storm outside which just adds to the atmosphere. That and something breathing, right over your shoulder.
Out of all the Google Cardboard apps that I checked out this week, this was just the best of the best.
Download: Sisters (free) (opens in new tab)
Weigh in on Cardboard
These are the five games for Google Cardboard that actually caught and kept our eyes. Each of them is a little bit different, which really just demonstrates the variety of apps that are available now. For the most part these apps make terrific time wasters, but there's always something new to check out that might offer more.
With hundreds of apps on the Play Store, it's entirely possible that I missed the best games out there. So what you think of the games on the list? What are your favorite games for Google Cardboard, and what did we miss? Let us know in the comments!
Jen is a staff writer who spends her time researching the products you didn't know you needed. She's also a fantasy novelist and has a serious Civ VI addiction. You can follow her on Twitter.
I really enjoyed verse for the breif time it was compatible with the nexus 6. They keep pulling compatibility instead of fixing the lag issue. I mean it's the nexus 6, Googles flagship, it should be supported.

What was the issue it had? I was wondering why it wasn't compatible.

Probably because the OS. When OS updates occur for the nexus, devs have to optimize the apps to the current OS. Sometimes it can take 3-6 months for apps to get up to date with the newest OS I have had this problem with apps and my nexus devices in the past. Devs are usually really nice if you just email them the issues.

whats the phone on number 5?

It's the OnePlus One, running Cyanogen OS.

I would have to add to the list:
Crazy Swing VR ( https://www.androidcentral.com/e?link=https2F2F... ): An impressive ride. It really gives you a sensation of falling. You might want to use this app while sitting down.
Sea World VR ( https://www.androidcentral.com/e?link=https2F2F... ): a beautiful underwater experience. Not much to look at after 5 minutes but it really makes good first impressions for people new to VR.
Chair in a room ( https://www.androidcentral.com/e?link=https2F2F... ): Like Sisters; but with a bit more interactivity and a bit more better graphics. This "game" and Sisters are perfect for some good jump scares.

Chair in a Room is a fun little shocker.

I'll have to check out Crazy Swing, and Chair in a room, but I did see Seaworld VR. I kind of liked it, just the other Apps on the list caught my attention more effectively.

Labyrinth is showing as $.99, FYI. (USA)

Is the LG G Flex 2 compatible with Cardboard? Posted via the Android Central App

Yep Posted via the Android Central App

Sweet. I just ordered a red Google Cardboard from I am Cardboard. I can't wait to try these apps with my G3. Thanks for the heads up! Posted via my Galaxy Tab S 8.4" running IronROM v2.x

Adult swim Virtual brainload is a fun treat. And if u like escape games lost in the kismet works well enough to enjoy. Posted via the Android Central App

Proton Pulse definitely deserves a mention. It doesn't cost too much, but it's like a 3d version of Breakout and has a TON of levels for the cost of the game. Very fun and a great demo of what VR games can be!

How does this work? I'm thinking of ordering one from imcardboard Posted via Android Central App on 1+1

What about the Apps to watch a full length 3D movie? Is it a good idea to stick your eye into the Cardboard for extended hours?

Will these work with the oculus vr for Galaxy s6? Posted via the Android Central App

There is also this app:
https://www.androidcentral.com/e?link=https2F2F...
But for some reason, it's not available for a lot of devices

So I feel really stupid for asking this question but if the phone is inside the box, how do you play games? Do I need to buy a controller?

All of the games we talked about in the article are played just through motion, generally by turning one way or the other. (You want to be standing somewhere that has room for you to turn in a circle. Repeatedly.) Some games do require controllers, but thats usually listed on the App page in the Play Store. Some games just require a magnet for input, or they have you look at a part of the screen. The Google Cardboard setup I was using had a magnet built into the side for that sort of game, but not all of them do.

Thank you so much for your help. I just ordered mine from I AM CARDBOARD. Looking forward to getting it next week.

I don't know if AC covered this previously, but there's a beta for YouTube floating around that adds a Cardboard button. Perfect for watching #360videos channel. http://www.youtube.com/channel/UCzuqhhs6NWbgTzMuM09WKDQ

Thank you so much for that! I've been seeing 360 videos for a while now and wondering when I'd be able to watch them in my cardboard. Seems like the best thing to do with it

All of them are great apps ... we are also trying to develop something fun & special: Arkanoid + VR = VRkanoid Try it out on Google Play: https://www.androidcentral.com/e?link=https2F2F... ... feedback wanted :)

We're a creative agency from Italy and have made our first VR app - we'd love to hear what you think!
https://www.androidcentral.com/e?link=https2F2F...

We'd like to share our 360s.tv app. Our community gathers spherical videos running without any special player: https://www.androidcentral.com/e?link=https2F2F...

Vrse is the only 1 on the list I kinda liked but there are plenty of awesome others, golf vr & vr crossy road (just updated) are my faves, it's still new but exciting to see where it'll go... Posted via the Android Central App

We have just released "The Planets VR".

New VR experience "Whales Dream of Flying" just uploaded. The free edition (2 minutes) is here:
https://www.androidcentral.com/e?link=https2F2F... Full version (5mins) is here:
https://www.androidcentral.com/e?link=https2F2F...
Android Central Newsletter
Get the best of Android Central in in your inbox, every day!
Thank you for signing up to Android Central. You will receive a verification email shortly.
There was a problem. Please refresh the page and try again.