Google announces Android 7.1 Developer Preview, coming late October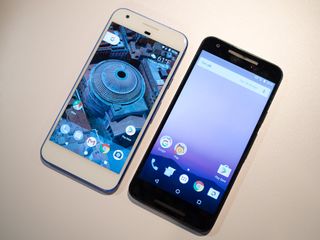 Google has announced Android 7.1, Nougat's first maintenance release, with a developer preview coming later this month.
According to Google, this "incremental update" builds on the strengths of Android 7.0, but adds some important new features, including Daydream support, A/B system updates, an app shortcut API for the new default launcher, and the long-awaited ability to use image keyboards.
Available as a Developer Preview later this month, Android 7.1 won't be bundled with Google Assistant on regular Android devices — as expected, that's a Pixel-only feature for now — but it will have support for many of the features we saw previewed on those phones earlier in October. This includes an API for rounded app icons and improved wallpaper filtering, as well as the aforementioned app shortcut support that will allow for five "key actions" taken directly from the home screen icon.
Google is also highlighting two important features for developers, though they also spill over to users: image keyboard support, which allows for non-text overlays as primary input methods; and storage user intents, which allow developers to send users to a screen that can "clear unused files and free up storage space on the device."
The Android 7.1 Developer Preview will be released towards the end of the month for the Nexus 5X, 6P and Pixel C, according to Google, though the final release will include all devices, such as the Nexus 6, Nexus 9, Nexus Player and select Android One devices, that were included in the wider Nougat rollout.
It also appears that the Pixel and Pixel XL will receive an update to Android 7.1.x — whatever the public release is called — when it is released in "early December." It remains to be seen if most manufacturers already testing Nougat for their flagships will skip Android 7.0 altogether and move to 7.1.1, since Google says it is "working with our partners to bring Android 7.1 to devices in the ecosystem over the months ahead." Hopefully, devices like the LG V20, which ships with Android 7.0, and those being updated imminently, like the Moto Z, will not be negatively affected by this ambitious rollout plan, since they likely knew of Google's intentions far earlier than the public.
Who's excited?
Daniel Bader was a former Android Central Editor-in-Chief and Executive Editor for iMore and Windows Central.
I have a Nexus 6P and I think I read that it will not be updated to the Pixel launcher, so will I get the shortcuts on the home screens and if so in what launcher? Google Now?

Finally. Side note: someone in XDA found a way for Google assistant to work on 6P.

Google Assistant is the one feature from 7.1 that I really want. I'll have to check in with XDA...thanks for the tip!

Confirmed, on LG G3, works like a charm

Carrier locked phones are going to have a hard time keeping up with the latest releases now that Google is on the fast track for updates.

Not really. Sprint is taking care of update business on there end.

Let's see if they update all their phones to the latest version that will be released every 3 months.

Ok well it loooks like we have one of dem gramer corecting dudes.
If I ain't not be gosh darn. It looks like Google might need to get there speeler cheaker to work better
-------------------------------------------------
I believe there is a special place in Hades for grammar ****

I though A/B system updates were an announced feature for Nougat RTM? Was the feature delayed then?

Well that's nice that Google is showing some love for its core audience.

See, guys? Google didn't forget about their Nexus audience, they're still getting updates first :) I for one am kinda happy that my Nexus 6 is still getting Android 7.1, and they didn't kill it off at 7.0.

I believe that it's being supported until next fall.

Yeah, should be supported until next major version.

It really should be longer than that I think. With how good mobile hardware is these days 3 years really should be the minimum for the company that owns and develops the OS. Kinda like Apple

Not excited for a mix of round icons and proper icons with a unique silhouette.

Yeah, I don't get the attraction to round icons either, or that obnoxious G tab. But I can hide those with Nova anyway since there'll be no Assistant to mess with.

What if any camera improvements are in the. 1 update?

Wonder when this will be released for the Note7.

FIX MY DAMN BATTERY ISSUES! STUPID NOUGAT

Happy to see the Nexus 6 on the list, however much of 7.1 is Shamu-friendly.
RETRACTION: I take it all back! I just checked the Beta program page and found out that "Unfortunately there are no eligible devices associated with this account." Somebody needs to tell 'em to edit the list of eligible devices on the Beta home page. The stupid xxxxs!

What? Are you saying your Nexus 6 isn't listed as an eligible device? Because it let me sign mine up a little while ago.

That's what I'm saying. Evidently the dev preview is not an option for the N6, but the final version will be. If your N6 is already on 7.0, then something's weird.

My n6 is on 7.0 and signed up as part of the dev preview. Not sure why yours shows up that way...

My Nexus 6 is on 7.0.0 (NBD90Z Oct 2016)

Read the article. Dev preview for 7.1 will be for 5X, 6P and C only. The final roll out (early December) will include other devices like the 6

Google says during Keynote that they are allowing app developers to utilize the Assistant within their apps so users can have the Assistant in everything they do. Google does not update last year's flagship Nexus devices with the Assistant. o_O

Who's excited? Sure the heck not me. It will be a cold day in Hades before I become a guinea pig again for them. The Pixel launch still leaves a bad taste in my mouth. Not sure what I'll buy next. It sure won't be what they're passing along.

Me. What's your beef with the launch?

It's called preview, everyone jumps in like there's no tomorrow, and then complain about testing unfinished code. Go figures?

Will nougat come to the s7 edge?? Posted via Android Central App

Yes, definitely, but there's no way of telling when.

What about the fingerprint-slide-quick settings thing? And for example the shake for camera movement? Are they a Nougat thing or a Pixel thing? I'm very confused about that and a little pissed of as well.
Ah, maybe not pissed of, but you know what I mean.......

That's what I've been asking in other comments sections. IIRC, didn't they say that the FPS actions and Night Mode were supposed to be part of 7.1, and that the only things we weren't getting were Assistant, Pixel Launcher, unlimited full resolution backup, and the 24/7 support? Now it's just a bunch of stuff for developers to implement in their apps. So essentially nothing for the end users at this time. Thanks Google.

Exactly, my friend..... I really really want the FPS-quick settings feature.... I honestly thing that's the most brilliant idea any OEM has ever come up with...... And I'm always right;)

After the official 7.0 I finally re-entered the world of custom kernels and etc and reminded myself to not care what Google brings to the barn because my phones never run better,and for ONCE I just can't kill this battery.

I'm on a Nexus 6 and I still haven't gotten 7.0 yet.. :(

Sign up for dev preview, you'll get it moments after.

If Assistant isn't included there's not much to be excited about. And what good is Daydream support if Google already said the Nexus isn't good enough for it?

And here I am, waiting for Motorola to have the decency of announcing when those Android N updates will be showing up.

Waiting for Android 7.1
( LG 5x )

still no 7.0 for my moto x pure.....fckng garbage

Bit annoyed that Google seem to be prioritising their own devices over the AOSP.
Android Central Newsletter
Get the best of Android Central in in your inbox, every day!
Thank you for signing up to Android Central. You will receive a verification email shortly.
There was a problem. Please refresh the page and try again.