Gmail video chat being upgraded to Google+ Hangouts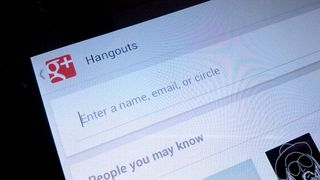 If we were ever in doubt that Google+ is becoming more of a focus for Google, today's Gmail announcement just reinforces it a little bit more. The video chat feature in Gmail is being replaced as of this morning. Taking its place, Google+ Hangouts.
It isn't that surprising to see this integration eventually come around, but it is still a welcome upgrade. Google+ Hangouts is already a pretty powerful video conferencing tool, and without having to be in Google+ to use it just makes it that bit more useful day-to-day. It also means that you're able to reach your contacts for video chatting on their mobile devices too.
The beauty is, every Gmail user will benefit from this upgrade, they don't have to be using Google+. But, if you're a user of both, then you can enjoy the full Hangouts experience such as watching YouTube videos together, collaborating on documents, or perhaps more importantly, dressing as a pirate.
Source: Gmail Blog
Makes sense. They don't need multiple video chatting clients. Unification is good.

Hangouts are really great and quick to set up. Problem is the visibility in Android. I wish there was an icon in the launcher for it, like what Apple does with Facetime. They did it for G+ Messaging.

Wow, now that's awesome. This will save our small business some money. As an aside, its funny how the wireless carriers are trying to run away from apple and its higher devices costs into androids arms. Google is repaying them with free services that take revenue away from the carriers IE: talk, voice, maps and now this video chat service. Did I miss one?

Google Talk has already had free video chat, and its shipped with every android phone, so still no reason to join Google+ to get this feature. I'm surprised you were unaware of this. Your small business could have been saving money all along. I'm not necessarily more comfortable knowing that they dropped the peer to peer connection and now route everything through Google's servers. Was this really to provide better service, or to be in compliance with the requirement to provide wiretap capability?

I'm unaware of the tech being used before and now. Was Gmail Video Chat p2p? I was under the impression that it already went through google servers.

Directly from the source article (bottom link to Google in the story) it says: "Unlike the old video chat, which was based on peer-to-peer technology, Hangouts utilize the power of Google's network". Two people on a company/campus network could Google Video Chat without it ever going through anyone else's server, after the call was set up. Skype is also going thru Microsoft servers now, so that they can wiretap skype calls. The only option for private Video Chat is SIP (CSipSimple from the Nightlies), with an off-shore provider.

Thanks, I normally don't check the source articles unless I'm specifically looking for more details or am interested in the topic. On the topic of Skype, I am under the impression the reason that is going on is because MS bought them and want to integrate them into other MS products.

Yes you did. App Store at least in Verizon's case.

Does this mean that they're going to turn off that Messenger app on Android devices and roll everything into Talk? Those apps being separate blows my mind.

More likely in the future we'll see the Talk app vanish and everything rolled into Messenger I'd say. Everything is starting to link into G+ in some way

Thank GOD someone else has said this! I have been completely baffled as to why GTalk and G+ Messenger are separated in any way, shape or form. Having two apps like that is ridiculous...sometimes I get a message through one, sometimes through the other. Have been waiting for those two to combine ever since Google+ came out of the magical forest.

Except some don't want a Google+ account period.

I tried google hangouts. It is nearly impossible to do between a desktop and an android tablet. Google talk works just fine though. Looks like I'm going to have to switch to skype now.
Android Central Newsletter
Get the best of Android Central in in your inbox, every day!
Thank you for signing up to Android Central. You will receive a verification email shortly.
There was a problem. Please refresh the page and try again.