Georgie, a smartphone app for the visually impaired, now available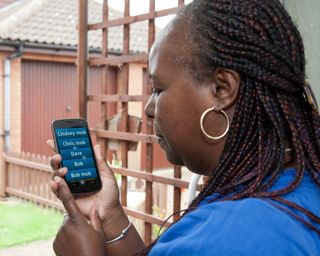 Addressing the smartphone market for the visually impaired is an ongoing task. Over the years, there have been plenty of advancements in this area with the introduction of numerous applications, voice technology and on screen accessibility features but now a new entrant into the market is seeking to help folks as well. Screenreader, a not-for-profit company, has now introduced the Android based Georgie app in the U.K where there 1 in every 30 people suffer from some sort of visual impairment.
Using existing Samsung phones like the Samsung XCover and Galaxy Ace 2, picked specifically to be easy to use for blind users, Georgie offers a whole new experience by allowing for such things as managing contacts, using speech input to send text messages and tag previous routes or hazards (like potholes or low hanging branches) using navigation apps.
Georgie is available for purchase on the Google Play Store in a number of different packages. The base package with all features is available for £299 with additional feature sets available for £149. You can look at the full press release below or check out the source link for video on how Georgie works on devices.
Source: ScreenReader
World's first smartphone for blind people available today
Georgie, a smartphone designed for blind people, by blind people, is launching today to transform the lives of the almost 2 million people in the UK living with sight loss. Developed by not-for-profit social enterprise Screenreader and available through exclusive partners Sight and Sound Technology, the new smartphone includes apps built specifically to help blind users navigate day-to-day obstacles like catching a bus, reading printed text and knowing their exact whereabouts in unfamiliar areas. Tasks more commonly associated with smartphones like using Twitter, reading text messages and taking a picture have also been updated to be much easier to use and accessible to visually impaired people for the first time. Georgie is available from £299, or the unique features are available to download as an app for anyone with an existing Android smartphone from £149.
Founded by blind husband and wife team Roger and Margaret Wilson-Hinds, Screenreader had a clear idea about how a smartphone should be for visually impaired users, so enlisted Alan Kemp as Chief Technical Officer to bring the idea to fruition. Georgie, named after Margaret's first Golden Labrador guide dog, is the work of 18 months of development and testing, working closely with the blind community for their feedback.
Georgie makes use of Google's Android operating system and existing Samsung phones like the Samsung XCover and Galaxy Ace 2, picked specifically to be easy to use for blind users. The large buttons on an uncluttered screen, voice feedback whenever the screen's touched and an innovative way to select the desired option also make the basic functions of the phone easier to use for visually impaired people, as well as those unfamiliar with modern technology.
"I was able to send my very first text just earlier this year thanks to Georgie" said Screenreader co-founder Roger Wilson-Hinds. "It's exactly that type of digital experience we want to make easily available to people with little or no sight. More than that though, it's also going to help solve every day problems for blind people so they can be more confident about navigating the real world and become independent."
Glenn Tookey, CEO of Sight and Sound Technology added "Companies like Apple and Google have done a good job of adding accessibility tools to smartphones, but Georgie is the first smartphone solution developed with the visually impaired in mind. For that reason Georgie offers relevant features which, coupled with our expertise in offering customer support to the blind community, makes for a really exciting, well supported product that we're proud to exclusively distribute."
Out of the box Georgie comes with features to let users dial a number with the voice assisted touchscreen, manage contacts, use speech input to send text messages and tag previous routes or hazards (like potholes or low hanging branches) using the navigation apps. A variety of additional apps are also available for purchase and bundled into three different packages, Travel, Lifestyle or Communicate, to add more functions to support different aspects of daily life that blind people may currently find challenging. These bundles are available for £24.99 each and include the following extra features:
· Travel
o Near me – find places of interest – everything from bus stops and cafes to the local zoo
o Buses – know when the next bus is arriving and when to get off
o Weather – forecasts for any area
· Lifestyle
o Audio Player - listen to audio books, talking newspapers and podcasts
o Voice Assistant - ask almost any question and an answer is returned in audio format
o Colour – find the colour of an object or garment
· Communicate
o Assistance – call a helper who can tell you exactly where you are
o Audio Tagging – add a sound clip to images so they can easily be found later
o OCR – turn a photo into a text document that can be listened to and saved
o Camera Assistant - take a photo and be told what it is (rice pudding or a tin of beans)
o Twitter - send and receive tweets
o Blogs – record and broadcast audio blogs
In the UK there are roughly 360,000 registered blind people. In addition, there are almost 2 million people in the UK living with sight loss, which equates to 1 in 30.
For more information please visit www.sightandsound.co.uk
I think she's looking for Goodie Mob. Not sure though.

Haha, I wonder how much people will get that one.

There is another app available by Code Factory that does essentially the same thing, but for not as large a price tag. https://www.androidcentral.com/e?link=https2F2F... My stepdad, who is completely blind is able to use this fairly well with a Samsung Nexus S 4G. EDIT: Forgot to mention, there is a free version available for Sprint customers: https://www.androidcentral.com/e?link=https2F2F...

Watch out guys, mob boss here

Brilliant ! I am doing my graphic design thesis on shopping for the visual impaired (partially sighted), and was looking at creating a system to ease the shopping experience of these individuals.

This is a real great information. I really appreciate this kind of articles. I was looking for something like this to refer to few visually impaired persons near me. I found this link from under given URL:
sizledcore.com/2012/11/are-we-neglecting-visually-impaired-community-by-creating-touch-screen-smart-phones/
Android Central Newsletter
Get the best of Android Central in in your inbox, every day!
Thank you for signing up to Android Central. You will receive a verification email shortly.
There was a problem. Please refresh the page and try again.