Gemini PDA is a crazy dual-booting hybrid with a mechanical keyboard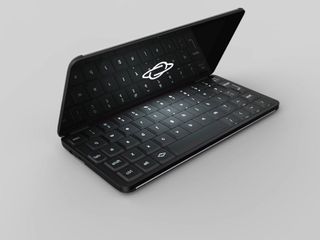 There are two kinds of phone nerds in the world today — those old enough to remember lusting after PDAs so you could have a computer with you at all times, and people who weren't alive before Wi-Fi existed everywhere. For the PDA folks out there, this is a throwback you're going to want to see for yourself. It's a pocketable clamshell PDA that dual-boots Android, but you can also close the lid and use this thing like a phone.
It's called the Gemini PDA, and while that name may sound familiar to some there's a whole lot more than nostalgia at play here.
What you're looking at here is a 6-inch 18:9 screen at 2160×1440 resolution with some padding on the sides to make room for that "full" keyboard. Most people are going to be a little cramped on a keyboard that size, but it's a proper mechanical keyboard which is impressive. This 320g clamshell dual-boots Android and Linux, with a special Deca Core processor with 4GB of RAM and 64gb of onboard storage. With the 4220mAh battery powering this experience and two USB-C ports, it seems on paper like you could really have some fun.
The big thing missing from this experience, if you're a modern phone nerd, is a camera. If you want something other than the 5MP camera on the inside of the PDA, you have to pay for an accessory you connect to your Gemini. Given the current state of excellence we have with smartphone cameras, there's a good chance that accessory will not be worth your time or money.
Gemini comes in two flavors, Wi-Fi only and 4G LTE. If you choose the 4G model, you can use this machine as your phone full time. Not only does it run all Android apps, there's a special voice mode where you can close the clamshell and hold the PDA up to your face like a phone to talk. You don't have access to the screen in this mode, and this is clearly a little larger than your average phone, but if your goal is that all-in-one experience Gemini seems prepared to offer you an alternative to what you have now.
Gemini is currently available on IndieGoGo for $399, where the company's original campaign has already pulled in more than 250% of the original goal.
Get the Android Central Newsletter
Instant access to breaking news, the hottest reviews, great deals and helpful tips.