Gameloft teases Unreal-powered Wild Blood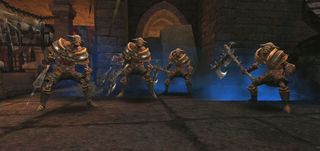 Gameloft has been having a bit of fun with video game fans using their next action adventure game as bait. As revealed, the game is called Wild Blood and makes use of the Unreal Engine. The freshly revealed trailer shows off some pretty interesting footage but Gameloft isn't ready to give up all the goods just yet. Hints given out tell us the IP based on a well-known character from history and that's about it. In order to unlock the next hint, you have to hit up their Facebook page. If you're not all into that and just want to check out the trailer, you'll find it embedded below.
More Info : Gameloft on Facebook
Be prepared to relive history? There are 10' monsters and things running on walls... What historic period is this from? Time to hit the Game of Thrones/Lord of the Rings Encyclopedia.

If it's from Gameloft, it will probably be free to download, but require $15 in IAP's to make any progress in the game. No thanks.

If it's from Game loft then it won't be compatible with my TF or my GSIII anyway. -Suntan

Ah well, how I wish this game would work on my Gad-damn Acer A510 tablet. None of GL's games are supported!!!

Just going to wait for the hacked version for my TF101.
Android Central Newsletter
Get the best of Android Central in in your inbox, every day!
Thank you for signing up to Android Central. You will receive a verification email shortly.
There was a problem. Please refresh the page and try again.