The Galaxy Watch 4 is Wear OS' last hope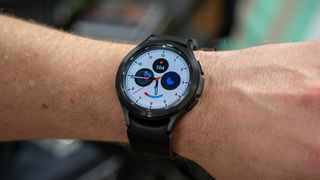 (Image credit: Daniel Bader / Android Central)
We finally got to see everything we wanted to see about the Galaxy Watch 4, and there is plenty of good stuff there if you want an Android wearable. Whatever concessions Google and Samsung had to make to create this partnership seem to have been worth it based on the level of interest in the watches and their reasonable prices. Even I'm thinking about getting one, and I lost all interest in Wear OS a long time ago.
For consumers like you and I, this means we have the chance to buy what looks like a good product for a reasonable price. That's important because I'm more concerned about how the consumer benefits than I am about how much money a billion-dollar company makes. But for the Wear OS platform, this is important in a much larger way — if Wear OS 3 powered by Samsung can't drive adoption — nothing can.
Yeah, I know other companies will inevitably make new watches. Google has Fitbit now and those things matter, too. I know there will be other watches from Fossil and Mobvoi with the potential to be just as good, or better. I'd even bet money we see luxury brands like Tag Heuer release new watches powered by Wear OS 3. For enthusiasts, and if you're on the internet reading an article about Wear OS watches, you are an enthusiast — those are important products that give us more choices or can even be a better fit.
Fitbit will matter to the crowd who wants a device for fitness tracking, which is a lot more people than most of us realize. Some people will buy a fitness watch based on the brand name alone, and Fitbit is a good brand name. I'm not forgetting that these watches from other companies, including Google, aren't a factor. They're just not the deciding factor.
The thing is, once you leave North America, you stop seeing so many iPhones. Android's market share globally hovers around 75 to 80%. In some places, you'll likely never see someone using an iPhone. I'm not trying to dump on Apple or start some sort of culture war here. I only mention it because it means that most people worldwide can't use the Apple Watch.
I'm not an Apple shill. I think the company makes great products that work perfectly for many people, and that's awesome. Companies that use Android also make great products that work perfectly for many people, which is equally awesome. You should buy what works best for you and not care what someone on the internet says about it. I have an iPhone and an older generation 3 Apple Watch here, though, and unless you have used both the Apple Watch and even the best Android smartwatch, you don't really know how much better Apple's platform is. I hate saying it as much as you hate reading it because I don't want to use an iPhone, but probably would use an Apple Watch. I just can't.
Wear OS' problems are two-fold: clunky software and really crummy hardware. To compete with the Apple Watch both have to be fixed, and since Samsung has abandoned its own Tizen-based watch platform, the Apple Watch is the only competition. An Apple Watch is a lot like an iPhone. It has really great hardware combined with software that might be more limited compared to Android, but what it can do it does very well. Yes, there are software bugs, and it's not perfect. But "it just works."
This is what Wear OS and the devices using it have to make happen. If Samsung can make a product that "just works" running Wear OS 3, there are over a billion potential customers. Customers who can't buy an Apple Watch (or have no desire to buy one) want more than a Bluetooth watch that gets notifications or a fitness tracker. I believe Samsung can do it.
If Samsung can't build a great Wear OS watch and make it available for everyone who wants it, nothing more can be done. No other company — including Google's own Fitbit — can design, manufacture, and distribute a product the way Samsung can. No other company will be able to make a high-quality product and sell it at a reasonable price. No other company can save Wear OS.
I have no idea what Google had to do to get Samsung onboard the Wear OS train outside of giving up some software control. Maybe that was enough. Maybe Google has to grease the wheels in other ways. I think it was worth it, though.
Get the Android Central Newsletter
Instant access to breaking news, the hottest reviews, great deals and helpful tips.
Senior Editor — Google Ecosystem
Jerry is an amateur woodworker and struggling shade tree mechanic. There's nothing he can't take apart, but many things he can't reassemble. You'll find him writing and speaking his loud opinion on Android Central and occasionally on Twitter.
I think with Samsung on board, Wear OS will realise it's potential. Because I'm seriously looking at the Apple Watch, but I want a Google Pixel Watch or Fitbit as I don't want to be in the Samsung ecosystem, but I'm gonna to be honest, I want the same seamless integration that Apple has with it's devices and only Google can come close to Apple in that regard, Google will now make the software and now the hardware for their phones with the Pixel 6 series and it's the same with their Pixelbooks, Samsung for all their progress with their partnership with Microsoft and great ecosystem, they're integration with their phones, Tablets and laptops aren't as good as Apple's, when my sister set up her iPad Pro, she didn't even need to enter her WiFi password, it just detected her phone as soon as she signed into her Apple account and automatically synced redownloaded her apps and everything, that's the kind of seamless integration I want and the Apple Watch really impresses me.

If you can handle living with an iPhone I can tell you with certainty that the Apple watch is fabulous. Spend a bit more and get the stainless steel model if you can. I had an Apple watch 3. I couldn't stand the Apple phone so I got a Pixel as I also wanted a smart phone. In the end I got rid of the Apple watch and phone because I didn't want to carry 2 phones and the Apple is a more limited and inferior phone. I wrongly believed that the newer Samsung watches had caught up. Nothing could be further from the truth. I then got a Samsung Galaxy Active 2. The Apple watch 3 is a better watch than the Samsung. It is better integrated with the phone, more accurate in activity tracking and it is not glitchy like the Samsung which also was less robust. I think the stainless steel Classic will be stronger than the cheaper model. I might give the Galaxy 4 Classic a try if a credible review says the tracking has improved. If not I will wait for Fitbit/Pixel to produce something. If you are swimmer the moving bezel works in the pool whereas the haptic bezel does not.

Trust me I don't like using my iPhone but it is definitely a better media player than my S20 FE, but I'm impressed with my sister's Apple watch series 6, especially the fitness aspect of it and integration with the iPhone with setting up being a cinch thanks to that seamless integration, I still don't really want one but because of my pact with my twin sister, I'll buy her one off of her and she'll get another, which is the aluminium one, which is the cheaper one. I don't like carrying 2 phones either but for my twin I put up with the iPhone and it's annoying restrictions and limitations but yeah I'm not feeling the Galaxy Watch 4 either and Apple Watch Series 7 will blow it out of the water even further. So do you know if the Apple Watch is fully water resistant? As I do plan on going swimming once this pandemic is over.

Swimming is what I used for. It is the best smart watch for swimming. It is water resistant to 50m. I swam in salt water with the Apple watch 3 almost every day for 3 years. Watch still looks pristine (my daughter has it now.)

Have fun with your 18 hours of battery life on the Apple watch. I rather type the wifi password than have a watch that will die in the middle of the day.

The 18 hours battery life is disappointing but what the Apple Watch has more than makes up for the poor battery life.

In the UK, Apple is as popular as in the US as far as the iPhone is concerned but I've not seen any Apple Watches apart from my brother and my twin sister who has the Apple Watch series 6. I think Samsung will do all it can to make sure that Wear OS doesn't fail at least as far as the Galaxy Watch 4 is concerned more so.

I've purchased two Movado smart watches and have been pleased with the improvements in the Wear OS overtime. Maybe I'm not as picky as others, but the notifications from my phone to the Connect 2.0 have been seamless, and the OS allowed me to easily pick which notifications to send to my watch. Google Fit seems like a good application that frankly I probably don't take full advantage of. I've had no problem using NFC for payments, unfortunately I've been often disappointed with the lack of opportunities to use it. Overtime, the OS has made it easier to add and set up applications to run on the watch too. I'll probably wait awhile before purchasing my next smartwatch, since I'm happy with the one I have, and want to see what kind of watches are released running the new Wear OS. The design choices available with Android phones and Wear OS watches give consumers choice to find the devices that better satisfies their needs, if they are not happy with Apple devices for whatever reasons that might be.

In an idea world, I'd nor even consider an Apple Watch and to be honest, it still isn't my first choice because I don't enjoy iOS and love Android and the freedom I'm allowed with the OS, so a (my first choice) Pixel Watch or a Tick Watch will probably my Android Smartwatch to go with my Pixel 4a 5G.

I got rid of my Galaxy Active 2 and now have a cheap Xiaomi Mi Band until I can find a good android watch. I might have to wait a while though.