The Galaxy Watch 4 is a lot like the Apple Watch 3 was (in all the right ways)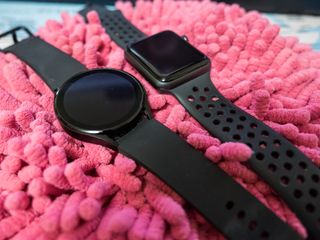 (Image credit: Jerry Hildenbrand / Android Central)
We've seen a slew of cool new products the past few months, but I find myself fixated on the Galaxy Watch 4 more often than not. It doesn't flip, nor does it fold, and it doesn't use some crazy Google-configured chip. But it is pretty unique and important, which is tough to say about any other Android-powered wearable.
I think I find myself fascinated with the Galaxy Watch 4 not because of what it is, but what it had to be. I'll explain: It's a pretty good wearable with pretty good software. But it's also the Hail Mary pass that either saves Wear OS or dooms it entirely. I totally think it does the former.
Admittedly, I was very skeptical when I bought my Galaxy Watch 4. It had been years since I used an Android wearable every day because they didn't offer me enough to put up with all the things that weren't great. I have bought a few devices throughout the years from Fossil, Skagen, and Mobvoi after seeing how everyone agreed they were the cream of the Wear OS crop, but I was still left disappointed.
You're going to hate this part, but what disappointed me the most was that I used an Apple Watch. Yes, Apple came late to the wearable party, and the first couple of devices were really only something a complete Apple fan would want, but when the Apple Watch 3 was released, it seemed like Apple got its act together. Sales seem to back up my assertion, and the Apple Watch 3 became a breakthrough device. After it launched, I noticed more and more people wearing one (at least in North America) because it was genuinely a good product.
Nothing on the Android side of things compared, and that was kind of sad. To make matters worse, Apple kept getting better and better at wearables while Google seemed willing to let the products wither on the vine. I don't use an iPhone every day. I don't want to use an iPhone every day. That means, I can't use the "good" watch and instead, I have to settle. It turned me off Wear OS completely.
This is why I really like the Galaxy Watch 4. It's not only one of the best Android watches you can buy; it's Samsung and Google's version of the Apple Watch 3 — and I mean this in a good way.
I've been using one for 23 hours a day for about a month now, and as much as I want to find one, I don't have any serious complaints. Certainly, no deal-breakers make me want to put it back inside the box and ship it off for a refund. That's already better than I expected. So yes, it wasn't fair to head into a product evaluation thinking I wouldn't like it. But I did just that, and I was totally wrong. So chalk one up for the GW4 because it totally earned my praise.
Featurewise, I'm good. There are some things I don't particularly love, like needing to use Samsung's app instead of a one-size-fits-all Google app and shipping without Google Assistant integration is just stupid. I still want a tech company to figure out how to promote health and fitness for folks with mobility issues, but that's a whole other issue. In the end, though, the Galaxy Watch 4 does so many things well that I can deal with all of this. I particularly love the integrated sleep tracking and all the sleep data it provides. Insomnia has been a thorn in my side since I was a teenager, and since I'm a nerd, I love to look at any data surrounding mine.
The other health sensors seem to be great — read not exceptionally accurate but consistent, which is the important part — and maybe even a little better than what we see on the Apple Watch 3 in 2021. There may be more or better features on the latest Apple Watch, but I'm not spending all that money to find out because I like what I see here. This is an excellent start on the road to success.
Most importantly, the user experience isn't broken. The combo of this hardware with this software makes the Galaxy Watch 4 easy and, dare I say, fun to use. The slog of wading through device lag, poorly designed software, and features that never lived up to the hype is gone. The one thing that Samsung and Google had to get right was just this. And they pulled it off.
Saying the newest Wear OS watch is as good as an Apple Watch four iterations old isn't the greatest praise. But, in this case, it's not meant to be. Instead, it's something taken at face value that makes for a promising future for Google wearables. And for everyone who wants to use one.
Android Central Newsletter
Get instant access to breaking news, the hottest reviews, great deals and helpful tips
Senior Editor — Google Ecosystem
Jerry is an amateur woodworker and struggling shade tree mechanic. There's nothing he can't take apart, but many things he can't reassemble. You'll find him writing and speaking his loud opinion on Android Central and occasionally on Twitter.
It won't succeed with only one manufacturer though and crucially without Google onboard.

Why? A lot more people are Samsung customers than google. The important google apps are available, and I really don't think the watch needs assistant to be successful.

Assistant is a must! for the sole purpose of turning on/off my lights and unlocking the door etc..

Do you not already have a phone to do that with? I don't know of a single person who returned their watch cause they can't turn off their lights via voice fro their watch. You don't already have a google home device that can handle that too at home?

I went from the Galaxy watch to the Galaxy Watch 4 classic and love it. Quality hardware with a great array of sensors... It hasn't put a foot wrong and has had a number of software updates since release which is a positive sign. Coupled with my Z Fold 3 it's a killer package...

I bought my wife the Watch 4 as a gift to use with her S21. I'm shocked you still can't use voice replies on the various messenger apps. Also, the fact that Google Assistant is not on this watch (but it's on Wear OS 2) is a huge setback. You mean to tell me two software companies couldn't figure out how to get it working (but somehow Bixby is available)? Nonsense. Google really crapped the bed by giving Samsung an exclusive on Wear OS 3. They dropped support for Wear OS 2, leaving many with a now obsolete (and expensive) product. Samsung decided to ensure that the only android watch with the latest software works best on their phones. This is very anti-consumer. And you are really OK with this?

Yes. Because this is just the first step.

Previous Galaxy watches were successful enough with Google Assistant so why woul the Watch 4 be any different? Why?

Google assistant is coming... I don't miss it on my watch because I don't use it...

I have a new Watch 4 Classic 46mm, and a 2 year old Watch 46mm LTE.
Both are excellent devices, but the Watch 4 Classic with Wear OS3 has moved performance and functionality up another gear or two.
The range of features, especially Samsung Health using the new Sensors is quite outstanding..With the help of XDA Developers website, and Dante63 excellent development skills, I now have Samsung Health Monitor working on my Galaxy Note 20 Ultra along with BP and ECG monitoring on my Watch 4, which normally isn't available in my home country of Thailand..
These features along with all the other Health Tracking facilities make this superb Watch 4 a game changer for me!

Hey Jerry! What mobile device were you using with this? And if it was a non-Samsung phone, how did you find needing to download Samsung apps to use the basic functionality? It one of the things that really pushed me away from the Galaxy Watches. Wear OS on Google Pixel works as intended, no additional apps needed.

I never understood this. You have to download specific Google apps to use basic functionality of wear OS watches. how is having to download the Galaxy wearable app any different than having to download the wear OS app? how is having to download Samsung health different than having to download Google fit?

I guess the issue is that Google FIT is available on any android ( and actually ios ) device... Samsung Health only available on Samsung Devices.

"Samsung Health only available on Samsung Devices." Did you mean Android Devices? Because I have Samsung Health running on my Pixel 4a. Also BP and ECG enabled through the XDA hack.
Also have the magical Renphro WiFi smart scale that feeds all my stats into Samsung Health.

Samsung health is available for any Android phone. The ecg app is not, but no other android watch would give you ecg either so it's not like you're giving anything up...

Do a little research. My Watch 4 44mm has not recorded heart rate properly during exercise since the day I received it. It is so intermittent as to be worthless. A very small amount of research will show this to be a pervasive issue. Most disappointing is that Samsung doesn't seem to care. I find the fit and finish to be top class. Battery life, just ok. It's unclear what the better alternatives are.

Do even less research and you'll find that mine works as intended. I can't help that others have issue, but I can only evaluate the piece of hardware that is in my own hands.

I can't speak to absolute accuracy but I can confirm my watch also is at least consistent day to day
Android Central Newsletter
Get instant access to breaking news, the hottest reviews, great deals and helpful tips
Thank you for signing up to Android Central. You will receive a verification email shortly.
There was a problem. Please refresh the page and try again.