Fossil Q Founder unboxing and hands-on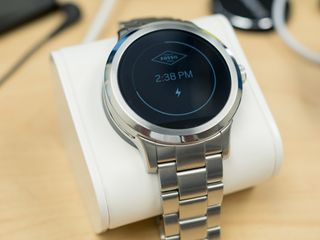 It's a little rare for us to not actually get a good look at a new Android Wear watch until it's actually on sale, but such is the case for the Fossil Q Founder. It's the first from Fossil to run Google's wearable version of Android. And since this is a longtime watchmaker (among other things, of course) we're talking about, Fossil's watch has also been highly anticipated.
What's more is that it's one of the first Android Wear smartwatches to use an Intel processor. So we've got a good bit to explore here. And since this is our first look at the watch, it's time for an old-fashioned unboxing and hands-on.
The first thing you'll notice about the Q Founder is that it's packaged like you'd expect a watch to be. Good-size box, with the watch resting on a little watch pillow, as watches do when they're resting. Only, this pillow serves a Qi charger. I'm not crazy about it. The off white color makes me worry about it becoming a yellowed charger at some point. It's big. I don't know how (or if, really) I'd be able to travel with this thing. But because it's a Qi charger you might have alternatives. The lugs on the Q Founder (where the bracelet meets the body) lip over ever so slightly, though, so this may be tricky.
There's a good bit of plastic to get off the watch before you start wearing it. (And, in fact, there are two screen protectors. I didn't find the second one util I'd been wearing it for an hour or so.) The bracelet's links are connected by pins, so you'll either want to pick up a jeweler's kit on Amazon for a few bucks (which I highly recommend doing if you're going to be dabbling in watches) or have a jeweler do it for you. Fossil's pins were a little different than others I've seen, but it was still just a matter of hammering them out, removing links, then reattaching everything.
Image 1 of 4
I'm mostly digging the body of the watch. The flat tire is unfortunate — I'm in the camp of folks who believes round watches should have circles for watch faces, ambient light sensor be damned — but it is what it is. If that's a deal-breaker for you, move on. The 1.5-inch LCD display is 360 by 326 for 240 pixels per inch, not quite as dense (and just barely noticeably so) as the Huawei Watch's 1.4-inch AMOLED display. Side by side, I prefer Huawei's. Whites aren't gray.
There's a lot about this watch that reminds me of the LG Watch Urbane, particularly when I said that the Urbane looked like someone said "Make a watch that's nice, but not too nice." That was sort of damning a $349 watch (at retail release, anyway — it's $100 cheaper now) with feint praise. Fossil's Q Founder definitely is nicer, with more attention to detail — and still coming in just under $300. But it's still sort of a nondescript Android Wear watch. It's got a few custom watch faces that have the logo on them, but there's really nothing about the overall design that screams "Fossil." Maybe that'll change with the leather option. We'll see.
For now, though? If you're fine with an oversized pillow charger and flat-tire display, this is definitely a watch you're going to want to look at.
Image 1 of 5
Get the Android Central Newsletter
Instant access to breaking news, the hottest reviews, great deals and helpful tips.