Fossil Q Founder unboxing and hands-on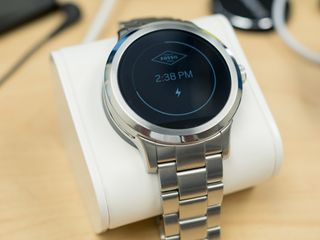 It's a little rare for us to not actually get a good look at a new Android Wear watch until it's actually on sale, but such is the case for the Fossil Q Founder. It's the first from Fossil to run Google's wearable version of Android. And since this is a longtime watchmaker (among other things, of course) we're talking about, Fossil's watch has also been highly anticipated.
What's more is that it's one of the first Android Wear smartwatches to use an Intel processor. So we've got a good bit to explore here. And since this is our first look at the watch, it's time for an old-fashioned unboxing and hands-on.
The first thing you'll notice about the Q Founder is that it's packaged like you'd expect a watch to be. Good-size box, with the watch resting on a little watch pillow, as watches do when they're resting. Only, this pillow serves a Qi charger. I'm not crazy about it. The off white color makes me worry about it becoming a yellowed charger at some point. It's big. I don't know how (or if, really) I'd be able to travel with this thing. But because it's a Qi charger you might have alternatives. The lugs on the Q Founder (where the bracelet meets the body) lip over ever so slightly, though, so this may be tricky.
There's a good bit of plastic to get off the watch before you start wearing it. (And, in fact, there are two screen protectors. I didn't find the second one util I'd been wearing it for an hour or so.) The bracelet's links are connected by pins, so you'll either want to pick up a jeweler's kit on Amazon (opens in new tab) for a few bucks (which I highly recommend doing if you're going to be dabbling in watches) or have a jeweler do it for you. Fossil's pins were a little different than others I've seen, but it was still just a matter of hammering them out, removing links, then reattaching everything.
Image 1 of 4
I'm mostly digging the body of the watch. The flat tire is unfortunate — I'm in the camp of folks who believes round watches should have circles for watch faces, ambient light sensor be damned — but it is what it is. If that's a deal-breaker for you, move on. The 1.5-inch LCD display is 360 by 326 for 240 pixels per inch, not quite as dense (and just barely noticeably so) as the Huawei Watch's 1.4-inch AMOLED display. Side by side, I prefer Huawei's. Whites aren't gray.
There's a lot about this watch that reminds me of the LG Watch Urbane, particularly when I said that the Urbane looked like someone said "Make a watch that's nice, but not too nice." That was sort of damning a $349 watch (at retail release, anyway — it's $100 cheaper now) with feint praise. Fossil's Q Founder definitely is nicer, with more attention to detail — and still coming in just under $300. But it's still sort of a nondescript Android Wear watch. It's got a few custom watch faces that have the logo on them, but there's really nothing about the overall design that screams "Fossil." Maybe that'll change with the leather option. We'll see.
For now, though? If you're fine with an oversized pillow charger and flat-tire display, this is definitely a watch you're going to want to look at.
Image 1 of 5
Android Central Newsletter
Get instant access to breaking news, the hottest reviews, great deals and helpful tips
Watch seems Okay but doesn't really have a place when compared to the Huawei Watch or Moto 360 2nd gen Posted via the Android Central App

What do you mean by it not having a place? In comparison to the rest of the watch world, the smart watch landscape is still a barren desert with more than enough room options, choice and innovation. I'm hoping that more watch makers get in on the game so that we have even MORE options. How would you feel if you went into a bar for a beer and they handed you one without asking what type and their answer to your inquisitive gaze was that you only need one?
Perhaps I misunderstood. Posted via the Android Central App

To be fair, most of the bars in the southern United States already look at you funny if you order anything other than Budweiser or PBR. Posted via the Android Central App

Maybe you shouldn't order "ginger beer".

Hehe I will stick to Guinness ;-) Posted via the Android Central App

Why would anyone buy this over the Huawei? It's better in every aspect.

Except for the flat tire? Sorry Motorola had an excuse for the first Moto 360 but after the G Watch R nobody has any excuse to still come up with the flat tire design.

Does the watch stick to the pillow with magnets?? Makes sense if it was a leather strap, easier to lay it on the pillow. But with a closed metal bands. You have to slip it over, that kinda sucks,

Was thinking the same thing.. Posted via Nexus 5

I like the way this looks. The"flat tire" look is a bit off putting by I imagine simply not using watch faces that display it may help me forget. Does look good though. The leather strap would be a must to buy as well to switch out for a different feel and look too. Posted via the Android Central App

Will this fit onto the first gen Moto 360 charging stand? That stand would be way better for a metal band. Posted via the Android Central App

I would not waste my money on this watch nothing stands out.Looks like a reproduction of the moto and huaewei. Posted via the Android Central App

The watch looks good...until you turn on the screen. Then it looks as horrible as the Moto 360.
No thanks.
For those prices I'd rather continue to get LG watches....and I haven't even felt the need to replace my GWAR anyway.

I just think $300 is too much for a smartwatch. Posted via the Android Central App

I still prefer regular watches. They're just nicer simply put. Posted via Nexus 5

Pebble is cheaper plus many others. Posted via the Android Central App

Phil's closing sentence cracks me up. Anyway, I like the Fossil and TAG smartwatches for men. And I hope a popular brand designs a smartwatch for small wrists soon with women in mind.

Can't do the infamous flat tire. I'm leaning towards the Hawaiian watch (in my flossy carter voice) or the S2 3g. 64gig Gold Note5/AC App

Saw this at my local Fossil store on Black Friday. There is nothing outstanding about this watch to warrant buying it over the Huawei. It's a shame too since it's from a watch company. Posted via the Android Central App

Everyone seems to be forgetting you can't make or take a call on it so who cares? Gear S still the best out there! Posted via the Android Central App

PS - I love your work Phil, but that was a weak review. Nothing more than a mention about the processor, transitions, or anything else Fossil may have done to make it different. You're still a rock star! Posted via the Android Central App

The video looked amateurish, with out of focus and and even off [way] centered in some places.It's not like you guys started this yesterday.

Darn, was excited for this...but the flat tire. That's a no go. I really wish ***** consumers hadn't purchased a watch with a stupid blank space on it leading to other companies to believe that it's a good idea. Now we are stuck with more of them. I really want to collectively slap every single moto 360 owner in the face with extreme prejudice for fcking life up for the rest of us...

Yeah. I haven't really been impressed with Android Wear in general, but the flat tire on this is just unacceptable.

I bought one and don't mind the flat tire. It's kinda nice having the display adjust for different lighting situations. As far as difference from 360 LG and Huawei this just felt more comfortable but maybe its cause I've worn watches my whole life. Posted via the Android Central App

No issues with flat tire, really a non issue... And this watch to me looks way better than the urbane... This looks like a regular watch... No one will know it's a smart watch unless they are close to see the face...... Not sure if you guys know, smart watches(owner of 360) make you look even dorkier. I just happen not to care and find it very convenient. Posted via the Android Central App

I just can't seem to get onboard with the whole smart watch thing yet.. I can't see the appeal other that satisfying the tech junkie side of us that sees something new and cool looking and wants it. The Huawei Watch is gorgeous looking and the Fossil looks great. I like how the classic style smart watches look. But, can anyone give me some kind of insight as to what makes a smart watch a good buy? They just seem unnecessary, I came close to getting one but then I started to ask myself what I'd really do with it. Posted via the Android Central App

Convenience, if you work any type of job where it's unacceptable to pull out your cell phone or even have it on you it's nice to just look at your watch to see what/who that email/call/IM is from to determine how to proceed. Why not have that on your wrist. I wouldn't even wear a watch without it....watches are obsolete as it is, something has to make it worth putting on in the morning other than just telling time, lol.

I haven't had the time yet to see one in person and will do so soon. I really like the look of this. For those who have hand on/own one, have we found out if it works with other Qi chargers. Maybe a flat samsung one or even a moto 360 charger?

it does work with the moto charger.

Really like this watch a lot, has a nice heavy feel to it. I had a moto 360 before so the flat tire at the bottom doesn't bother me. Battery life so far hasn't been that impressive, but hoping that will get better with time.

Thanks for mentioning the second screen protector, covering just the display! The second screen protector started scratching immediately when cleaning with a microfiber cloth. Knowing the LG G-Watch R had a plastic display screen made me instantly worry about durability. Fossil primarily uses 'Mineral Crystal' for their traditional watches, not Gorilla Glass or sapphire. Also, this LCD display is somewhat brighter than OLED, making the flat tire/light sensor necessary. Otherwise the Fossil Founder would have disappointing battery life.
Android Central Newsletter
Get instant access to breaking news, the hottest reviews, great deals and helpful tips
Thank you for signing up to Android Central. You will receive a verification email shortly.
There was a problem. Please refresh the page and try again.