Finding watch faces for Android Wear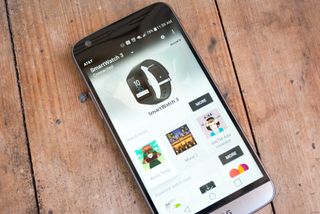 So you've got your awesome new Android Wear device. That means that the next step is figuring out what kind of watch face you want to load up on it. As of right now there are thousands of watch faces on the Google Play Store that you can choose from, along with watch faces on apps like Facer. Before you can choose a watch face though, you need to find one.
There are two really easy ways to find great watch faces for Android Wear, and we're going to let you know what they are. Keep reading for the details!
Google Play Store
The first way involves finding the Android Wear tab inside of the Google Play Store. You'll want to open up Google Play, and navigate over to categories. From the category list choose "Android Wear." This will open up a screen that has all of the Android Wear apps available right now. Scroll down past the first few sections, and you should see one labeled "Watch Your Style." If you click on this category it will open up a page with watch faces.
You don't need to go searching for watch faces on Google Play though. That's because they've set up a page with even more great watch faces. By navigating to Hand-Picked Watch Faces (opens in new tab) you'll get a page with over 200 fantastic watch faces. As you might guess, they've all been hand-picked, and contain some of the best watch faces currently available.
If you're feeling lucky, you can also do a blind search on Google Play by searching for watch faces manually. Using search terms like "watch faces for android wear," "watch faces," or "android wear," will all bring up plenty of results. However there are doubtless going to be apps for Android Wear that aren't watch faces in these results. It's also worth noting that when you do a blind search like this, you are going to find some of the less awesome watch faces that are out there.
Facer Watch faces for Android Wear
Facer is a stand alone app, that gives you access to hundreds of watch faces that you won't find in the Google Play Store. Much like the Google Play Store, there is tons of content for you to sift through until you find the watch face that's perfect for you. Unlike the Google Play Store though, Facer gives you access to lists of watch faces of a certain kind. You can look through nerdy watch faces, analog watch faces, or even watch faces from your favorite movies or television shows.
After the Google Play Store, Facer is actually one of the best places to look for watch faces. Especially if you have a specific theme that you are hoping to put on your watch face. The main page will show you several different lists of the currently featured watch faces. You can also look through the top charts of watchfaces, which is separated into free and premium watch faces.
Facer also has another unique section for watch faces called unlockables. It's a small set of watch faces, and each one has to be unlocked by certain actions. To access them you'll have to do things like sharing a watch face, or publish a watch face of your own on Facer. The awesome thing about Facer is that it's actually pretty easy to design your own watch face.
Watchmaker Watch face
Watchmaker Watch Face is another cool place that you can go to download watch faces that you won't find anywhere else. It doesn't have the same degree of options that both Facer and the Google Play store have, unless you pony up and buy the premium edition for $3.99. It is super easy to build new watch faces yourself though, and you can do it right from your phone.
If you download the free version of Watchmaker, you'll be able to choose from 6 free watch faces and see a handful of premium faces. It isn't until you download the premium version you'll have access to hundreds of watch faces. You do however, still get access to the ability to build your own watchface.
Building your own watch face is ridiculously easy. You can add features one by one, and even if you've never even thought about building your own watch face you can do this. Now, you won't have access to all of features, unless you purchase the premium version, but you can still make a simple and awesome watch face with the free app.
Finding a great watch face for your Android Wear device is easier than you think. There are literally thousands of options across multiple platforms, which means there is definitely a watch face out there for you. Whether you only go through the Google Play Store, or you decide to build the watch face you've always wanted through Facer, you've got plenty of options. Is there somewhere else to grab great watch faces that we didn't cover? Be sure to jump into the comments and let us know about it!
Get the Android Central Newsletter
Instant access to breaking news, the hottest reviews, great deals and helpful tips.
Jen is a staff writer who spends her time researching the products you didn't know you needed. She's also a fantasy novelist and has a serious Civ VI addiction. You can follow her on Twitter.
Meh. Don't really care until the new Android wear OS comes out Posted via the Android Central App

I really seriously appreciate your article as I had no idea of the specific category in the Play Store, so Thanks so much!! Posted via the Android Central App

I check it frequently and I really don't think highly of it. It is a small selection that rarely changes. I just search for Android wear and start browsing. I highly recommend the Phlash's work. NAVI is one of my favorites Posted via the Android Central App

You didn't mention Pujie Black. Very customizable, easier to use than Watchmaker, great community. Users post faces on the Google+ page and on Facerepo. I try other faces and always come back to Pujie Black.

Agreed! I post all my watch faces on Facerepo.

Also Minimal & Elegant. All four of these apps have G+ groups and content.
And yes, facerepo is an excellent source, with customizable searches.

+1 for Pujie Black. Posted via the Android Central App

I use Facer or a Kevin Tong watch face for my watch.

Wish there were more options for Tizen watch faces. Pretty much limited to whatever Samsung releases in their own store.

How can you miss WatchMaster app! I find that way better in terms of quality faces and designs as well. Posted via the Android Central App

I absolutely love WatchMaster, they have several good faces for square watches that the others don't.

WatchMaker all the way!! Pay for it and you can go to their Google+ page and download a million high quality faces, then customize them as you see fit. There is a lot of junk on the site but when you find a few artists that really produce great work you can just follow them and find a ton of great faces! Example: JC Dalisay, Mike McKee, Nite Owl
Those 3 alone will smoke all those faces on that hand picked list.

I agree completely! It's hard to keep up with the number of watch faces that get posted on the Google+ page. Some of those people do amazing work. Posted via the Android Central App

How does a developer get their watch face onto that list? I have a number of watch faces
https://www.androidcentral.com/e?link=https2F2F...