A few thoughts on Apple Watch from folks who have actually used smartwatches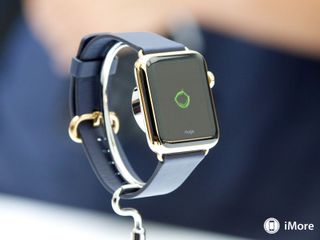 We've been using smartwatches for a while now. Android Wear since summer 2014. Pebble before that. Samsung's own Gear line. Various other iterations here and there. And so it's been fun to watch (sorry) our pals at iMore as the days have ticked by (sorry again) as they gear up (OK we'll stop now) for the release of the Apple Watch. There's now a launch date — April 24, with preorders on April 10. But there still are a number of questions to be answered.
We all watched Monday's announcements. And we have some thoughts on them.
Let's start with some thoughts on the Apple Watch, following today's event. And it's worth another reminder that it's not like the Apple Watch is competing with Android Wear yet. One runs only on iOS. The other with Android. And while there have been rumblings about Android Wear coming to iOS later this year, ain't nothing official until it's official.
This is sort of stream-of-consciousness from the Android Central collective.
Surprisingly little time was spent using the "digital crown" by the people conducting demos during the event, which is odd when the big selling point for that feature was how it would save you from using fingers on a tiny screen.
That watch interface looks … confusing. It seems to require lots of taps and plenty of scrolling lists — precisely what you don't want to deal with on a tiny screen. It makes you appreciate the simplicity of Android Wear's design with a minimal set of available gestures.
We'll be lucky if crudely rendered flowers are the most offensive thing drawn and sent on an Apple Watch. This is going to get bad.
There are 38 different models of the Apple Watch for sale. Even Samsung is confused by that one.
"All-day battery life" is the same thing we hear from Android Wear manufacturers. Only one way to find out if it's true.
Still, 18 hours of actual use — as in the time you put the watch on your wrist to the time you have to charge it again — isn't really off from what we've experienced with most of the Android Wear watches. It really depends on the circumstances. Some days you'll do great. Others you'll be scrambling to charge.
Magnetic charging docks are great — we use them on our G Watch and G Watch R. Using any Qi dock with the Moto 360 is even simpler.
Producing a product that starts at $10,000 is only going to further the idea that Apple overcharges its customers. Maybe the fancy gold version of the Apple Watch is worth $10,000 (starting price), but popular opinion is what it is.
Then there's the question of obsolescence. A fancy traditional watch might set you back a few thousand, but it won't be superseded within a year or two like a smartwatch. (This problem is universal to smartwatches, but the Apple Watch Edition's huge price tag only highlights it.) Spending the equivalent of $10 to $20 a month for smartwatch just makes a lot more sense.
Interesting to note Apple's tap and scroll-led interface versus Google's voice-led approach. Getting anything done on Android Wear without voice actions is still kind of a pain. That said, there are a few software tricks that pretty much need to come to the next major Android Wear release. Connectivity over Wifi is a big one, as is answering calls directly over the watch.
Pebble should say "thank you" for largely staying out of its price range.
316L stainless steel is pretty premium. It also might be what the watch on your wrist now is made of.
And a few non-Apple Watch thoughts:
HBO Now on Apple TV is a big deal. It'll be interesting to see what other premium channels follow.
But Apple's exclusive (as reported by Buzzfeed) only runs three months — coincidentally around the length of the upcoming Game of Thrones season. Coming to Android TV after that? We can only hope.
The new MacBooks look hot. But there's never been a time when we wanted fewer ports. That might well not be an issue for "normal" consumers, though. And it'll be interesting to see how the graphics hold up.
For all the talk of how "wireless" this new MacBook is, you'll need more connectors, adaptors and dongles than ever to hook the damned thing up to basic stuff like SD cards and plain old USB-B peripherals.
An $80 adapter, at that

(opens in new tab)

.
The "contoured battery" thing is cool. And also what smartphones have been doing for a while. Neat to see it scaled up.
Please don't buy a gold MacBook.
Put on the Pear watchface and impress the apple fans ;)
http://wearfaces.com/pear-watchface-uhrart/

One of the most annoying parts of switching back to my mechanical watch is winding it or changing date/time via the crown. Not sure why anyone would think that's a better interaction point than the damn screen. Tap to pay on the watch makes much more sense than tap to pay on the phone. I wish Google had made this standard in Android Wear.

How often do you have to wind your watch? I maybe had to do it twice the past two years. Changing the date a few times a year? C'mon. Quite the hyperbole by you.

I'm talking about switching between my Moto 360 and my mechanical watch. Dunno about you but my mechanical watch only has about 2 days of reserve. Which means if I'm using my Moto 360 during the week, I'll be winding my mechanical watch on the weekends. Besides, that's absolutely missing the entire point. I'm talking about how the crown is not a good UI interaction.

I have a Tissot watch I paid like two bills for that I have only had to wind up twice in two years I've had it. Two days? What watch do you have that you have to wind up every day days. None of my watches have been like that. It depends on if you use the crown as a button or a wheel. The Apple watch is a wheel that lets you navigate through multiple screens like a phone. That's done. If it acts like a home button single tap or double tap to read a message or something then it makes more sense.

I'm talking about an automatic mechanical watch like a Rolex that that doesn't have a battery. These have to be worn constantly or stored in a special watch winder, otherwise, they only keep time for about two days tops. If it's dead, you can manually wind the watch through the crown and it'll start up again. That's why these can last 50 years and become collectibles.

............ Posted via the Android Central App

Nothing wrong with the watch. It was designed that way. You need to get yourself a watch winder.

iWinder, $750 Posted via my outdated and under spec'd galaxy tab 3 using the Android Central App

3750.00... You forgot the "3"... Posted via the Android Central App

Oh it has a wheel? Like my first Blackberry!

You need an adapter to put in an SD card? Get out.

That's not that big of a deal, lots of computers don't have built-in SD card readers. What's a big deal is you need an $80 adapter to plug in a $10 reader.

Even 150-dollar Chromebooks have SD card slots on them.

But how many have 256gb hard drives? Posted via the Android Central App

Doesn't much matter what the size of the card is, it has a reader Posted by my soon to be retired Note 3

my acer c710 has a 250 GB hard drive and a sd reader it was only $200

Re-phrase that....how many have a PCIe 256GB HD?

And of course, the speed of PCIe is critical to keep up with the blistering performance of the ultra-low-power Core M mobile processor. That's like putting headers and straight pipes on a Corolla. You will not notice any material benefit from PCIe over Sata on an ultra-portable laptop, so your point is relevant. I wish I had no conscience, there's just so many suckers out there these days.

Yeah but they do have USB 3.0 ports(Chromebooks) and you can get 256GB USB 3.0 stick for under a $100. Not that I don't lust after that new Macbook...Just would only buy it as a gift.

Almost every new off the shelf PC has an SD card slot, and really should have one too. Eventually SD cards will probably go the way of optical or magnetic disc drives, but we're not there yet. Wubba lubba dub dub!

And when they stop putting in SD cards slots then the answer will be, well I never used it anyway, but Apple does it first and it's to hell with apple, so funny. Like all the people now say the S6 is the best thing in the world and i never swapped batteries or added an SD card anyway, anything to try to make something better only if apple didn't do it

I guess you missed the article/comments yesterday where a LOT of people were bemoaning the loss of the MicroSD slot in the Galaxy S phones. As much as Apple prides itself on photo/video editing, it boggles the mind that they would do this. $80 is small potatoes for a professional (or semi-professional) photographer or videographer, but this adapter is another piece of equipment to remember on the road. Forgot the adapter? Well, better get your happy a** to an apple store, or you aren't editing or touching up a damn thing on that spendy ultraportable macbook.

On the photo/video editing part, let's not forget that the Core M is woefully undeprowered for video editing anyway. This computer is basically a more expensive, less versatile, less powerful Surface Pro 3.

Biggest thing people are not seeing is they are not asking photo/video editing people to switch to this, they build products for them already. Most people don't like either prices but there's a lot of people in the world that don't go in a store and look at price. If that's the case everyone's bed would be the 399 set not the 1500 pillow top made with virgin duck feathers. Apple knows there's a market for a 12" macbook super thin and super light. And people buying macbooks will never buy a surface pro and people buying a surface pro will never buy a macbook so comparing them spec for spec is useless. Even is this speced out to destroy a surface pro a surface pro user wouldn't care, they are a windows user and the surface does what they need.

I guess I disagree with your fundamental premise. As consumers, I believe it's our responsibility to stop trends that are not beneficial to us. A $1300 laptop that lacks most of the utility of a laptop is a bad trend. When people buy this, and encourage the design, we're effectively encouraging Apple and other manufacturers to change their designs and adjust their pricing for these devices. That's how capitalism works, and it's not necessarily a bad thing. However, when we blindly buy a brand because of the brand (as in your example of Surface people not buying Macs and visa versa), then we're hurting innovation by encouraging the brand rather than the technology behind it. I realize that this is idealistic and preachy, but I wish more people thought this way. If they did, we'd have better products from all brands along with better prices. Don't buy it because it's got an Apple logo on it, buy it because it's actually good. This new MacBook is not actually good, so you shouldn't actually buy it.

I agree with you to a point. What makes it not good tho? what is it that make you say "lacks most of the utility of a laptop?" Really well built, really good screen, really portable, great battery, USB-C is coming so they are just doing it now? What is it lacking as a laptop? If tech people didn't read the specs and used the products, every PC person thinks macs are under speced but use it and its more then fast enough for everything you need to do and more. Different OS needs different specs. I do photo and video on a macbook pro with 8gb RAM and not a problem at all. 16gb sounds better but I do what i need to do and don't have to wait for anything so why worry that something cheaper might have more specs. I use Mac OS software do that cheaper windows machine does me no good.

Here's why it's bad: one port, specs of a $200 to $300 machine for $1,300, and we have yet to see whether or not it's actually well built. You can only make aluminum (a soft metal) so thin before it becomes overly pliant. That being said, I still say that you'd be better buying a MacBook Pro or Air, both of which are faster and less expensive. More importantly, they still have the utility of a laptop. Or, heck, for the price, you could buy a nice new iPad with a pricey (but nice) Zagg case/keyboard, and STILL save yourself a lot of money while getting a similar level of utility. I don't see the selling point here--not when all of the other Apple products in similar categories outstrip this thing in some shape or form. You're only paying so that you can say this, "Oh, look how thin it is." To me, that makes this a massive gimmick, and that kind of product should not be encouraged.

Like i said I agree with you on the there's better things to buy comment, but a bad product is where you're losing me. It has a market just like all other similarly made products. There's a group of people out there that was waiting a macbook this size and weight. I can't wait for the keyboard to be added to the pro line. The spec war is only for us techies. Most consumers in bestbuy ( I work there for the discount on the side, don't judge) never ask about specs, they say I want something that will let me do xyz. People that want a macbook say where's the apple stuff i'm looking to buy a macbook. If you ask them why or try to tell them they can do better (i'm that guy) they really don't care, they already excepted they was spending a g on a laptop and they are fine with it.

I see where you're coming from, and even agree with you to a point as well. I just don't see the outcry for "THINNER, MAKE IT THINNER" at the cost of all else. I don't think there's a demand out there for this machine. I DO think people will buy it because they like Apple, and I think that's not a good enough reason when you can buy other, better Apple stuff. *shrug* I would, however, like to thank you for keep the discussion civil. That's downright refreshing. :-)

Isn't it great two people can agree to disagree with no name calling or anything :). You make good points that I didn't think of before so thanks for replying with more insight each time. And yes, people will buy it and yes there's no need for it at all with the Air already thin for the people that want thin. My guess is if people don't like it it won't get a refresh and they'll add the good stuff to the Air and pretend they didn't make the thing, if people love it, the Air will slowly fad away and they'll have again the macbook and the macbook pro.

And may I say, you've restored some of my faith in humanity today. :-) I love honest discussion, and I think you make good points as well.

You guys just made my day lol Posted via the Android Central App

I understand everything you guys are talking about. But in reality, the Macbook is price at $1200 with slower processor then the old model Air but the price tag of a MUCH faster Pro. Only benefit its' truly has over the old model Air is color selection and retina. Because if you really look at the specs, the New MacBook is only 0.30lbs lighter then the old model air (11 inch model). We can be honest here to each other that 0.30lbs lighter is unnoticeable. Even when you compare it to the larger 13inch Air, it is only 0.93lbs lighter. and 0.03 to 0.16 inch thinner. So if we both really had to be truthfully, do you think any of that specs for the New MacBook is worth the price tag of $1200 even if your argument is "the market demands lighter macbook". 3-5 lbs is consider lighter.. Less then half a pound is not worth the price. I have MacBook Pro and Iphone 6. Even i have to say, Apple seriously need to stop treating all of us consumers like idiots, and will buy anything they cough out. This happen to their ipad Mini, hence they end the production of it. Don't be surprise if the new MacBook doesn't sell as well as they want it to and force them to end production or give it a serious upgrade.

Agree with you 100% that's why I said My guess is if people don't like it it won't get a refresh and they'll add the good stuff to the Air and pretend they didn't make the thing, if people love it, the Air will slowly fad away. It will either take over for the Air or be discontinued and the keyboard and trackpad will be added to the Air. They are too close for them to keep both.

Devan, you are pretty much making the same exact argument I was, and I agree with you. I sincerely hope that people stop and think what this thing will be used for, and consider that, if they're after a purely consumptive device, they will think hard about buying a much less expensive tablet with a keyboard case. *shrug* Following any brand, OS, or label blindly is a bad thing for all of us, and I'm glad that my friend kurpaige doesn't seem to be going that--though he (or she?) fell on the other side of the argument, he is using rational thought, and making solid decisions based on merit (much like yourself). We should all do this.

He :) has a google iphone, using gmail, google cal, google maps, so no brand loyalty here. Love the hardware, not a fan of the software, adobe lightroom for photo management, trying to get rid of my ipad cause for a tablet i want a SD card slot so tab S worked better for all the photos I take with my real camera. Unless I got paid to advertise for a brand it would be foolish for something not to buy something because of the company that made it but you hear so many people say i'll never buy anything from apple. Apple makes really good hardware.

+1 (though, I personally don't care for their hardware--I like to game too much to like their computers. It's a price for performance type of thing. My laptop, which is ASUS, wasn't cheap at all, but the closes MacBook Pro, which had lower specs, was around $700 more.)

You're goddamn right! I love all my MacBook Pro ports: Both USB, HDMI, MagSafe port and SD card reader usually all filled. The mandatory $80 adapter is a joke. You even have to add a USB hub on top of that, unless you can find a way to use only one USB port at a time. Posted via the Android Central App

That's what she said? Posted by my soon to be retired Note 3

It sounds like you need a desktop and not a laptop if you have ALL your peripherals occupied all the time. Posted via the Android Central App

Yeah, 'cause we should all buy two computers: one to handle our desktop needs, and one to handle our portable computing needs. (says the guy with a laptop and a desktop) :-)

don't we all have both? and a tablet? and smartphone? Both we don't spend too much money on tech :)

It has to be the worst product Apple has made in decades. As for the $10k version, sorry Apple, you arent that premium, this is Rolex territory, and you arent in it, however much you like to think you are.

And at least a Rolex will be working 50 years from now. The Apple Watch will be obsolete in a few years.

Days Posted by my soon to be retired Note 3

Oh oh my turn. Minutes Posted via the Android Central App

Seconds... Ago Posted via the Android Central App

Ummm... you didn't leave me much after seconds! Time to recycle: It was obsolete minutes ago.

nanoseconds!! BOO YAH!!.....wait.....what were we talking about?!?!...lol!

It's $22,000 in Canada. A new 2015 Honda Civic is $15,500. What a joke! The watch will be rendered obsolete in at most a year. Posted via the Android Central App

But the "elite" will have to have one so you know they could blow 10K

exaclty, come on you know they don't want you coming in the store trying to buy a gold apple watch just like all the other too expensive watches you don't go in the store to try to buy

Most of the elite value engineering and quality, this doesnt have that, Its a low spec computer, the same as the cheaper version, in a gold box, and not even a stylish one. A Rolex isnt a Casio in a Gold case with Diamonds, it has hand finished, carefully designed high end mechanical engineering, This IS just a $150 computer in a gold case.

I bought a WW1 era omega off Ebay that still runs to this day after servicing

Ummmmmmm coolest watch ever? I think so.... Not being sarcastic, that seriously sounds badass Posted via the Android Central App

I do own a Breitling, but wear a G-Shock at work that got blown up with me in Iraq, and patrolled a lot in Afghanistan... I wonder how the iWatch would have fared... Hmmm Posted via the Android Central App

Up until I retired, the G-Shock was my go-to field watch. When I first joined in 1990, I bought a Casio World Timer. I beat the hell out of that watch and went through 4 different bands. Only retired it once the battery died after 10 years. Casio makes an amazing field watch. Glad you made it out on the other side of the boom, and glad you're home.

Man, I love my G-Shock. I wear a Pebble most of the time now, but I've got a touch solar atomic at home that I have used (and beat on) for years and years. Best thing: the battery never dies, and the time is never wrong. Also, thank you for the service, and glad the rest of you didn't get blown up. :-)

Yep. My father has an eighteenth century Fusee pocket watch in his collection that still ticks along with it's little chain drive. Real timepieces last centuries.

I like Apple products, but all I see when I see the Apple watch is ugly.

I have to agree. I realize that there are high-end watches with square faces, but they don't tend to look like a melted pillow.

melted pillow = best descriptive analogy I've seen thus far. I'm glad I'm not the only one that thinks it looks a bit ugly.

Thanks for the summary and thanks for not mocking Apple like other Android sites. We all know how Apple "invents" everything and they innovate everything else. They know how to market and sell products, no doubt about that. And in the end they are out to make money, which they do. The Apple Watch will be good for Android Wear. It will draw more attention to wearable tech like this. Now I want to see what Samsung comes up with, for under 10k!

OR will it raise the price as companies say well they can sell a 500 watch why can't we? Remember the Moto X was affordable now 649 like everyone else

I assume you meant Nexus... you can still buy a brand new off contract Moto X for $400.

Christ, I can get you a car that comes WITH a watch for 10G. Posted via the Android Central App

38 models? Sounds like Jony is abdicating his responsibilities as a designer.

+1 Exactly my thoughts. Let's not be bashing motorola for choice when Apple does it as well.

You realize Jonny had a hand in all the designs. Vs. dude! I can put football leather on the back of my Moto and accent it with purple and orange...OH YEEEAH! Fist bump bro! ... I'm fuckin designer! There does that help you understand?(doubtful)

Just like the Motorola designers had a hand in picking out the kinds of customizations they make available. The Motorola backs are the same thing as all the bands that the Apple Watch has. Does that help you understand?

Yeah, sooooo you think morotola didn't have a hand in designing the customizations that went on their phone? Here is what you just said: "Yeaahhh I can put a brown leather band on my Apple Watch with a fancy gold buckle! OH YEAH. FIST BUMP BRO. IM A DESIGNER." Oh wait. Posted via the Android Central App

Haha +1 You got it totally right. Way to bash Motorola, Ive! Posted via the Android Central App

Hahahah... Posted via the Android Central App

+1 Posted via the Android Central App

Looking at the header image...is that really how the clasp works? Looks like you'd be stabbing the pin into the inside of your wrist!

You're right, it looks like the strap is on backwards...

The clasp is how Apple intravenously delivers a constant flow of kool-aid to the wearer. The reservoir needs to be refilled ever six hours though and requires a special $80 funnel.

The "war" between Apple and Google fans is ridiculous. It's absolutely fun to nudge each other and toss a couple of burns here and there, but people are going crazy over all of this. That aside, Apples watch looks good, and this coming from someone who is not partial to square screens. The biggest plus of all the hoopla today is that smart watches across the board will become more prevalent, which will inspire more innovation and developer attention. As much as I love my Moto 360, I am absolutely certain that in a year we'll see a some neat things come to Android Wear courtesy of the Apple watch and the success it will probably find. So while I can't see myself getting one, I'm sending Apple a tip of the hat for playing the game like the rest of us and making everything better for it.

I can't wait to send my heart rate to all my friends. /s

lol, I don't disagree that some of it is completely superfluous. However, I am saying it can lead to something more. It would be nice to simply share your gps location with friends without diving into maps and going through all that. While sending them your heart rate is pointless, it could lead to other ideas in how to share things quickly.

I feel like that last bullet point was written just for me.... KEVIN, please don't buy a Gold MacBook.

You won't have enough money left for a gold MacBook after you buy the Apple Watch Edition...

The iPhone 5 and 5s were beautiful, the iPhone 6 is passingly attractive, but the watch? ugly as sin, and not in the good way.

I kinda agree with you. Except I find the I iPhone 6 plainly ugly. I can't imagine someone paying the price of a phone for that watch. Posted via the Android Central App

Totally underwhelmed. Ugly, pricey, confusing interface. Also funny that Tim noted so many features that "only Apple" has. Guess they totally "re-invented" the Smartwatch? Not this time, Tim.
That said, they'll sell a shitload of these things.
Crazy.

I bought a $350 laptop at best buy that has all kinds of ports and 8 GB of ram. Suck it macbook.

and next year you'll buy another and the year after and then that macbook .... running smooth looking great doing things 350 laptops don't do like last 4 or 5 years because of the future tech built in and fanless and better built keyboard and ... just because you don't like apple hmmmm. Today is a good day to see just all the comments about a company all over companies are trying to become.

The last laptop I bought for $299 is still running, just incredibly slow. So i updated this year. When it's old 6 years from now I'll buy another $300 laptop.

My $429.00 laptop is fanless, has 8GB of ram, 500GB HD, and folds up like a tablet if I want it to. Also has a buttload of ports... Posted via the Android Central App

Utter crap, SO many Macbooks have battery issues after 2 years that they end up house bound because they wont stay working long enough to be without a charger. They also end up dented, scratched and bent. The reality doesnt fit the lie that deluded Apple fans have convinced themselves of.

What part of this watch justifies them being two years after the competition? It's as limited as any other "smart" watch and you still have to bring the charger to work if you really what's to use it like a smart watch. It's still too huge for most people. The only real answer I can come up with is that Apple didn't have any plans at all on making a smart watch two years ago.

Supposedly, they spent the last two years "perfecting" the detection of exactly how you turn your wrist to look at the watch so that it will come on every time you look at it, and only when you look at it. That's been their PR marketing answer anyway.

I will make a bold prediction. It will sell 1 million the first year. That is it. Now that is still better than 700,000 Android watches sold last year. I just do not see smart watches catching on. I'm probably underestimating the Apple faithful. We will see. Posted via the Android Central App

They'll sell more than 1 million in pre-orders. The Apple faithful will buy without even knowing what it does.

Doubt it. Unlike iPhones, Apple hasn't convinced people they need to have a smart watch just yet. Posted on my OnePlus One

It'll sell more than a million. The Samsung watches are selling around 3-4 millions a year, I think, and they're also only limited to their own devices.

I thought all android watches was around 700,000 Posted via the Android Central App

Maybe read what I wrote? Most Samsung watches don't use Android Wear.

Still think you are off the mark by a long ways Posted via the Android Central App

You are way off Posted via the Android Central App

Nice try, Samsung would have been bragging like no other if they sold 3-4 million smartwatches. 2013 they reported 800,000 shipped in 2 months but not sold. If they bragged about what they shipped saying they don't have sales numbers, they would have had an event if they SOLD 3-4 mil.

The good old "shipped, not sold" troll argument. Yeah, that surely makes everything you write factual.

quoteed
Update: Although Reuters reports the figure represents sales, Korean publication Yonhap claims Samsung is referring to shipments to retailers. Samsung Korea has confirmed in an email to The Verge that the figure relates to shipments as originally reported by Yonhap. what do i gain making it up like you don't have the internet and can't google it to see all the articles written about them shipping but not selling 800,000 units, c'mon man your better then that. is it me trolling cause you don't like the truth, or you can't handle the truth! (in Jack's voice)

They always represent shipments, as that's how manufacturers count sales. All of them. What I'm saying is, the argument is so old and tired that this is the last sentence I'll waste on this discussion: the "shipped, not sold!" troll argument is nothing but that, a troll argument.

Funny how when they sell something they say things like, samsung reports over 10 mil S5 "SOLD" in the first month. hmmmm

One thing is certain about trolls. They always fall back on illiteracy just to keep the trolling going.

You are right. I just do not get it. I think the watch compared to 360 and LG urban looks like a toy. Whatever Posted via the Android Central App

I agree. It will sell decent (much better than all Android Wear watches), but I don't think it will quite match some of the enormous predictions that are being floated around.

I predict that their first month of sales will be >70% of all Apple Watch sales for the year. You'll have all the Apple Faithful buy one, and then maybe a trickle of sales after that. At that price point, they are alienating a huge part of the market. Event reading comments over at iMore, practically everyone says they won't get one for the prices Apple is charging.

I went back and read some articles and comments about the Apple Watch on The Verge to see what the Apple faithful thought about this device. The vast majority, including the authors, didn't see the point. I think we may have witnessed the first negative first impressions of an Apple product from The Verge to ever grace the internet.

I own apple stock and have a few of their products, not a fan of anything but the steelers, knicks and mets, so i hope they sell as many as they make but I won't buy one. The thing is Apple don't want everyone to buy them only people they spend money on staying with a brand. People say apple buyers are sheep but go out and only buy samsung or nexus or windows phone. same thing comfortable with a brand.

Very little brand loyalty from me. I have an Asus laptop, a Motorola phone and an Nvidia tablet, my last laptop was a Dell, my last phone was a Nexus 4 (so lg). I go where they value for money is.

I here ya, I have an iPhone and macbook but a samsung tab 8 and dell 8 inch tab with a 6 inch kindle. I love how much money apple makes cause it helps my road to retirement but i don't buy apple cause its apple, i but whatever works best for my needs. oh and fire stick and chromecast to the mix as well

This brings up an interesting question. How do you define "failure" when talking about an Apple Watch? It will almost certainly sell more than all of Android Wear combined, if all the Apple faithful fall in line. If they "only" sell say five million watches, is that a success or failure? A number that is probably far less than Apple is planning on selling, but is way more than Android Wear has sold. Success or failure? My gut reaction is that there just isn't a mass market for smartwatches, the average consumer might be intrigued by it but the price point is high enough to keep them away.

The isheep are already lining up for the slaughter, classic. Posted via Android Central App

It's going take another 3-5 years before smart watches start making sense, and become more then just an extension of your cell phone. Posted via the Android Central App

The lack of ports is such a disappointment on the Macbook Air. I use my 26" display hooked up to my DisplayPort every single day and I'm not going to buy an $80 dongle on top of the price of the system just to get that. Sad, but that's a dealbreaker for me. As for the watches, so much meh. I have yet to see a smartwatch that I'd buy from anyone. They just don't flatter a woman's wrist. This one isn't any better than Moto or LG's. And that interface is godawful ugly. Looks like a Fisher Price toy.

Yes, but we all know that those folks wearing that "toy" will strut around looking down their noses at those of us that wear a real watch that is round.

...and why should I care?

Exactly. Posted via the Android Central App

Here's the most insane thing about their pricing: aside from the 2 size watches, the price differences among models is all down to the BAND (I'm not talking the Sport or Limited here). Rubber band? $599. Leather? $699. Black metal? $1099!!!!!! All the same watch, just a different band. Seriously??? And we aren't talking precious metal on the metal band. Good ol' fashion stainless steel. Wait, I see the description is "Space black stainless steel". Oh it is "space" worthy. That must be worth the $500 markup. I don't care what kind of fanboy you might be. You HAVE to see that Apple is bending you over and royally screwing you.

THIS. Posted via the Android Central App

Funny thing is they spent a bit of time in their shill touting their "special" aluminum and metals, as if theirs is made of pixie dust and mermaid tears to make it the best on Earth! So ridiculous that so many people buy into the Apple hype machine! Posted via the Android Central App on N7 '13

Agree. And that is why Apple has been paying those sites like BGR to market this like never before and hoping the fanboys will line up. And I am sure they will.

I can't stand apple and their gadgets but i have to applaud them for their amazing marketing prowess. Just the announcement of their silly little watch gets the media in a tizzy. it's all over the news and on the internet. those are all free publicity for them. Steve jobs was brilliant, he can get people to bend down for him to screw them.

What's crazier is that there is no option for a solid gold band for the solid gold watch. Only plastic or leather.

The isheep have been bending over and taking it in the scrotum for quite some time now,they are used to it. Posted via Android Central App

Wrong. it's not band size. There are actually two different screen sizes as well. A Man's size and a Ladie's size. For a change however, it's not the women who are getting charged the higher price.

Yup that's what I said in my original post. Please read it again.

38 versions? Didn't they just take a slap at Motorola for too many choices?

Haha I love this article! Summed up all my thoughts. Posted via the Android Central App

Honestly I dont see a need for any of these smartwatches. Android and apple. And all of them seem overpriced. Guess I'm in the minority here tho. I just dont need to be connected to technology that badly beyond my smartphone, tablet, and laptop. Posted via the Android Central App

I'm with you Posted via the Android Central App

I don't see a need for smartwatches at this point either. But for many of us, there is a want for it. I mean, I don't need a Nexus 6 to live my life. A Moto G (or lesser) could probably service any of my "needs" phone-wise, but that isn't what I want. I have a Moto 360 because I wanted it. It's definitely convenient and nice to have. As for the "need to be connect to technology badly," my 360 actually allows me to be looking at my phone screen a lot less than before. So in some ways it allows me to be disconnected from technology a bit more, albeit a small bit.

Connect more to disconnect more - I like that :)

I don't have the need for a personal automobile due to where I live and work. I however don't commit the fallacy of generalizing my needs and tastes to others. I find my Pebble rather handy actually. and it works far more reliably on my iPhone 6+ than it did on my Galaxy S3.

I agree about the watch. For someone who gets a *ton* of notifications, it allows me to "not care" a lot more often when my phone goes off.

@Endia I think you are right on. I believe you are still in the majority.
I personally took my mechanical watch off about four years ago, to force the habit of remembering the smartphone. When I have my smartphone, I really have no need for a watch.

+1 I have a rather nice watch that I'll wear now and again, but i have no NEED for a smartwatch. It's not even a want... The big print giveth, the small print taketh