Facebook poaches Google ATAP chief Regina Dugan to lead new hardware division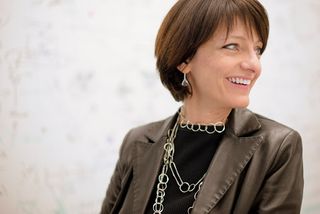 Facebook has hired Regina Dugan, the head of Google's Advanced Technologies and Projects group, also known as ATAP. Dugan will lead a new group inside Facebook called Building 8, which will focus on building new hardware for the company, according to The Verge.
Dugan says that she is sad to be leaving ATAP, despite her excitement for her new role.
Before heading up ATAP at Google, Dugan was the director at the Defense Advanced Research Projects Agency (DARPA). It's not clear at this time exactly what Building 8 will be developing at Facebook.
Hardware? Maybe another phone? Gawd i hope not.

I don't want any type of hardware from Facebook. I just don't like them or trust what they would do with any data they collect from said device.

Same thing Google does. Posted via Android Central App

I believe this is a late reaction on the part of FB to clean up the mess with the rift Posted via the Android Central App

But haven't they made alot of messes here lately?

But the HTC First and the HTC Status did so well...

OK, now what exactly did this lady build at Google???

Wasn't ATAP responsible for Project Ara and Tango? Posted via the Android Central App

I believe so. But how much money have these projects brought in???? Or when are they supposed to begin contributing to the bottom line???? If I had to wager, I doubt Alphabet is shedding one tear over her departure....

Not everything has to be profitable. All of the big tech companies have Advanced R&D departments like ATAP, Microsoft Research etc. These depts can survive so long as the main products like Search for Google, Windows & Office for MS (cash cows) are bringing in money.
That's partly the reason they separated Google and formed Alphabet so that Google could show profits.

Another victim of the Alphabet Reshuffle. Now that the money faucet is turned off everyone is fleeing.

Writing is on the wall, it seems. Wouldn't be surprised at a "major restructuring" within the next 6-9 months across all of Alphabet's subsidiaries. Posted via the Android Central App

...If Facebook really wants to get in touch with Hardware, they need to undergo some radical changes. I don't think I should make a TL;DR post explaining what, but it should be obvious...

TRAITOR....
Jk.
:-) Posted via the Android Central App

Woah, Google & darpa and now FB? Quite the resume Posted via the Android Central App

Maybe she wants to help fb build a Google gun.

So...... How's alphabet doing Google? Posted from my Nexus 6/Nexus 7 2013/Surface Pro 3

A little soupy at the moment.
Android Central Newsletter
Get the best of Android Central in in your inbox, every day!
Thank you for signing up to Android Central. You will receive a verification email shortly.
There was a problem. Please refresh the page and try again.