Facebook Messenger updated, with updated visuals and better support for ICS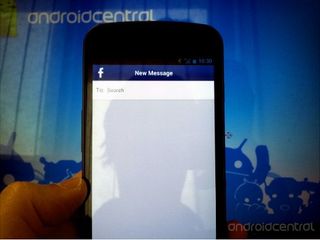 That other Facebook app, Facebook Messenger, just received an update that among other things is supposed to make it play better with Ice Cream Sandwich.
The visuals have also been updated, and while not a major update, things do look crisper all round. They haven't totally bought into the ICS way of things though, as on the Galaxy Nexus for example, the menu button is still the 3 little dots next to the onscreen buttons.
So what else do we get then? Faster ways to start conversations and group conversations -- faster than using the full bore Facebook app that's for sure. Hitting the + button brings up a list of your more recently contacted friends, and right at the top is the "new group conversation" button.
Otherwise, we're treated to the usual smattering of bug fixes, and performance and battery life improvements. We've got the download links for you after the break.
Come on, how about some voice messaging at the very least???

Does it leave its authentication tokens unencrypted in a world-readable directory, like the main Facebook app does?

Too bad sending to mobile contacts appears to not be coming back. It would be a true iMessage competitor. I HATE getting iMessage group text and not being able to reply to all or know who's in the group. Facebook messenger was supposed to fix that. Can I message friends who aren't using Messenger?
Yes. People who do not have Messenger on their mobile device will receive your messages as texts instead. When I send a message to a contact's phone, what do they see?
Messages sent as texts include your message and a list of anyone else in the conversation. Recipients simply reply to message you and anyone else in the conversation. Recipients also receive information about which text commands they can use to control what messages they receive. From https://www.facebook.com/help/?page=251772538174513
Android Central Newsletter
Thank you for signing up to Android Central. You will receive a verification email shortly.
There was a problem. Please refresh the page and try again.