From the Editor's Desk: Wait, did my Pixel 4 XL battery life get better?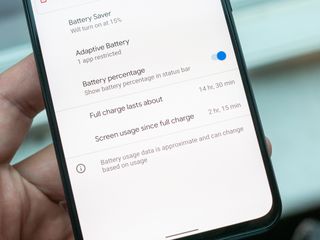 (Image credit: Andrew Martonik / Android Central)
We're now a few weeks into using the Pixel 4 (XL, in my case), and among the seemingly endless complaints people have with the phones there's a constant undercurrent of chatter about battery life. Yes there's Motion Sense, face unlock and the 90Hz display ... but it all seems secondary to battery. It was the main focus of both our Pixel 4 review and to a lesser extent 4 XL review, and the debate is still going. Both a debate about whether the battery life is good enough to deal with in order to enjoy so many great parts of the phones, and also about just how bad the battery life actually is.
I think it's fair to say a majority of people feel the battery life isn't good enough. Even those who are okay with the battery for their usage can recognize that it isn't as good as other competitive phones. I'm still fully in the camp that believes Google should've put more emphasis on battery life in the Pixel 4 XL, and should never have released the smaller Pixel 4 as it stood considering its woeful longevity.
A couple weeks after my review, though, I was given a ray of hope: my Pixel 4 XL's battery life ... started to get better. Whether it's Google's Adaptive Battery finally doing something, my limiting of notifications and background location access using Android 10's new settings, or something else entirely, I was notably less worried about battery life the past week. Look, it was still not great — I was ending each day with about 15% battery — but I was getting to bedtime without charging, and that was a notable improvement. Curiously, when I talked to our own Hayato Huseman, who's using the Pixel 4, he felt like he was experiencing the same thing — the phone was getting through a day; scraping by to do so, but making it.
But in the last couple days, I was really brought back down to reality. Taking multiple flights hopping between coasts, and also spending time in the troubling network environment that is New York City, the 4 XL didn't come anywhere near holding up to tougher days. But I have started to figure out what I was experiencing that made me so optimistic: I feel like my Pixel 4 XL has reached a weird point where its standby battery life (aka when you're not really using it) has much improved, but actually using the phone any amount still tanks it.
Source: Andrew Martonik / Android Central
Keeping things light, spending lots of time on Wi-Fi, and never having the screen on for more than a few minutes at a time for messages, some photos, and short app usage, it's totally fine. I recognize for a lot of people, that's the extent of their phone usage — and seeing complaints about battery life would seem odd. But that's not how I use my phone every day. Sure I have times when my phone goes hours at a time face-down on a table or on silent in my pocket; but others I'm streaming music, dealing with messages and emails, running with Bluetooth headphones and GPS, piling up notifications and making phone calls. When I use the phone lightly, I'm oddly impressed by the battery life. But as soon as I intensely hit the phone for even an hour or two in a day, I have to charge in the early evening. To say nothing of a proper travel day, when it's dead in nine hours.
Myself and several friends are in San Diego this weekend meeting with MediaTek (disclosure: MediaTek paid for our flights and accommodations), and as is so often the case when a bunch of technology enthusiasts get together we started talking about our Pixel's battery. The afternoon that we all arrived, we were enjoying drinks on the beach ... and every single person with a Pixel 4 (or XL) had charged earlier in the day or was on a battery pack at the table. It turned into a Pixel 4 battery life support group — exchanging stories about just how bad the battery is, and the frustration over it considering how many parts of the phone we love.
I'm still using my Pixel 4 XL. On the whole, I'm very happy with it. I'm just extra bothered by the weak battery life because this is otherwise a fantastic phone. Yes the battery life is good enough for many people (at least, on the 4 XL), but it's not at all a strength of this phone, and nobody complaining about the battery life is wrong to do so.
Get the Android Central Newsletter
Instant access to breaking news, the hottest reviews, great deals and helpful tips.
Andrew was an Executive Editor, U.S. at Android Central between 2012 and 2020.