24 hours with the Samsung Galaxy Note 20 Ultra: Big, beautiful, and a little backwards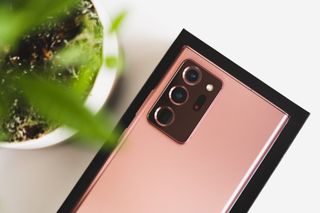 (Image credit: Hayato Huseman / Android Central)
It's a good thing I've got a couple of spare camera batteries and some new lenses to break in, because my camera will basically be glued to my hands for the next week or two. Yesterday, FedEx came by (a little later than expected) and dropped off two packages, containing Samsung's just-announced Galaxy Note 20 Ultra and Galaxy Watch 3.
Both came in the new Mystic Bronze color that Samsung made — ahem — quite a fuss over during its Unpacked live stream, and it's absolutely gorgeous, though as many have pointed out, it's much more akin to rose gold than bronze.
Whatever you want to call it, I've been having a lot of fun taking photos of the Note so far, and wanted to share a few of them along with my early thoughts on the phone as someone who spent a considerable portion of the last year using the Galaxy Note 10.
Samsung Galaxy Note 20 Ultra Gorgeous new hardware
The Note 20 Ultra is gorgeous from basically every angle. I know a lot of people have had some Strong Opinions on the giant new camera housing, and it's definitely a unit, especially compared to the relatively slim modules on last year's Note 10+. But it doesn't bother me much; the Ultra definitely doesn't sit flat on a table (at least, not without a case), but it isn't too top-heavy, and I honestly think it looks fine.
More importantly, the new matte texture on the rear glass is a very welcome change from previous years' glossy finishes. Not only does it look better, it keeps your phone from instantly becoming a fingerprint magnet, and even adds a bit of grip to the phone so it doesn't slide out of your hand.
Something I'm not so big on, though, is the relocation of the S Pen over to the left side of the phone. After nine years of Galaxy Notes with the S Pen on the right, it confuses the hell out of me every time I go to press against the righthand corner, only to meet cold, unmoving metal. On the other hand (sorry), this is great news if you're left-handed.
In fact, everything on the Note 20 Ultra is reversed compared to the Note 10+. The bottom-firing speaker is on the opposite side. The volume and power buttons have moved back to the right edge. None of this really affects usability, but I found it interesting regardless.
Samsung Galaxy Note 20 Ultra Improved cameras
I've also been pretty impressed with the cameras, for the most part. The 108MP primary sensor is identical to the one we saw on the Galaxy S20 Ultra, but Samsung added laser-assisted autofocus to help with all of the focusing issues the S20 ran into. So far, I've had zero issues with close-up subjects or wide landscape shots, though it's still a little early for me to definitively say "problem solved."
I still have all of my usual Samsung camera complaints. Colors are way overexaggerated, and the Note 20 Ultra still ramps up low light shots out of what I can only assume is sheer terror that you might lose a tiny bit of shadow detail. There's also the same haloing effect around backlit objects that I've run into with every Samsung phone in recent memory.
Still, dynamic range is great, and just like I experienced on the S20 Ultra and even the S20+, the massive sensor is able to achieve extremely impressive natural depth of field with nearby subjects that could even trick the untrained eye into thinking you're shooting with a DSLR.
Another good sign: zooming seems to be a lot more usable at its upper limits than I had expected. The Note 20 Ultra shares wide-angle and ultra-wide sensors with the S20 Ultra, but the telephoto sensor is totally new. It's 12MP, down from 48MP on the S20 Ultra, but it offers 5x optical zoom, and has both a wider aperture than before at f/3.0 and larger individual pixels at 1 micron.
In our initial hands-on coverage, both Andrew Martonik and I theorized that the lower resolution would have a negative impact on distant zooming, while the 5x perspective would be better for closer zoom ranges than the S20 Ultra's 4x telephoto. To my surprise, not only does 5x look great, but 20x and even 50x, the maximum zoom distance on the Note 20 Ultra, remain relatively clear.
There's still plenty of testing to be done. I didn't get my review unit yesterday until about 11 AM, so it's hard to quantify things like battery life just yet — though as I finish up this article at 4:45 PM, having started my day at 7:30 AM, I'm sitting at 65% with 3.5 hours of screen-on time, which definitely instills some confidence.
This is far from a full review, but hopefully it gives you a good idea of what to expect from the Galaxy Note 20 Ultra until I've had time to gather some more complete thoughts. Stay tuned in the coming weeks for my review video — and keep an eye out for my review of the Galaxy Watch 3 as well, coming soon to the site!
Have a great weekend!
So far, so good
(opens in new tab)
Samsung Galaxy Note 20 Ultra
Large and in charge
It's still too early to give any conclusive thoughts, but the Galaxy Note 20 Ultra is certainly shaping up to be one of the best phones of the year, with incredibly powerful specs and cameras that should meet just about anyone's needs.
Hayato was a product reviewer and video editor for Android Central.
FedEx late!? No, never. 😒

Nobody's really paying that kind of money anymore... Y'all need to catch up!! Look at the comments sections when y'all talk about the Pixel 4a.... Nuff' said.

Nobody? I beg to differ...

You obviously haven't seen the pre order threads in here and other android sites

I preordered the 512GB Note 20 Ultra on Thursday. I'll never waste money on a cheap-ass phone with few features.

No, you'll waste it on a cheap-ass overpriced phone with more features than most people even understand or are redundant in and of themselves.

Everybody says what you just did though...until Google incorporates those same features years later.

Imo the title was click bait. The word "backwards" was the only reason I read the article. I wanted to know what to watch out for when considering whether to buy the Note 21(Twenty one) Ultra.

Read the latest Forbes article, you'll get a clearer definition of how backwards Samsung went. Read it here
https://www.forbes.com/sites/gordonkelly/2020/08/08/samsung-galaxy-note-... The final words of the article says it all.
"History won't remember the Note 20 kindly. With the radical new Galaxy S21 already on the horizon, do yourself a favor and forget it too." I just bought the Note 10+ after a week of reading, researching and digging up as much as I could about this Note 20 Ultra. I have no problem spending the money on my "S-Pen addiction/Best BlackBerry Replacement Available"...but releasing a 500MB secret security patch before the phone is even released is sketchy AF

The Note Ultra is a great phone. But the base model actually sucks. I can't classify it as a Note phone. Plastic junk build, 60hz display instead of 120hz, what, huh? Get out of town with this garbage? Why does this phone even exist? A thousand dollar phone you say, I say hell 👎 NO!

Who cares what color it is, or whether it hides fingerprints or not? I don't know of anyone who carries a $1300.00 piece of glass around without a case...usually a BLACK case! "Wow, look at that BLACK case!" Gotta have it!
Speaking of looks without a case....what is that cancerous carbuncle growing on its back? ROFLMAO

I've been using Note series for 5 years now and never put on any cases. Cases are for people who can't even hold a phone right.

I like how he reviewed the carbuncle...
"The Note 20 Ultra is gorgeous from basically every angle. I know a lot of people have had some Strong Opinions on the giant new camera housing, and it's definitely a unit, especially compared to the relatively slim modules on last year's Note 10+. But it doesn't bother me much; the Ultra definitely doesn't sit flat on a table (at least, not without a case), but it isn't too top-heavy, and I honestly think it looks fine." Gorgeous from "basically every angle"? Huh? Cmon man I know a lot of people have had "some strong opinions on the GIANT camera housing"
Oh....you mean like...its GIGANTIC LIKE A CARBUNCLE??😆 And this one's the greatest "it's not too top heavy"
Tut tut....people will say anything for a free device ahead of release date.
I haven't seen an honest review on Android Central since people were walking around with flaming pants whilst carrying a Note 7. And I dont just say this to be trolly... i did my research as best as one can before release date of the Note 20 Ultra and every review I've found has been straight up crap. Not worth the money and certainly not an upgrade from the Note 10+. But here is Android Central telling us "it ain't so bad, kinda neat in fact. Cmon guys.

I'm really happy I trusted my gut by buying the Note10+ at the end of last year. First, it's much less expensive. Secondly, that rear camera "design", a term I am using very generously, is simply atrocious. The third is just a peeve, one I didn't even know I had, but now I really appreciate my Note's buttons placement (and as a matter of fact, the pen too).
Even though I am right-handed, I use the phone with my left hand (and pocket). So, the buttons being on the left is definitely more convenient, and the pen remaining on the right more convenient, as that's my writing hand.
Small things, but it ALL matters when you're paying that kinda monies for a device that you slip into your front pocket!

We still like our Note 10+ as well, looks so much better than this.

Nice phone and watch... Too bad I have to eat otherwise I would have starved for a month and used the money on the watch. Already sold the right kidney but I'm sure the phone cost more than what a kidney is worth anyway. Does the note 20 ultra come with Samsung Push Services embedded into Android? I mean Samsung ads popping up on you all the time? They could have least lowered the price for using your phone as a billboard. Can't disable it.. Only turn off notifications.. But it still runs in the background using memory (high frequency) and your data, as a matter of fact you can't even clear data only cache.

Current price for a kidney is $262,000, so you definitely got ripped off!

Samsung Push Service can be "uninstalled" with adb, no root necessary. The process doesn't really remove the service, but disables it and prevents it from using data or battery.

I continue to be amazed at how far that camera module sticks out! It's like a rooftop carrier on a car, or the control tower on an aircraft carrier, or a plateau in the desert. Almost looks stuck on as an afterthought. Do you need a separate case for the camera module? Do they sell a rubber foot to attach to the other side to balance it out? Does it come with it's own area code? You can't use the phone as a surfboard because the camera module would cause too much drag. I heard they make an imitation stick on module to use on other phones to impress your friends, but shipping is extra because of the size. One guy had a preview unit in his car, but had to drive with the window open and the module sticking out. Another guy kept getting propositioned because he had the phone in his pocket with the module facing out, and girls thought he was excited to see them. Don't worry... I'll keep my day job!

Ohhhhhh mannnnn. #savage
😂

Any improvements on the fingerprint sensor? More important now that we are all wearing facemasks (so the face recognition is not working)

Lol you can lower your mask for a second to face unlock. Smh

I have never understood the complaints about the in-display fingerprint sensor. I have yet to have any issues and its snappy on the S20 Ultra for me. Maybe muscle memory kicked in immediately for me, IDK.

I'll be holding on to my Note 9 (960u1) for another year at least...
- not holding my breath, but it is conceivable that Samsung could shock us with one more update with them moving to 3 platform updates. Note 10 lite and S10 lite share chipsets, so it is not "impossible" no matter how unlikely.. Still my favorite Note thusfar from Samsung...

In the time you had phone to test, you couldn't check if it had SAME in screen GPS from 10 line/S20?
Why even write a useless article...To regurgitate the SAME points other sites are fellating but no actual useful inspection?

This is Regurgitate Central.

Hope they get the under screen fp sensor issues fixed. I just wished they left it on the back. Who wants smudges on their screens??
I really wished HTC could at least come out with one more good flagship. I'm sure it won't happen, just wishful thinking.

"Who wants smudges on their screens??"
Don't you touch, thus smudge your screen all day everyday?
Android Central Newsletter
Get the best of Android Central in in your inbox, every day!
Thank you for signing up to Android Central. You will receive a verification email shortly.
There was a problem. Please refresh the page and try again.