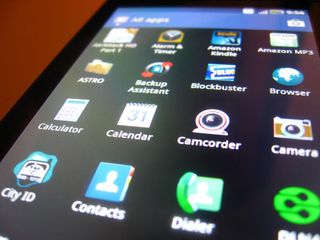 When the Motorola Droid X first hit Verizon Wireless last July, it was thrilling in a number of ways. Not only did it represent Verizon's commitment to a high end line of Android smartphones, but it also marked Motorola's next step in reclaiming its throne atop the mobile industry. As an early adopter, I grew to love the X, which I feel grew into one of the best smartphones on Verizon to date. So how does its successor, the Droid X2, live up to the original? Less than a year after the X's release, is the X2 as thrilling as its predecessor? Here, we'll look at how the X2 has improved on the foundation the X had laid, and whether or not these improvements are enough to get excited about.
Let's go, after the break.
Droid X2 Specs | Droid X2 Forums | Droid X2 Accessories
Initial hands-on
Before we begin, let's take a look back at Phil's initial hands-on with the Droid X2.
Youtube link for mobile viewing
Hardware
If you've ever seen a Droid X, you've basically seen a Droid X2. If you are looking for a major revolution in Motorola's X line, look elsewhere. At first glance the untrained eye could easily mistake the X2 for its older brother: the phones are nearly identical. You've got the signature camera hump on the back, atop a still stunningly thin body. You've got the same matte black finish, though the X2's black looks a bit richer than the original, but that could just be chalked up to age. If you loved the X's row of four hard keys, you'll enjoy the same keys on the X2. They're bulky, but they do the job. I don't mind soft keys, so this isn't a major selling point for me, but if you're someone who loves the satisfaction of a good click, you'll be impressed.
The left side maintains the original's HDMI and USB ports, though the right side has lost the dedicated camera button of the X. Motorola hasn't even replaced the button with something else; it's simply not there. Bummer.
Most importantly, you've got that same 4.3 inch LCD screen that set the X apart a year ago, though Motorola has improved the resolution to its new qHD standard and has added Gorilla Glass for protection. Don't think you'll be overwhelmed, though. I found the screen to be a bit pixelated despite the 540x960 resolution. Colors don't seem as vivid as Samsung and HTC's current offerings, and the X2 certainly isn't as bright as its competition. There is one huge thing that the X2's screen has going for itself: it looks absolutely phenomenal in direct sunlight. Sure, you have to have the brightness up all the way to truly appreciate it, but wow, what a long way we've come. The difference is night and day, and enough for me to call the X2's screen a noticeable improvement over the X.
In the smartphone world, no detail is too small, so I suppose this is worth mentioning: I love the X2's power button. It's got the perfect position (top center) and the perfect feel. Coming from an HTC Thunderbolt where the power button became too recessed for my comfort (it really shouldn't change positions, right?), the X2 is a pleasure. And I also love the X2's LED notification light: it's bright, it supports multiple colors, and it's hard to ignore. Just the way a notification light should be.
Underneath the battery door (thank you, Motorola, for not making it a chore to remove) you've got a 1,540 mAh battery, alongside a microSD slot that is visible with the battery in place, though you'll have to remove the battery to access it. And to achieve so, you've got that infamous "pull here" tab that confused so many X owners. Remember, don't cut it off. It serves a purpose.
Above the battery door you've got an 8-megapixel camera with HD video capture alongside a dual LED flash. More on how the camera performs a bit later. And speaking of cameras, you're not going to find one on the front of the X2. It's just a proximity sensor, everybody. It's a shame really, seeing that a front-facer is becoming more and more standard. If you're not into video chatting, don't let it bother you. If you are, well, it should bother you.
As for the rest of the specs, here's a breakdown:
5.02 x 2.58 x 0.39 (127.5 x 65.5 x 9.90 mm), 5.47 oz
Android 2.2 Froyo (we fully expect an update to Gingerbread at some point)
CDMA 800/1900, 1xEV-DO Rev. A
4.3-inch qHD display with 540x960 resolution and 240 dpi pixel density
1 GHz dual-core NVIDIA Tegra 2 processor
8MP rear camera with 720p video capture and dual LED flash
512 MB RAM
8 GB onboard storage with an included 8 GB microSD card; up to 32 GB supported
1,540 mAH battery
1080p video playback with HDMI output
802.11 a/b/g/n, Bluetooth, GPS
Accelerometer, Magnetometer, Ambient Light Sensor, Proximity Sesor
Noise-canceling microphone
Software
The X2 is sporting Android 2.2 Froyo, which is kind of a letdown. And when you consider that the original X has just been upgraded to Gingerbread, it's even more annoying. That said, I still have a soft spot in my heart for Froyo. It's no Gingerbread, but it's great nonetheless. And Motorola has said that the X2 will receive the upgrade in the very near future, so sit back and be patient. It's coming.
Now let's cut to the chase here. Motorola's Blur skin is here, whether you like it or not. It has made a name for itself, both good and bad, and it has both fans and critics. It gets the job done, and doesn't make any apologies for its appearance. I respect that in a way, so hats off to Motorola for sticking to their guns. And it's the update version of Blur that the original Droid X just got in its Gingerbread update, and it's an improvement, for sure.
I like Blur's Profile feature, which let's you customize the seven homescreens three times, once for home, once for work, and once for weekend. That's 21 screens for you to work your magic on. Overwhelming, isn't it?
I also don't mind Blur's widgets, which can now be resized to fit your needs. They're not going to win any beauty contests, but they get the job done, I suppose.
I wouldn't be doing the X2 any justice without pointing out Blur's major flaw. It's simply not optimized for performance. Remember that beastly dual-core processor under the X2's hood? You'd hardly know its there when cruising through the UI. The X2 drags when flipping through homescreens, which shouldn't be taxing for a phone of its caliber. There's no good reason you should ever see a slowdown in the UI on a phone with specs like these. But you'll find it on the X2, which is a darn shame. And maybe it's just me, but there's even a lag when unlocking the phone. Not the actual sliding part, but from button to screen on seems to take longer than others. Might be the display, might be Blur, might be the processor. But I noticed it, and it annoyed me.
Open up the app drawer and you'll notice Blur's built-in sorting capability. Hit the bar on top and you'll be able to sort your apps by recently used and those you have downloaded. You can even create your own category to include the apps of your choice. Nice touch. Also on that Blur bar (oh, I like how that sounds!) is a direct link to the Android Market. Gotta love anything that saves a few steps.
In said app drawer you'll unfortunately find Verizon's signature bloat. All the usual suspects are there, including Amazon MP3, City ID, Let's Golf 2, NFL Mobile, NFS Shift, VZ Navigator, and the dreaded VCast Suite (Apps, Music, and Movies.) Man, that's realy getting old, isn't it? And don't even get me started on Blockbuster. Note to Verizon: Blockbuster is on life support, and its time you pull the plug.
Also preinstalled on the X2 is Motorola's own Task Manager. It's set up nicely and pretty straight forward, though I tend to avoid task managers in general. If you do choose to use it, take a look at our guide to properly setting up and using your task manager.
The X2 is capable of supporting up to five devices via its Mobile Hotspot Wifi connection with Verizon's usual $20 for 2GB monthly fee. I'm not a fan. While writing this review I tried to fire up the hotspot to upload some photos. Performance was downright awful. The X2 kept dropping the 3G connection rendering the feature absolutely useless. It was a taxing and annoying task. Wondering whether this was Verizon's or Motorola's fault, I fired up the same hotspot on my HTC Thunderbolt (using 3G, I promise). No problemo. It was fast, it was reliable, and it worked. Motorola's fault, not Verizon's.
And remember that the Droid X2 is a 3G-only device. No LTE on this guy. Your battery will thank you.
One more thing about Blur: what a keyboard. Just, wow. Dare I say Motorola has developed Android's best keyboard. It's got multitouch, just like the original Droid X, which really gives it an edge over the competition, and combined with the X2's prediction software, it works like a charm. I've never had a hard time typing on a touchscreen, but this keyboard makes me wonder how I've survived all these years without it. Kudos, Motorola.
Performance
Don't let what I've written about Blur give that Tegra 2 a bad name. When you give it a chance to shine without having to juggle the clunky UI, you'll be impressed. Opening apps on the X2 blows the X out of the water: you might not notice, but when placed side to side, the original X shows its age.
Tegra's touches are subtle but oh-so-pleasant. Take the browser, for instance. It's the same one you've got on the original X, but it performs leaps and bounds above its predecessor. Even without 4G, pages load quickly and accurately. Browsing is smooth, even when Flash is involved. Let me rephrase that: Tegra and Flash is a match made in heaven. Gone are the days of sluggish loading times and choppy performance. Tegra's got the guts to perform.
As for those 3G speeds, you're looking at the standard Verizon offerings. In New York City, I never broke 2 Mbps down or 1 Mbps up, which I expected. Despite the speed Tegra adds to the device itself, you're still limited by Verizon's 3G speeds. No way around that. If you're looking to increase those speeds, take a look at the Charge or the Thunderbolt, or wait around for the elusive Bionic. If you're content with Verizon's 3G network, which is nothing to sneeze at, you'll be content with the X2.
As for battery life, I have no complaints. Call me skeptical, but I've grown to expect my smartphone batteries to last a full workday at best. Sure, you'll get the rare power hog that makes you struggle to find an outlet, and then you'll find that phone that lasts for days at a time (okay, that's really rare). In these terms, the X2 is pretty average. I got a full day's use out of the X2, with some juice to spare at bedtime. During the weekend, when I was spending more time using the X2, I saw a decrease in battery life, though I still had no trouble making it through the day. Plus, Motorola has added some nice power management software that lets you choose between performance mode, nighttime mode, and maximum battery saver mode. It even lets you customize peak and off peak hours ensuring that your battery fits your schedule. If you care enough to tweek these settings, you'll see some really nice battery life.
And as an actual phone? The X2 has nice in-call quality, with almost zero interference. I heard the other line perfectly, and they reported the same. We can thank both Motorola for its superb noise canceling microphone and software, and Verizon for the network it has built. Unlike me, they haven't forgotten those who still use the phone to make calls.
Camera
The X2 sports an 8MP camera which shoots 720P video. I'll let the pictures and video do the talking, but the camera interface is fast and fun. There are a bunch of customizations, including preset scenes designed for optimal picture quality and a number of different effects. Oh, and I love the widescreen resolution option. Cool touch.
I really don't have any complaints about the camera quality. In fact, dare I say, the X2 takes really nice photos. I'm not the best judge, as someone who's colorblindness makes him a bit blasé about photo quality, but from what I can tell, the X2 is firing on all cylinders.
Hackability
It's Motorola. Enough said. The bootloader's locked, and that's that. Motorola has made it very clear that they believe in their strategy, which will inevitably turn a lot of people off. In the same breath, there are plenty of casual users who aren't offended in the slightest. Now there will be plenty a talented developer to come along and try to get this thing unlocked, but until they make some progress, we have to sit back and wait. In the meantime, root away, as Gingerbreak is working on the X2.
Wrap Up
Let's put things into perspective for a minute. It hasn't even been a full year since the original X's release, so it might be a little unfair to expect a brand new device from Motorola. Instead, it looks like the company is crafting itself an X line, similar in nature to its Droid line. So if we expect only incremental improvements instead of a radically overhauled device, there's not much to be disappointed with.
The bump in screen resolution didn't thrill me, but its nice to be on the cutting edge of technology, even if only momentarily. And that new Tegra 2 processor is impressive. And this is coming from a Snapdragon junkie. If you're a gamer, or pride yourself in technical specs, Tegra can't be beat right now.
That being said, there are few improvements missing from the X2. The absent front-facing camera is disappointing, and Froyo is beginning to taste a little stale. And most importantly, Motorola should have taken some more time to optimize Blur for that Tegra 2 under the hood. I'm not going to pick on Blur like some insist on doing, but its hard to ignore how sluggish it can sometimes be. Sure, homescreen replacements are abound and a lot of Blur can be ignored, but if Motorola is priding itself in its hardware, why not make the software the best it can be as well?
I like the X2. Just as I liked the X last year. That doesn't mean that I'd run out to upgrade my original. If you've still got your X, there isn't enough of a reason to shell out another $200 for the X2. If you're in the market for a new phone, though, the X2 is a solid choice, especially if you're not covered by Verizon's expanding 4G network. It's got the guts to go the distance, and the specs to remain relevant for at least a few more months. Give it a spin. Motorola is putting a lot of effort into its smartphones, and we might as well reap the rewards.
Sign up for Black Friday email alerts!
Get the hottest deals available in your inbox plus news, reviews, opinion, analysis and more from the Android Central team.