Motorola DROID RAZR HD/MAXX HD review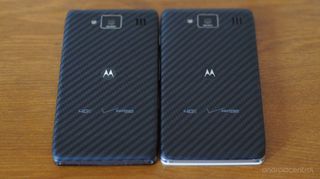 When the original RAZR hit the market last summer, followed shortly after by the RAZR MAXX, a lot of people were eagerly awaiting a true flagship line from Motorola. And the devices were met with success, thanks to Verizon's aggressive marketing and the MAXX's considerable battery advantage.
Shortly after its release, though, the RAZR was outspec'd and overshadowed, relegating it to mid-tier status behind the likes of HTC's One line and Samsung's Galaxy S 3. But good things come to those who wait, and fortunately, Motorola seems to have been hard at work over the past few months. Today, the RAZR HD and MAXX HD are equipped to reclaim their spot on Verizon's top shelf. But do they have the curb appeal to compete with some of the best Android devices ever made? Find out in our full review of the Motorola RAZR HD and RAZR MAXX HD. For another perspective, be sure to check out our earlier review of the Canadian version.
Pros
The RAZR HD and MAXX HD both offer stunning displays, eye-catching design, and top-notch performance. The UI is as close to pure Android as you'll get outside of a Nexus, and Jelly Bean is said to be right around the corner. The RAZR HD's battery life is simply astounding, and the MAXX HD's longevity will leave you in awe.
Cons
On paper the RAZR HD and MAXX HD are similar in size to competing phones, but in the hand they feel much more dense and thick. Motorola's optics are dated and stale, and the results are subpar photos and video.
The Bottom Line
Swipe to scroll horizontally
The one-take walkthrough
Droid RAZR HD Hardware
I've said it before in my Droid RAZR M review and I'll say it again here -- Motorola is making some of the best hardware on the smartphone market today. Period. The company seems to have made a concerted effort over the past year to focus its efforts on quality materials and streamlined, across-the-board design language, and the RAZR HD line is the pitch-perfect fruit of its labor.
There is no mistaking the RAZR HD for anything other than a Motorola device -- the metallic trim, Kevlar back, and ever-so-slightly rounded edges are exactly what we fell in love with on the original RAZR, now in a larger package. This is a premium design, definitely a step up from Samsung's current strategy and right in line with the likes of the iPhone and HTC's One series.
While it retains most of the original RAZR's looks and feel, there is definitely a noticeable difference, particularly in terms of size. The revamped RAZRs are noticeably thicker and denser than the originals, but that's mostly a good thing. Rather than the slim-then-protruding profile of last year's RAZR, Motorola went for a more even, uniform design, eliminating the trademark Moto-bump and opting for a thicker girth with a barely noticeable increase towards the top. The RAZR HD is 0.33 inches thick and weighs in at 141 grams, while the MAXX HD is slightly chunkier at 0.37 inches and 157 grams. While those dimensions fall in line with the likes of the Optimus G and the Galaxy S 3, the RAZRs do appear much thicker at first glance, most likely due to their glass-atop-metal-atop-Kevlar design. The same can be said about their weight -- it's not all that heavier than the rest of the pack, but there's a density here that is really hard to ignore. Regardless, these phones fit perfectly in hand.
The volume rocker and power button are located on the right side, while the HDMI and microUSB slots are found on the left. The left side also houses a microSIM and microSD card tray, accessible using Motorola's included SIM tool or a thin paperclip. The backside of the RAZR is finished with a Kevlar coating that is neither slippery nor smudge-prone. Like the original RAZRs, the battery is non-removable, so don't strain yourself looking for a removable door.
The notification light has taken up residence between the Motorola logo and earpiece on the front of the phone -- it's wide, bright, and cleverly placed.
The RAZR HD's display is the most noticeable and impressive upgrade from the original RAZRs. It's big and beautiful at 4.7-inches, packing a 1280x720 resolution (312 ppi) with Super AMOLED technology. It's covered with Gorilla Glass and splash-proof nanocoating, and lacks capacitive buttons, opting for on-display navigation the way Google intended. The result is something truly special. This is the display that the RAZR line always deserved -- it's crisp, colorful, vibrant, and sharp. Because of its Pentile matrix it does appear a bit less sharp as the IPS displays that LG and others are shipping, but that's a very high bar. The RAZR is noticeably brighter than the Galaxy S3, and performs admirably in direct sunlight unlike some of its competition. Simply put, this is the greatest display Motorola has ever shipped.
The RAZR HD is beautiful on the inside too, with its 1.5GHz dual-core Snapdragon S4 processor, 1 GB of RAM, and 16 and 32 GB storage options. Coupled with a nearly vanilla Android experience (more on that later), these devices scream. You've got as much horsepower as the One X and the Galaxy S3, so there's no speed compromise to be made. Things are fast and fluid here, noticeably more so than the original RAZRs. While it doesn't meet the blistering speeds of the Optimus G or the Galaxy Note 2, the RAZR HD can handle just about anything you throw at it.
Also underneath the hood is the RAZR's battery, the one and only differentiation between the RAZR HD and RAZR MAXX HD. The RAZR HD packs 2,530 mAH, while the MAXX HD boasts a whopping 3,300 mAh. Here's the kicker -- whichever model you choose will give you hours on hours of usage. Even the plain old RAZR HD runs circles around the competition in terms of battery life, easily getting you through 24 hours of moderate usage. The MAXX HD ups the ante even more, and as hard as it is to believe, I managed to get 36 hours of a single charge. And this is without using Smart Actions to squeeze out every last bit of juice. If I took a minute to truly optimize the device for battery life -- which Motorola's SmartActions make very simple to do -- I have no doubt that I could push that up to 48 hours. Forget playback tests, forget silly HD video-on-loops in a lab. These are real-life numbers, and they're unmatched by the competition. Prepare to be spoiled.
Droid RAZR HD Software
There's really not much to say about the RAZR HD line's software, and trust me, that's a good thing. Motorola has chosen to stay as close to vanilla Android as possible, while keeping Verizon happy with its usual laundry list of bloatware. The RAZRs ship with Ice Cream Sandwich, though Moto says Jelly Bean is right around the corner. Based on the recent leak for the Droid RAZR M, I'll chose to believe this promise. There is slight skinning here and there, like in the settings menu and lock screen, but for the most part you're going to recognize Android as it was intended. And the minor tweaks that Motorola has made are welcome and useful. Swipe to the left of the home screen for a list of "Quick settings" and to the right to "Add a page" are super intuitive, eliminating some unnecessary steps. As I said in my RAZR M review, this does change the dynamic of home screens, turning the panel furthest to the left rather than the center into your default "home."
What differs from the RAZR M, though, is the bloatware included on the devices. Both the M and the HD come with their fair share of preinstalled apps, but they are not identical. For example, Verizon and Motorola chose to include the full suite of Amazon apps on the M, while the RAZR HD is missing Amazon MP3 and the Amazon Appstore. I'm curious to find out what drove this decision.
The only real Motorola-branded app of note here is Smart Actions, which I praised on the RAZR M, and will praise again here. It's feature-rich and easy to use, and though it does require time and patience, it's worth every second you spend on it. You can tell your RAZR HD how to act based on location, time, and condition, and the results can be as intuitive or as simple as you'd like. As I said before, the MAXX HD's battery life is practically limitless when coupled with some quality time spent in Smart Actions.
The Motorola Droid RAZR HD cameras
With so much time invested in such solid hardware and stellar battery life, it's disappointing to see that Motorola skimped on the cameras. This 8 MP shooter is largely unchanged from what we've already seen from Motorola, and these optics are in dire need of a refresh. The results aren't terrible, and in fact, when paired with optimal lighting and a steady hand, photos can come out quite well. But when compared with the eye-popping shots you'll get from HTC and Samsung's latest, the RAZR HD's images will look immediately out of date.
The bottom line
The RAZR HD and MAXX HD, along with last month's RAZR M, add up to one of the most recognizable lines in the mobile industry and put Motorola back in the ring with the current Android heavyweights. This refresh is much deserved and checks off nearly everything on our wishlist: super-fast processor, mind-boggling battery life, and a top-of-the-line display. Sure, the camera could be better, and many will find the RAZR line significantly less sexy and slim than the Galaxy S3 and One X, but as a total package, the RAZR HD and MAXX HD are two of the best phones you could have the pleasure of using.
I don't understand why Motorola chose to keep the RAZR HD while alongside the MAXX HD as the standard, especially considering how similar the two are in both size and functionality. That said, Motorola does indeed make an extra $100 on the MAXX HD, which is priced at $299 compared to the RAZR HD's $199, so I guess you can't blame a dog for barking. For most, the RAZR HD will provide ample battery life for normal to heavy-usage, but for those glued to their smartphones, the MAXX HD is worth every penny. Whether or not you drop an extra $100 is up to you, but rest assured, whichever decision you make, you won't come away disappointed.
Image 1 of 25
Android Central Newsletter
Get instant access to breaking news, the hottest reviews, great deals and helpful tips
I totally dig the carbon back's on these.

I like the carbon fiber, but I find it strange that it wraps around the sides like that. I guess if it didn't, then the plastic would get scratched like last year's RAZR. Still, I feel it looks awkward.

Activated my Maxx HD yesterday. Great phone. Great upgrade from my Droid 2. Screen is big enough I can type accurately without the slider keyboard.

Alot gets made of the, "why is there a razr HD and a Razr HD MAXX option" I dont look at it like that, most phones come with different SKU's, whether its the GS3, or an iphone, they come in 16gb 32gb etc, so theres more than one version. This is how i see these phones, the 16gb version is the razr HD, while the 32gb version is Razr HD MAXX, you just get the added bonus of even more extra battery.

The DROID RAZR came out last November, not in the summer.

The battery seems impressive,but my iPhone 5 gets equally impressive results as the Razr HD. Now my Nexus on the otherhand, lets just say that all LTE phones are not created equal. I carry a spare battery with me at all times with my Gnex. Lucky to get 18hrs on that one. iPhone 5, 36 hrs easy. My old Razr Maxx 2+days. Love the feeling of not having to search for a charger or switch out the battery.

I'm sure the iPhone gives amazing battery life (especially for it's puny battery), but I highly doubt it gets the same battery life as a phone with more hen twice the battery size (Apple's 1450 compared to Moto's 3,300). The way me and you use our phone and how Android Central tests them are probably different. I REALLY want Motorola hardware. Sadly, the only way to get it is getting an unlocked RAZR i or being on Verizon, 2 things I can't/won't do. I'd LOVE for Moto to make some great devices for the other 3 carriers. I also don' like Moto's software and bad update reliability.

Even if my GNex had a 3300, there is no way it could last a full day.. not even with moderate usage. I've flashed every rom and kernel in the book. My girlfriends Iphone 4 loses about 1% every 3 hours or so when not in use... I lose about 3-4% an hour even when not in use and not on LTE.

I know about 4 people with iPhone 5s and they all make it the standard day on battery life. Now they aren't rushing for a charger around 6:30 at night like I am with my One X, but none of them say they get much more than a day (some say a day and then night but then they wake up with a really low battery)

They have to be lying because my boss has the iphone 5 and that thing is always on the charger.. Iphone users will never admit that theres anything wrong with their phones.. Ive found that to be the truth

Maybe it's because different people have different experiences, and run different apps, with the same phone? I have observed that in general, the worse the cell reception is, the faster the battery drains.

If I were on Verizon it's the phone I'd get. I like what Motorola is doing with the new versions of Blur. It's kinda a shame they want 299 for the Maxx but if I were buying this phone it's the version that's the no brainer to me. My main draw is the best battery life possible on Android. Just wish Motorola would have done something a tiny bit more on the spec sheet as this is their most powerful phone but they are the same as other high end phones which have been out for months plus a gig less RAM than the Samsung S3. It's really kinda sad how blistering fast the mobile industry is moving that this is already outdated. It's still way more powerful than my GNex which does everything I need just fine. I still can't for the life of me figure out why the RAZR M doesn't have stellar battery life though. The smaller screen and decent size battery should leave that on par with the RAZR HD.

You know, I kind of felt that way about it too. "Come on, Moto! Samsung slapped an extra gig of RAM in their phone, you have to keep up!" But this review seems to suggest what we've always known - less customization = better performance out of less hardware. This thing is apparently running faster and scoring better than the S3, despite that one hardware discrepency. And don't knock the power of Jellybean. On my GNex let's just say it feels like the speed of my phone doubled from ICS to JB. I don't fully understand how Project Butter works, but it works pretty darn well for me. The fact that Moto is poised to get JB first (here in the states at least) is pretty promising.

I love the new design of the notification light. I hope it stays around.

I put my hands on both of these devices yesterday in my local Verizon store. All I can say is wow. That is top notch build quality & they felt great in the hand. The screens, from the naked eye were as good as my daily driver Rezound (Does anybody really need a macro look at there phone screen to determine is its quality?) The near stock launcher/Blur was also very well done. And yes the bloat could be disabled in the settings. If this phone has Motorola's exceptional radios, & there's no reason to think it shouldn't, this is THE phone to get on Verizon. I'll see what is announced next week but if nothing Nexus is coming to Verizon (the G Nex is just too lacking in the camera), I'll buy the Maxx to replace my Rezound. Holding this phone immediately reminded me of my Droid X2 & how much I miss it.

its crazy many would say this is a mid-range phone. dual core chip, 1gig memory. sure this is fine right now, but within 6 months quad core will be used more efficiently and more memory is always nice. but for $200 and $300 this is not a good deal at all when you can get an S3 with similar specs and more memory for $100 in at some places now.

Nice phone...Question...What is the Weather/Time widget they are using on the pic? Thanks

Too little too late for me, these phones should have been released to compete with the One X and the S3, not the Nexus 4 and the HTC DLX. Early next year Samsung and LG will have shown off their 1080p phones and the RAZR will once again be firmly mid tier. Oh well, better luck next time Moto. Maybe once Google takes over it'll rekindle my interest in your phones.

bad news....google is never taking over moto. They are always going to keep a "firewall" between the two companies to protect the open-ness of Android. The good news is that with Sanjay out it's bound to get better.

I think that remains to be seen, I think we will start seeing some Google influence in Moto phones but either way it's not bad for me, I just won't buy Moto phones.

I really like the RAZR HD, but this time I'm going for the HTC 8X (gotta love that LimeLight Yellow)
Maybe down the road I get one to replace my Atrix as second phone which the 8X will replace as the main phone

Im stuck between this, the Gnote 2, Nexus 4 and the HTC DNA....Decision will be tough but Im glad to have many choices instead of only one.

I've had the Razr Maxx for a while. Gorilla glass, metal, and Kevlar isn't a high enough quality combination for you? It's even water resistant.

Why must my upgrade be in December...

So much for the edge to edge claim. The white version really makes the bezel look huge.

I really want to like this phone, but living with the poor camera on my EVO3D over the past year makes me think twice about disregarding camera quality. I expect my next phone to replace my point-and-shoot camera...and I don't think this would. May be a dealbreaker. Love the build quality and water resistance. And EVERY phone should have that kind of battery life.

I'm with you here. I never used to use my phone camera, now it's all I use (currently have an EVO LTE, but switching to Verizon soon). May have to go with the GS3 or wait for the HTC DLX.

I would say hell no to any one buying it. It is way to odd ball of a phone and given Moto track history of updates and broken promises and lies you will be lucky to get anything past JB on it and it will only be sometime late 2Q.

Great camera motorola.... Said no one ever....

I got an early ICS update for my Bionic last Thursday: I bought a Razr HD Maxx. So far I am very happy with it; extremely fast, great form factor, excellent connectivity ( remember, I had a Bionic). Battery life: I went to a conference over the weekend, and on Saturday I used the phone heavily from 8 in the morning until 1 am, when the battery was still at 75%. Sunday I used it to watch football using DirecTV Sunday Ticket over WiFi at the hotel conference room during meeting breaks. Had a lot of people looking over my shoulder.
The Galaxy S III is a great phone, and it it might have slightly higher performance (except for battery life), I don't know I haven't studied the benchmarks. I don't like the plasticky feel of the S III and the way it looks like a fat iPhone. I love the quality build of Motorola devices, and this is no exception, very thin and light for a phone with a 3300 mAh battery.
Camera: One of the reviews said the camera wasn't that great. If I want to take pictures or videos I use my Canon 7D. Software: Yeah, It came with ICS, but the Razr M already got Jellybean and the HD's aren't far behind. Removable battery: I bought the extra big battery for my Bionic and had to haul that thing around all the time (it has it's own large backplate you have to bring, too). What a pain. With the battery life of this thing, I don't foresee a problem unless the battery wears out (which happened to my Droid X). Crapware: Yeah there's some Verizon stuff and two or three other apps I'll never use. Much less that the S III. Doesn't really bother me.

Spent some time with both devices last week. Very solid. Not quite ready for an upgrade just yet. With new management and their new commitment to pure Android and quick updates I'm very excited about where Moto is headed.

Switching to Vzw from Spring Black Friday. I really like the Razr M, size is "just right". Now, I'm wondering if the Razr HD might be worth looking at? The SGS III just seems "too big". Any chance of a comparison?

My razor maxx hd to be delivered tomorrow. Pentile is not important enough to be a deal breaker. And camera is ok from what I see. I love the look of this phone and of course big battery. JB to come soon. Can't go wrong guys. Oh and go thru Amazon and get the maxx hd for $199. ordered on 10/23. to get here tomorrow 10/26. It first said a dec 6 delivery but that changed as soon as they became available again
Android Central Newsletter
Get instant access to breaking news, the hottest reviews, great deals and helpful tips
Thank you for signing up to Android Central. You will receive a verification email shortly.
There was a problem. Please refresh the page and try again.