Do you like in-screen fingerprint sensors?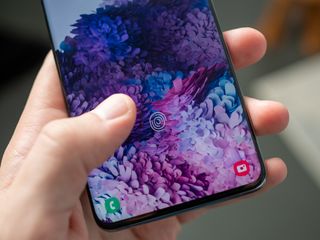 (Image credit: Android Central)
In-screen fingerprint sensors are now the norm for high-end smartphones, but just a couple of short years ago, they were a completely new feature that we had to get used to.
The technology continues to be pretty hit-or-miss depending on what phone you're using, but the cool factor of having biometric authentication hidden underneath the display is still pretty cool.
Some of our AC forum members recently got to talking about their thoughts on in-screen fingerprint sensors, saying:
Now, we want to hear from you — Do you like in-screen fingerprint sensors?
Joe Maring was a Senior Editor for Android Central between 2017 and 2021. You can reach him on Twitter at @JoeMaring1.
I personally think the in-screen sensor on the Samsung phones is faster than Apple's Face ID to unlock and start using the phone. As soon as I pull out my phone from my pocket, my thumb hits the sensor, and the screen is up and ready to go. Apple people have to hold it up to their face, and then swipe up on the screen to unlock, that is two steps to unlock. In my family over the last couple of years, we have had the S10e (side fingerprint), S10+, Note 10+, S20 and S20 Ultra, and I find the in-screen fingerprint sensor to be very fast and accurate. It recognizes my fingerprint the first time, nearly all the time. The only times it doesn't, is if I slightly missed the center, or my finger is cold or sweaty. But those times it does not read it, is very very slim. I can even get it mostly the first time at night, in the dark, and without the AOD on. I think having a larger sensor area will help, but I am completely satisfied with it as it is.

Well, it is two steps, but one I'm going to do anyway. Much like you, after you unlock by sticking your thumb on your screen, you are going to hold your phone up to look at it. Beyond that it becomes a preference. When I look at my iPhone lock screen (which is unlocked by this time) I see notifications, which may have the info I was looking for, making me not swipe up, and just put the phone away. If the notification is something I want to react to, I can just hit it (without swiping up) and go straight to that app. You would have to tap on the app you were after unlock as well. So little difference there. Not an excuse/justification, I just like the way it works. If I had a choice, I would likely leave it. I have a Pixel as well, so get that process. It opens to the home screen directly.

I don't mind it on the Note 10 plus but it was better on the Note 9

Loved it on my 6T and on the Note 10+. Not having to lift the phone when it's on the table is fantastic (I realized how dumb that sounds right after I typed it but hitting submit anyway)

The scanner on the S10+ is far from great, but due to muscle memory, I'm now used to positioning my finger on the screen to unlock it. I've done so even when holding my parents' older Samsung phones. Hopefully the supposed increased scanning area and the ability to scan two fingers simultaneously on the upcoming Note 20+ will better improve accuracy.

I like them except ones by Samsung which have been generally worse than others

From all of teeth gnashing and boohooing I've heard about them, I was wary going from a G6 with a physical sensor on the back to an onscreen one on the s20 plus. Well, maybe things changed with an update but this thing has been crazy accurate and fast enough for me. Zero complaints at all.

I prefer sensor on the back of the phone as it's much easier and safer to hold and unlock with one hand.
Android Central Newsletter
Thank you for signing up to Android Central. You will receive a verification email shortly.
There was a problem. Please refresh the page and try again.