Did you remove your Note 10's pre-installed screen protector?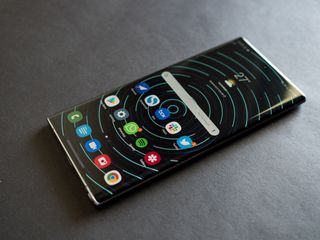 If you've picked up a Galaxy Note 10 or Note 10+, chances are you've noticed something about its display. Yes, it looks incredible, but it also comes with a screen protector that's installed on it right out-of-the-box.
Samsung does this to ensure you can keep the Note 10's screen safe without compromising the in-screen fingerprint sensor, and for a phone that costs as much as the Note 10 does, it's a nice value-add.
However, the protector has picked up some flak for not being the best quality option out there, and as such, has caused some discussion in the AC forums about whether or not people are keeping it on the Note 10.
Now, we want to hear from you. Did you remove your Note 10's pre-installed screen protector?
Get the Android Central Newsletter
Instant access to breaking news, the hottest reviews, great deals and helpful tips.
Joe Maring was a Senior Editor for Android Central between 2017 and 2021. You can reach him on Twitter at @JoeMaring1.
I have the Note 10+, pre-ordered through AT&T, and I tried to leave the factory screen protector on it until the ones I purchased arrived but no go. It started pealing almost immediately. On the 3rd day of ownership I got in my (very hot) car and by the time the AC had cooled things down, it had completely come off. I wouldn't characterize it as a screen protector so much as a shipping protector, something to keep the screen safe while in shipping.

Had mine since two days before the official launch, and it still looks great. I love how thin it is.

Mines working fine after 1 month

I see no reason to remove it, specifically wen I can never apply one so WONT BE REMOVING IT ANY TIME SOON!!!!

Drove me crazy with my sunglasses on (polarized) so I got rid of it. It was ok, would have keep it until is started to scratch or peel otherwise, but it was pretty low quality. Would never buy for a screen protector that cheap.

Yes! Took it off to install a whitestone

Hell yes. No need for screen protectors.

Honestly I didn't know it was on there until it started bubbling up. I thought I damaged the display, and yes I removed it.

Mine shows no bubbles or signs of lifting after 2 months. No reason to toss it yet.

Removed it after about 10 mins ...have a matte one on now until my case comes have a cheap one on the back too would hate it if I got scratches

I received my Note10 + before the shipping date! The factory-installed screen protector is still on. There is no sign of it peeling or lifting off, being right-handed and using the S Pen a lot, one third of the screen on the right hand side is scratched to $h¡t. Every once in a while, it feels like the S Pen picked up something and is scratching it even more. I do plan on replacing it sometime in the near future. I've used the Dome Glass one on my Note8 and love it, but it seems like every time I install one, in about a week or two, I end up destroying the protector, and it's getting quite expensive.