Did you remove the Galaxy S10's screen protector?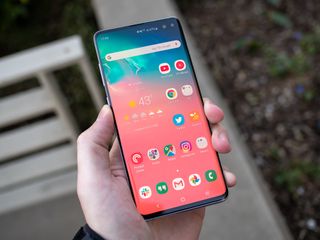 (Image credit: Android Central)
The Galaxy S10 is still one of the best Android phones you can buy right now. It has a gorgeous AMOLED display with an in-screen fingerprint sensor, and on top of it, you'll find a screen protector that's applied for you out the box.
That's a nice touch for folks that want to keep their S10's display free from imperfections of any kind, but the plastic nature of the protector means it's prone to little scratches and marks.
Looking through the AC forums, it looks like people have removed it.
What about you? Did you remove the Galaxy S10's screen protector?
Android Central Newsletter
Get instant access to breaking news, the hottest reviews, great deals and helpful tips
Joe Maring was a Senior Editor for Android Central between 2017 and 2021. You can reach him on Twitter at @JoeMaring1.
I still have it on, but it looks terrible. I'm pulling it off now.

I kept mine on for about a month. Finally could not live with the dark screen when wearing polarized glasses any longer. The screen looks much better without the cover. Being that I always keep my phone in a belt pouch holster do get the issue with pocket scratches that others have. I just give the screen a wipe down with a glasses cloth once in a while to cut down the finger smudges.

This. I thought maybe it was just my s10e compared to the S10. But then I realized I left my screen protector on. About to pull it off for the same reason.

Have had mine on since launch, looks the same as when I bought it. I'm really easy on my phones and usually go without a screen protector. Figured I'd leave it where it is since I barely notice it's there.

Removed mine immediately. I hate screen protectors and never use them on my phones.

I usually go without a screen protector, but left it on since it came pre-applied. I'll remove it eventually; but there's no pressing reason for me to do it right now. I usually carry my phone in my pocket; other than one mark about an in long near one edge, it still looks fine. My only real complaint is the area near the punchhole - occasionally catch my finger there.

My wife left it on but I can see the scratches on it. She doesn't mind so keeps it. I would remove it immediately if I knew the screen underneath had an oleophobic coating. Using a bare screen without any coating is really, really annoying. Fingerprint central.

Fingerprint Central sounds like a new website. 😁

Mine actually came off because it got so much dust under the screen protector. It came off months ago.

I had mine on until I dropped my phone in rocks and damaged the screen protector, so I had to remove it. But I didn't have problems with the pre installed screen protector.

A kid randomly threw a rock in the air and my phone was the landing pad. There are two teeny tiny little indentions in the screen protector. I am DYING to know if it affected the screen, but I do not want to take off the screen protector. How effective would you say the screen protector is on the galaxy s10 (I have a plus)? Did you have any indentions after sropoing your phone? Everyone is telling me I am crazy for being worried about it, but at 1k and after a week of owning it, it's kind of hard to not care!

Hi... that is exactly my concern... it's more about impact I don't care what it looks like and the fingerprint feature is working fine with the stock samsung oleophobic coating (i e plastic...) which may help with some scratching but I doubt will help with any type of impact. So I'm sitting here looking at my Amazon package I just got with the Whitestone Dome glass which I paid $40 for, wondering if I should go through the effort of putting this thing on... and I hope if I go through the effort of putting this on, that it will protect my phone if I drop it face down on a stone! And I will not be happy if it affects the fingerprint access.

I took mine off pretty quickly. Waaaay too slippery. The spigen neoflex is perfect for me

Hi Bob... I quickly looked up Spigen Neo screen protector... looks like it's plastic. I'm not sure but it does it have any impact protection? I know it will stop scratches but I'm more concerned about impact. Also did it affect the fingerprint function?

It was starting to look bad so I took it off... If it wasn't pre-installed, I wouldn't have had one anyway. I hadn't used a screen protector since 2010

I left mine on. 3 months in and it still looks and feels excellent with some minor hair line scratches that would have inevitably marked up my actual screen, had I removed the protector. I wish all new phones came with pre-applied protectors that were as good as this one has been.

I took mine off within the first week, because it was a nightmare trying to unlock my phone. I haven't used a screen protector since, and now my phone unlocks first time!
Android Central Newsletter
Get instant access to breaking news, the hottest reviews, great deals and helpful tips
Thank you for signing up to Android Central. You will receive a verification email shortly.
There was a problem. Please refresh the page and try again.