A Dark Room is free in the Google Play Store and you should check it out!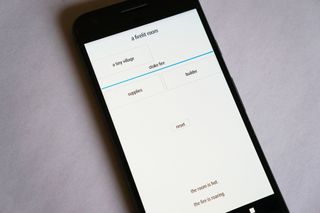 Thanks to Google's 'new' plan to offer some paid apps for free on a weekly basis, you can now get A Dark Room (opens in new tab) for free from the Google Play Store. It's a text-driven adventure game that might seem unassuming or boring when you first start out… but just you wait.
The game starts in a black room, signaled by a black screen. "The room is freezing." You start a fire and suddenly the screen brightens up a bit. "A ragged stranger stumbles through the door and collapses in a corner." Well, it beats being alone in the middle of nowhere.
Your goal is to keep the fire going and collect supplies, as more lost wanderers stumble across your encampment as it slowly grows village. I'll leave it for you to discover from there, since this is one of those games you just need to experience for yourself. I'd compare it to Reigns in terms of its simple gameplay and unique style of storytelling, except solely relying on text and your own imagination.
A Dark Room features no ads, no micro transactions, no permissions and no data usages. It's only available for free for the next 7 days before it jumps back to its regular $.99 price, so don't miss out!
Get the Android Central Newsletter
Instant access to breaking news, the hottest reviews, great deals and helpful tips.
Marc Lagace was an Apps and Games Editor at Android Central between 2016 and 2020. You can reach out to him on Twitter [@spacelagace.
Will they give a free app every week? Thats one thing I liked in the apple AppStore, to bad I hate iOS, I love the iPhone hardware but hate iOS.

The Amazon app store gives away a ton of free apps and games.

After the terrible BB10 and Amazon App Store tryst, just thinking about it makes me shudder. 🤕

I also hate iOS but for me, being tied to iTunes is the worst.

I use an iPhone and I'm not tied to iTunes. Do you have a bunch of media purchases?

I'll certainly check it out for free...That's my favorite price! Thanks for the heads up!

No IAP, no ads, hmmm what there went a bunch of peoples thoughts on what would be offered, now we just need a "AAA" title to quiet the nay-sayers.

Lol, you think anything will quiet people? Ha, that's a good one

I'm surprised this seems to be free outside of the USA. Hopefully it'll continue to be this way.

Been playing it for about 3 hours tonight. I'm having fun with it. It can be a little repetitive, but it is interesting. Go on adventures as often as you can is all I can say. Without giving anything away it makes the game less repetitive.

No one reported that Aralon Sword and Fire, Bloon TD 5, Shadow Blade and Exiles are all free a week or two ago. Motorsport manager is also free until 17 hours from now.

Cheers mate, I've downloaded the Motorsport manager game and told a couple of friends. It would be good if AC would do this every week with news on the free games x

There is actually a dedicated site that tracks on going sales on playstore but yeah it would be nice if AC would just report it so more people can be informed.

...and what would that site be if you don't mind me asking.

Not sure if its okay to post an external link here but here you go playstoresales.com/ To mods: Feel free to remove this comment if it's against your rules.

Is there an app that tracks free apps of the day or of the week?

Yep there is one: https://www.androidcentral.com/e?link=https2F2F... Although this covers everything that is on sale but does have a tab for currently free apps on the playstore. Also have a watchlist feature where you can add an app to your list and the app will notify you when the app goes on sale. Really neat app imo.

Believe it or not I'm Chuffed I was gonna buy this a few weeks ago but forgot and couldn't remember what it was called (came up in recommended and then dissapeared off my list) yay

I gave it a try, but I just can't do it. Uninstalled.