CyanogenMod 11 M10 adds a bunch of new features, loses support for CDMA Galaxy Nexus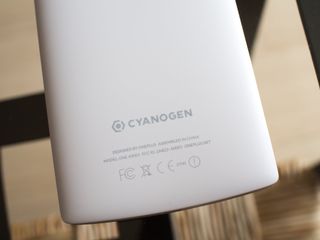 CyanogenMod 11 M10 release is upon us, and is as the case with new builds, M10 features a host of new features that include a new bug tracker, ability to access the last used app by long pressing the recent apps button, a soft reboot option and support for glove mode and smart covers (like this one).
With the M10 release, Sprint's Galaxy S5 is added to the list of compatible devices, while CDMA versions of the Galaxy Nexus (Sprint/toroplus, Verizon/toro) and Motorola's Droid Maxx Dev Edition (obake) are being removed from the device roster. The GSM version of the Galaxy Nexus is unaffected, and will continue to get support from the CyanogenMod team.
Here's the full changelog:
New Devices: Galaxy S5 Sprint (kltespr)
Split out Note 3 into GSM (hlte), Sprint (hltespr) and Verizon (hltevzw)
Refactor moto_msm8960dt as 'ghost' for Moto X 2013
Drop support for obake, toro, toroplus
Theme Engine: Themes support for additional UI elements
Frameworks & Core Apps: CAF and other upstream updates
Settings: Add scramble pin feature
Frameworks: Long press recent apps to switch to last used app
Settings: Add soft reboot option
Add smart cover support
Add glove mode support
Add bug reporter and crash log uploader
Multisim updates
General bug fixes (many many)
ANT+ Support for various hardware
Privacy Guard: Control NFC permissions
The bug tracking feature is interesting, with the CyanogenMod team emphasising that submitting crash reports to CM's servers will not feature any device identification information, and that all such data will be deleted on a monthly basis. In addition to the ability to generate a bug report every time a system system application crashes, you can also choose to manually create bug reports from the developer settings menu.
CyanogenMod users, have you managed to make the switch to the latest release? Share your thoughts regarding the M10 build in the comments.
Source: CyanogenMod blog
Get the Android Central Newsletter
Instant access to breaking news, the hottest reviews, great deals and helpful tips.
Harish Jonnalagadda is a Senior Editor overseeing Asia at Android Central. He leads the site's coverage of Chinese phone brands, contributing to reviews, features, and buying guides. He also writes about storage servers, audio products, and the semiconductor industry. Contact him on Twitter at @chunkynerd.
Why withdraw support for the CDMA Galaxy Nexus and not the GSM version? Posted via Android Central App on the Moto X

I guess they didn't have anyone on the team with that version anymore. M9 works alright on mine though. The nightlies after it are iffy.

No one maintain the device anymore
review.cyanogenmod.org/#/c/72826/

Someone is willing to maintain the GSM version, while no one is willing to maintain the other versions.

Let it die Posted via the Android Central App

This. That device is way past its prime.

It never really had a prime. I had the CDMA GNex, and it was the only Nexus device I didn't like. The GSM version was fine, but the CDMA/LTE version's battery life was a joke. Posted from my Nexus 5, behind seven proxies

Yeah, true. Hell, if it weren't for the extended battery I had for the GSM model, I wouldn't have kept it as long as I did.

Screw you, I own a Galaxy Nexus. I have no money to upgrade anytime soon.

Perhaps you should develop your own version of the software for free in your free time. Posted via Android Central App

No, screw yourself. Just because you still have the device doesn't mean that it's going to be updated forever or that it even deserves to. Be happy that it even received support this long.

I know it's probably not ideal since Paranoid Android has a different custom feature set than CM but in light of this news I switched to PA last week and can't believe I waited as long as I did. It's still fully supported by that team and runs WAY better than anything from CM has for at least the last 9 months. I'd recommend giving it a try. Posted via Android Central App

The device nobody would love

been a LONG time since I heard the words Galaxy nexus Posted via Nexus 7 2013 or Galaxy S5

Does anyone know if this version supports CNAP? That's something I've really missed with the Nexus 5 on Rogers. Posted via Android Central App

I'm running 11s on my optimus g pro.... Its pretty much the best cm I've ever run ...period Posted via the Android Central App

Great, kill support for both my phones. Not sure why I even bought my Maxx developer edition anymore.

It's been 3years for those phones. How long do you want them to support it? When do you think they should move on do bigger and better things? Or should they wait until no one had those devices? Posted via Android Central App

"I want free things forever"-itis

Yep. Hell, probably more than half of the people that bought the GNex and Maxx have moved on to newer phones. There's no benefit in continuing to develop for phones that almost no one has anymore.

No one has the Maxx? It's s one of the current droid phones on sale. Some of you seem to think this was the RAZR Maxx, it isn't. This is the current Droid Maxx.

True. They dropped support for the RAZR Maxx after 10.2 Posted via Android Central App

Oops, sorry. I was thinking about the Razr Maxx.

But the galaxy s2 is also 3 years old and no one is talking about stopping support

The question is how many people still have a galaxy nexus or RAZR maxx vs a galaxy s2. The s2 was far more popular than those 2 combined. Posted via Android Central App

Exactly. I'm sure that they have stats on how many people download CM for each device, and that those stats affect how long they maintain those devices. Posted from my Nexus 5, behind seven proxies

I think it's even simpler than that, no one on the CM team was willing to maintain the toroplus branch anymore (the maintainer had been MIA for quite a while). Posted via Android Central App

Droid Maxx =/= RAZR Maxx, though now neither are supported. Posted via Android Central App

Yeah, and up until last year, Samsung actually refreshed and re-released the S2. Hell, WalMart still carries it for people that want a cheap prepaid Android device.

It's not as easy as clicking a checkbox next to a phone name and waiting for the server to build CM for it. If no developers have the phone and/or are willing to work on it, then no CM gets built. Posted via Android Central App

Hopefully there are some solutions for the vast amount of issues that plagued my gs3 since cm11 came out. Overall love cyanogen when it runs well as it did for me with cm10. So much sleeker to have stock android rather than touchwiz. Posted via Android Central App

+1000 Random reboots and freezes, especially when using Bluetooth, which frequently crashes and crackles and drops audio. But free is free, and stock is worth the sacrifice until the bugs are squashed Posted via Android Central App

+1000 Random reboots and freezes, especially when using Bluetooth, which frequently crashes and crackles and drops audio. But free is free, and stock is worth the sacrifice until the bugs are squashed Posted via Android Central App

I don't know why the m versions are considered more stable. I know they freeze code for a couple of weeks before release, but it always seems to be worse than the nightly that's released a couple days later, at least on my sgs4 (tmo) Posted via Android Central App

So what exactly are these new UI elements supported in the theme engine?? I've been dying to be able to just customize the softkeys without messing with the whole theme. I tried softkey z from the play store but it doesn't work on Mahdi ROM Posted via the Android Central App

Guessing the CDMA GNex losing out is due to that version needing special security stuff that has been a pain since the beginning.

Flashing on my m8 right now, will report back shortly!

Anybody having issues with the wifi button locking up?

Until they fix the Google play music and general music playback, I'm not going back. Posted via the Android Central App

Never had an issue here? Posted via Bacon on CM11S

No issues with Google All Access here on my OPO. Posted via the Android Central App

What issues did you have, and on which device(s)? Posted from my Nexus 5, behind seven proxies

Still no support for the T-Mobile galaxy s5...

It sucks, been waiting a long time!

I have a Verizon Note 2 and I updated to 4.4.2, but I've never rooted my phone prior to that update. My question is will I be able to install Cyanogenmod. I know with the last update they made changes to the bootloader. I know that the Cyanogenmod installer doesn't work for my particular model, but is there a way other than using the installer? >I'm the kind of guy who stops a microwave at one second to feel like a bomb defuser.

Thank God, drop the useless CDMA Verizon. No one wants that, they are happy with the ugly branded bloated Verizon phones. Nexus, unlocked phones is not for useless CDMA carriers like Verizon. Their customers are happy buying the select option of branded phones Verizon "handpicks". Posted via the Android Central App

Thank you for responding on behalf of the Verizon customer base. Millions of people now have a few extra minutes that they can spend doing other things.

I see the sprint s5 is supported, why not the verizon one? Does it have anything to do with Knox or is it a verizon lock? Posted via Android Central App

What about cyanogenmod 11s? Posted via Android Central App on 1+1

I wish someone would find a way to root the LG G Vista. I miss CM and Xposed. Posted via the Android Central App

Can anyone tell why no cm11 m9 for note 2 N7100