CyanogenMod 10.2 stable released, focus going forward is on KitKat-based CM 11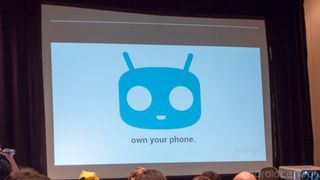 CM 10.2 nightly builds will continue as CM 11 work begins
The latest stable release of CyanogenMod, version 10.2, is now available. While this marks the availability of the custom firmware based on Android 4.3 for dozens of different device, it is also the point where the CM team starts looking forward to KitKat. As is usually the case with big stable releases, active development time will start to focus on CM 11, which will be based on Android 4.4, as fewer and fewer changes need to be made to the 10.2 release.
Also tossed into the announcement of CM 10.2 is the point that CM nightly builds based on ICS (CM 9) will be halted so that newer versions — 10 and higher — can be actively released. Much like the slowing work on the stable version of 10.2, continuing to pump out new nightly builds of older CM branches makes less sense as very few meaningful changes are being consistently made to them.
For now, if you've been waiting for the official "stable" release of CM 10.2 in lieu of using a release candidate or nightly build, now's the time to do so. Downloads of CM 10.2 builds are already starting to be available from CyanogenMod's website at the second source link below. For those who wish to stay on the bleeding edge, CM 10.2 nightlies will continue to roll as CM 11 development moves along as well.
Source: CyanogenMod; CM Downloads
Android Central Newsletter
Get the best of Android Central in in your inbox, every day!
Andrew was an Executive Editor, U.S. at Android Central between 2012 and 2020.
Yes! Bring it on! My LG Optimus G E971 is waiting impatiently. Thanks CyanogenMod!

Congrats guys. I'm loving KitKat on my Moto X. I'm sure you guys will too. Posted via Android Central App

Andrew little typo.. CM 10.x is based on jelly bean 4.x. CM 9 was ICS

Good catch. Mixed my numbers. Thanks!

Root? Posted via Android Central App

Might resurrect my old Epic 4G once CM 11 comes out and throw that on there.

How do I get the cm keyboard on my g2? It's all I used when I had the N4 and now everything else feels weird Posted via Android Central App

CyanogenMod use AOSP keyboard, I don't recommend using the one from CM roms because it lacks the proprietary lib file that Google Keyboard use to allow gesture typing, so it'll simply crash when you try to gesture type. Just download Google Keyboard from the Playstore instead, they're nearly identical. android central app

I'm a declared newbie (so plz dont kill me with insults xD), but what is the difference between CM and stock sammy roms? I mean, why CM is better in your opinion?

There are a few benefits -- CM tends to stay closer to the stock Android interface and doesn't have custom interfaces like Samsung's Touchwiz. They tend to have a clearer product roadmap (like how they say they're pursuing KitKat) and push updates quicker. It also doesn't include unnecessary software (bloatware).

It's a custom rom based on AOSP source (Android Open Source Project), which is also what stock Google firmwares are based on. AOSP is very light and fast, Cyanogenmod add extra features to it and performance tuning. Samsung and other manufactures sometimes take ideas from Cyanogenmod, most noticeably the quick toggles, infact Samsung hired Steve Kondik in the past. Cyanogenmod is open source and many other custom roms base itself or take influences from it whether Paranoid Android fanboys accept it or not. Although there has been controversies in the past on how Cyanogenmod gather codes and treat their developers and causing some to leave the team. You can search something like Cyanogenmod 11 review on YouTube to see how it work. There are lots of other custom roms beside CM, Paranoid Android is probably the second most popular. But I like AOKP the most out of them, the release rate is slower, but tends to be more stable and have some unique features of it's own. android central app

Just installed it on my Vz sg3 and love it so far. This is my first custom rom after rooting a while back. Only thing I have a problem with is the Google search in Google experience launcher doesn't respond to the "google" voice command. Posted via Android Central App

Try "ok Google" Posted via Android Central App

Lol, of course I did... Posted via Android Central App

you need to go to google now, then settings, then language and make sure it is on English (US), not UK. then go to offline speech recognition (4 down from language) and go to the All tab at the top. download English (US). It should be 22 MB. Give it a shot after that.

Thanks man, it worked. Posted via Android Central App

Worked for me also thank you very much...

How to update to the stable version using the cyanogenmod installer? Cuz mine it installed 10.2 111413snapshot on my gs3 d2att.
Android Central Newsletter
Thank you for signing up to Android Central. You will receive a verification email shortly.
There was a problem. Please refresh the page and try again.