Cyanogen recruits Microsoft, HTC, MediaTek veterans for leadership roles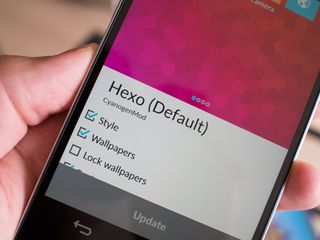 Cyanogen is expanding its leadership role to prepare for the growth of the smartphone market. In doing so, Cyanogen is hiring industry veterans from Microsoft, Xbox, and MediaTek to develop and promote CyanogenMod. . The new leadership team additions were announced in a blog post.
For its VP of Product, Cyanogen has hired Dave Herman, a customer services veteran who had previously worked for Hulu, Amazon, and Microsoft.
Tyler Carpenter, who recently worked as Director of Engineering for smartphone-maker HTC, will be joining as VP of Engineering. Carpenter also previously held a position at Microsoft for Xbox.
And lastly, Vik Natarajan will be serving as VP of Global Partnerships and Distribution. Prior to joining Cyanogen, Natarajan had worked for MediaTek and Broadcom.
Are you excited about the new additions to the leadership team? What features or functionality do you want the team to focus on for CyanogenMod?
Source: Cyanogen
Get the Android Central Newsletter
Instant access to breaking news, the hottest reviews, great deals and helpful tips.
Maybe now they can fix Bluetooth. Inexcusable for this long on the nexus 5. Posted via Android Central App

I tried Cyanogen on two different Samsung phones I owned a Skyrocket and an S3 . Lack of working Bluetooth was why I ended up reverting back to stock.
From the Death Star using my LG G2

I can top that.....I've tried CM on 2 different HTCs and 3 different Samsungs and the experience was nothing but a bug riddled hot mess in each instance. So, no matter what "veterans" in the industry that they might bring on board.....CM will never find its way back onto one of my devices....

Funny I used it on several devices and only really had issues on one, the Samsung vibrant, and that was Samsungs fault for not giving source. Some of these manufacturers don't release all the source thus causing issues. Posted via Android Central App

Seconded. cm is the only reason my gs3 was serviceable. Posted via my tricked out Moto X.

Cm10 is Flawless on a Nexus 4. Nexus 4 - CM10.1.3

I used CM11 on my HTC One M7. Reverted to Sense (a Sense 6 custom ROM) a few months later. Nothing is wrong with it, but it feels barebones, even with the extra features.

it is very bare...like going with a GPe rom

I also lost the IR Blaster and other unique Sense features. Honestly, it doesn't feel like an HTC One anymore. It just felt like a Nexus 5 in the shell of a One.

But isn't that the whole point? A-close-to-stock experience with a few extra bells and whistles?

The only problem i had was with the sim tookit when i had it on my samsung.. The rest if it was amazzing..
This will be able to increase things of it..

It needs compatibility with more phones.

I run CM 11 4.4.4 nightlies on my Note 3, I have no such issues effecting my experiences, I must be lucky. Posted using my CM powered Note 3 via the Android Central App

Loved CM on my Captivate. My S3 on the other hand. It was horrible! Battery would drain at the rate of 10-15% per hour. Camera would FC either after taking a photo or rotating the camera from portrait to landscape. BT worked only once. Likely Samsung fault, but, CM will never be a "stable" or M release for Samsung devices.

So, three senior execs all from notoriously opensource-unfriendly companies. So much for Cyngn's commitment to open source - although anyone who has paid attention to the company's actions (which speak louder than words, especially with Focal) has known that committment wasn't really there from the beginning.