Exclusive first look at Sega's Crazy Taxi City Rush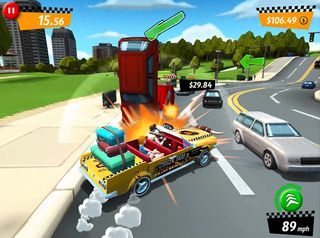 In 1999, Sega released a fast-paced driving game called Crazy Taxi in arcades and on their Sega Dreamcast console. The combination of driving passengers to their destinations, wild and humorous gameplay, and licensed punk music helped Crazy Taxi find a permanent parking spot in many gamers' hearts. Two sequels followed, not to mention a successful Android port of the original game.
Sensing that Crazy Taxi has even more life on mobile, SEGA has just announced a new mobile-exclusive sequel called Crazy Taxi: City Rush. The new game will have everything fans loved about the original, plus a new touch-friendly control scheme and lots of fresh content. We met with SEGA to play an early build of City Rush and came away highly impressed. See our exclusive gameplay footage and interview after the break!
Crazy driving on the go
Crazy Taxi has always been a great game to play in short sessions, making it uniquely suited to mobile play. Just like previous games, the goal in City Rush is to pick up wacky passengers and deliver them to their destination before time runs out. To beat the timer you'll have to drive crazy, soaring over ramps, through the grass, and pulling off stunts like Crazy Drifts, Brakes, and U-turns.
City Rush features four brand new city maps to cruise through, with the promise of new content in the future. Players can now select individual passengers from the map, which breaks the game up better for mobile and provides the opportunity for passengers to have amusing stories. You'll help a business man ditch the rat race and get back to nature, deliver a skater to the ultimate trick spot, take a cheerleader out to find her team's missing quarterback, and other silly missions. The best one so far lets players hop into a tank and smash cars out of the way!
Seeing as how most mobile gamers don't own a physical controller, SEGA has given City Rush a brand new control scheme for touch screens. Players now swipe to the left or right in order to change lands on the road or make turns. This makes it easier to drive in a straight path, but still affords plenty of chances to off-road it and discover the shortest of cuts. That said, it would still be nice of SEGA to offer a more traditional control scheme and controller support for players who crave them.
Social and Free to Play
Crazy Taxi has never been a multiplayer game, but City Rush takes a step in that direction by adding Facebook integration. When browsing the map screens, you'll see your City Rush-playing friends available as passengers. Taxi them around the city or simply compete for the best leaderboard ratings on the story missions.
City Rush will be free to play, with both a soft and hard currency for players to earn through gameplay or purchase. The money you earn from completing missions and performing stunts can be spent on new taxis, car upgrades, and cosmetic features. The upgrades will improve your car's engine, body, power, tires, and provide other bonuses. And the cosmetic features let you add all kinds of paint jobs and decals (not to mention physical decorations like bull horns) to your ride. Dare we hope for Sonic decals?
Coming soon
Balancing an established game for free to play can be difficult – just look at the reception to Dungeon Keeper. But from what we've seen and played so far, Crazy Taxi City Rush adds a lot of longevity to Crazy Taxi without losing the gameplay and attitude that made the original games so special. It will even feature licensed punk music PLUS the ability to import songs and create your own crazy soundtrack.
Crazy Taxi City Rush has soft launched in a few test regions in order for SEGA to collect feedback and fine-tune the gameplay. It will go live worldwide on both Android and iOS sometime between spring and the beginning of summer. In the meantime, SEGA has just made the original Crazy Taxi free for a limited time. Follow the download link at top to grab it and start practicing your crazy driving!
Get the Android Central Newsletter
Instant access to breaking news, the hottest reviews, great deals and helpful tips.