CounterSpy brings back Cold War action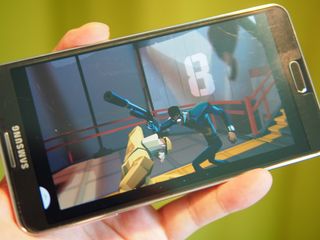 CounterSpy is a new action-packed game that recently launched on Android. The game allows players to link back to their PlayStation systems and brings back some of the spy and espionage action from the Cold War era. The game is also currently discounted to $4.99 to celebrate the launch on Android.
"Stop a crazed superpower from launching deadly nuclear missiles in this action stealth side-scrolling game set during the Cold War," the game's description reads. "As a budding Agent for C.O.U.N.T.E.R, jump into action, stealthily sabotage dastardly plans and deceptively maintain world peace."
The cool thing about the game is that it changes based on what you choose to do: "The game utilizes procedural content generation so missions are always changing to offer something new and challenging."
It links back to CounterSpy on PlayStation 4, PlayStation 3, and PlayStation Vita as well for Sony players.
Are you up to being a spy and relive some of the frenzy of the Cold War?
Get the Android Central Newsletter
Instant access to breaking news, the hottest reviews, great deals and helpful tips.
Played this on my PS4. It's a pretty good game. My biggest complaint is the lack of variety in levels since it's randomly generated. All the levels start to feel the same pretty quickly. Another complaint I have is the amount of money earned from missions. It's not quite enough to keep your current weapons loaded, buy new weapons, and buy formulas in between levels. I guess you could say that just makes the game more challenging and strategic, but I was personally annoyed by the exorbitant prices of ammo compared to the payout in each level. Also, the design of the last level almost completely dumps the stealth aspect by forcing you into lots of big shootouts, which kind of sucks because this game is all about stealth, and health both depletes quickly and is pretty scarce. TL;DR: It's a fun game with some frustrating flaws. I'd recommend it if you're looking for something stealthy and have an hour or two to kill. Posted via Android Central App

Is it worth 5$? Posted via the Android Central App

I've been playing a little bit on iPad. I'd say so.

playing this on PS4 and waiting for the mobile version to come, when i saw this, was so happy, click on play-store and what the hell? it says it does not support LG G3 D855. My mobile is running 4.4.2. https://imageshack.com/i/hlNspTNxp

now i know why, it is not available to Google Australia store. :(

Not in Malaysia too. Don't know why they did not want to release globally. Better try my luck in Apple App Store.

i have pinged the dev on twitter and they told me they will contact PSN asking them why. hopefully we see this available worldwide soon.

Discounted to $5. Even at $5, it's gotta be good for me to pay that. I have no problem paying for apps but I don't waste money either. Posted via Android Central App

Fyi my Canadian Rogers LG G3 is downloading it now Posted via the Android Central App

It really annoy me that this game is 15$ in the psn and 5$ in the play store..... What's the logic in that? Isn't the same game?