CES may be done, but 2013 is shaping up to be an impressive year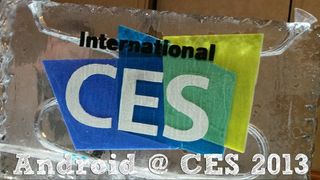 As I sit writing this, the main action at CES is starting to wind down. The Mobile Nations crew are beginning to wrap up a hectic week's coverage, and look to set off on varying length journeys home. I didn't make the trip to Las Vegas. The guys on the frontline need all the support from the homefront we can provide, and if I've helped ease the load in such a hectic week, it's a week well spent. But I sit here reflecting -- I have visited Vegas, so I know reflecting out there must be tough -- on the weeks events. Has it been disappointing? Perhaps, to some, but not to me. After all, cool new stuff being unveiled for us to nerd out on is never disappointing, is it?
No, CES 2013 has been far from disappointing. Having been in a position to see each and every piece of news, every device, every hands on, as it rolled in throughout the week, a bigger picture started emerging. 2013 is shaping up to be a pretty astounding year for Android. Why? I'm glad you asked.
Flash back 12 months to CES 2012. Consider the devices we saw launched there. We saw some stuff from Motorola, who were noticeably absent this year, but also Huawei, LG, Samsung, Acer, Sony, and so on. Sound familiar? There were some nice devices announced for the time, but arguably nothing more bountiful than we saw this year. Then, think on to how the rest of 2012 played out and the devices we saw by the end of the year.
We've speculated before that 2013 will be the year of the 1080p display, and it looks pretty nailed on that it will be. But, a full HD display, while nice, isn't really a reason to get all that excited. These things evolve, right? We've had a while on 720p, so the next natural evolution is 1080p. But stop, step back, and truly take in the devices we have seen this week. Then, you'll possibly understand why 2 weeks into the new year, I'm really, truly excited for the 12 months ahead.
Look at the Sony Xperia Z. It's stunning. Sony finally looks to have struck the balance between beautiful design and construction, killer hardware specifications, and finally look a little more on track in terms of software. 12 months ago at CES they were launching devices on Gingerbread, a full version behind. Traditionally, Sony will have another device launch in the second half of the year -- as with the Xperia T, J and V at IFA -- and this is what they've delivered in January. I'm happy to enjoy the Xperia Z for a while, but my mind can't help but dream about the next generation of Sony devices.
Then look towards the Chinese -- Huawei and ZTE. Compare the Ascend D2 and the Grand S to devices launched by each of them respectively in 2012, and the difference is night and day. Both have massively stepped up to the plate, and are competing on both hardware and software fronts with the more market established OEMs. Even Alcatel. Who ever thought Alcatel would bring a 5 inch, 1080p, quad-core smartphone to market in the same time frame as the likes of Sony? And it's still January. The first two weeks of the year have seen 3 impressive 'flagship' devices from names you may not have expected it from.
Think on too about the CES absentees. Samsung, HTC, Motorola. Ignoring somewhat the HTC Butterfly/Droid DNA which the majority of the world isn't getting, we're yet to see what these three will bring to the table in 2013. Mobile World Congress is only 6 weeks away, just what are we going to see in Barcelona? What exactly is Samsung cooking up for their next top of the line smartphone? And that's without even thinking ahead to Google I/O.
So, just why is 2013 shaping up to be so exciting? Put simply -- because we still have 50 weeks of the year remaining. And we're more than likely going to see some amazing things during that time.
Android Central Newsletter
Get instant access to breaking news, the hottest reviews, great deals and helpful tips
Maybe it's just me, but, every OEM seems to be stepping up their game for this year. I can't recall anytime in the Android world where each company has a great phone, and we still have MWC, plus Google I/O and who knows what HTC and Samsung have hiding! If you're looking for a new phone in 2013, good luck, the choice will be hard to make. Thanks to AC for the great coverage all week from CES =D

Yes Sir, With the Nividia Tegra 4, Qualcomm 600 and 800, and the Exynos 5 Octa all adds up to a record summer in 2013. I will be purchasing the Galaxy Note 3 in October plus might just purchase the Galaxy S4 just because I could.

Don't forget Gorilla Glass 3

No mention of the rumored Motorola X Phone? That's what I'm most excited about.

I'm liking the improvements in build quality. My DNA is almost as nice and solid as my sister's iPhone 5.

Archos really impressed me with their new line of tablets. Good hardware at amazing prices

Cannot wait for mobile world. If CES looked this good...

Too bad there wasn't really much about battery technology.. Great 8 core processors, fantastic displays etc.. But you can't do shit if you are still sticking a 2000 Mah battery in the phone.

I agree to a point. My guess is that OEMs are trying to maximize how much power can be had from a lower mah battery. Adjusting the power draw from the screen and the processor could make a 2000 mah battery last a lot longer than it does currently. However, I can't deny the fact that seeing a larger stock battery does play a major factor in the purchase of a phone, especially considering non-removable batteries. EDIT: I won't lie; seeing the insane battery usage from my GSM Galaxy Nexus makes me wanna throw it against the wall sometimes lol.
Android Central Newsletter
Get instant access to breaking news, the hottest reviews, great deals and helpful tips
Thank you for signing up to Android Central. You will receive a verification email shortly.
There was a problem. Please refresh the page and try again.