Centrallo review: This may be the only list-making app you'll ever need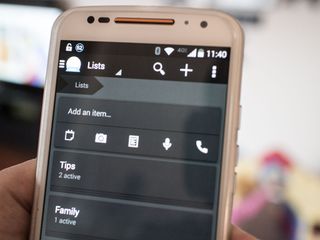 Centrallo is a new productivity app, and if you spend any time making to-do lists I think it will quickly win you over as a fan. While it is designed for making lists, it does a whole lot more as I'll explain. I've been a beta user for the last month, and Centrallo has just come out of public beta today. It's rock solid and you can start enjoying it for free on Android or iOS today.
What problem does Centrallo solve?
People who care about productivity make lists. Quite often I'm happy to just write some texts as an item on a list. But sometimes I need to record an audio memo, or take a picture, or record a movie. I might want to reference a file in the cloud (Dropbox, Google Drive), or a URL from the web. Centrallo makes all of this super easy.
I also need to share my lists with others. I'm in the midst of creating a detailed table of contents for a large project with a business partner. I created one list in Centrallo and shared it with him. My wife created a list of all the "honey do" projects she needs me to take care of at home and shared it with me. My friend described how he used the app to take pictures of a house renovation in progress and share the list with his contractor. Heck, the contractor didn't even need to have the app because this homeowner just used the Centrallo feature to publish the list online.
Publishing a list is ideal when you want to give someone else (or a group of people) read-only access to the list via the web. You hit "publish", and send out the public URL. If you password protect the list then only people with the password can explore the content.
In a nutshell, Centrallo makes it easy to create, organize and share lists of whatever you need. Evernote has been the current gold standard for this type of thing in the past, but I've just never fallen in love with the app. I think it tries to do way too much. And it fails, at least for me, at being a simply way to organize my life.
The moment I started using Centrallo I felt like somebody read my mind and gave me exactly the app I'd always wanted.
User Interface
The interface is very clean. As a list of buttons / icons along the bottom you can select:
Lists - to see all of your lists.
Inbox - to see pending items that you've sent to yourself, or others have sent to you.
The Centrallo icon - a super fast way to add an item to a list with a single click.
Priorities - a quick look at any items you've tagged as a priority.
Settings - for access to everything else
The rest of the screen is dedicated to letting you look at your content, which mostly means you can see your list folders and the list items in those folders.
There is no "new list" button anywhere. Say you want to create a list for your Christmas shopping. You simply start by creating a list item "Christmas shopping". To turn it into a folder you just drag any other item on top of it. Centrallo is smart enough to understand that this means you're nesting one item inside of another. So now you have a list for Christmas shopping and you can add whatever you want inside of that list. It's way faster to make lists and navigate between them in Centrallo than anything else I've used.
The ability to create nested lists is awesome too. There is no limit to how many lists you can have within other lists, so when it comes to sub-lists and sharing of sub-lists, there is infinite flexibility.
I appreciate the little touches too. Notice the demo list I created here for this app review? The items showing just a large empty circle have text only. What's contained inside the circle tells me, at a glance, what kind of multimedia is included.
If you want to see how this looks when published to the web, just click here.I shared the page publicly, and it comes complete with a selfie where I obviously need to drink much more coffee.
The Inbox
To be clear, Centrallo is NOT an email management product whatsoever. But Centrallo lets you forward emails to the app. You can see an example in that list I published above. I just wrote myself a quick email and sent it to my Centrallo email address. From there, it showed up in my app inbox, ready for me to throw into the appropriate list.
You can forward any emails to Centrallo, and the content will automatically be ready to file away in a list. Very convenient!
Cross Platform and Cloud Synchronized
Centrallo already exists for iOS (iPhone and iPad) and Android. BlackBerry is coming soon. But there is also a web version you can login to from any computer, and as I mentioned above, you can publish pages publicly to the web.
It's really nice to know that you can go from phone to tablet to PC and see the same content automatically synchronized.
Pricing
Centrallo is free, but the free plan comes with only 100 MB of storage. You can boost this to 1 GB for $4.99 per month or $44.99 per year.
I've seen a few complaints about the limited free storage … but let's be honest. Unless you maintain lots of multimedia in your lists, the free plan is all you'll ever need. If you happen to be doing a house renovation and need to publish tons of pictures to share with your contractor, consider the $5/month a very minor expense. If you are managing stuff for a living and you really need more space I think $5 is a bargain.
As an individual / small business user, I can't see myself needing more space. I just live with the 80/20 principle in mind. Focus on the 20 percent of stuff that generates me 80 percent of my results and largely ignore the rest.
The Bottom Line
If you make lists as a way to organize data, and especially if you want to share those lists with others, Centrallo is a great free option that I find incredibly well designed and easy to use.
I have two minor items on my wish list for the app:
I don't see a way to kill the public URL of a published list. Once I publish a list I'd like to be able to unpublish that same list.
I think some people enjoy re-arranging the order of items in a list, and I don't see a way to do that with Centrallo right now. The order in which you create list items is the order in which they'll be presented.
Get the Android Central Newsletter
Instant access to breaking news, the hottest reviews, great deals and helpful tips.
Funny how the UI screenshot is of the iOS version. :-)

Yeah I have it installed on my iPhone. It's very similar on Andoid.

How is this better/different than Keep?

What makes it 'different' is fairly well outlined in this article, if you're familiar enough with Keep to be able to make the comparison. What makes it 'better' is a matter of preference, really. If Keep already satisfies you, and if you prefer its minimalist approach to features and options, then it's already the better choice for you.

Wife may like this, might be worth checking out. On that web published list I don't see any way to play the audio file. Was there a file attached? I don't see anything, tried FF Chrome and Opera.

Hmmm yeah the audio doesn't seem to get connected to the published page on the web. I guess no big deal. It works flawlessly in the app.

I like using Google Keep: simple and easy to use.

Yes, it is simple. But it does not address the ability to include multimedia or even detailed text alongside a to do list item. At least not the online version I looked at.

I was interested until you got to the part about not being able to change the order. I keep a pretty bodacious set of lists, and am constantly moving them around based on priority. I'll still check it out, but that sounds like a deal breaker. Anyone who is interested in lists might want to check out "My Life Organized." Plusses are that it has a desktop companion so you can do much of your work there and synchronize with the Android, and it's a pretty comprehensive program. Minus, at least for me, is that it's a little too comprehensive; I only use one little portion (the outliner) of it and the rest is clutter. Still worth looking at.

You CAN tag things as priority, which is nice, but I would like them to add the moving capability. People will want that, as evidenced by your comment.

I can arrange lists by tapping and holding on them.

Sign in thru social media....pass

Nobody is going to force you to sign in that way. I don't.

I was really interested until you got to the last point. Sorting and manual reordering is a foundation capability of any list software. Without that the product is useless.

Todoist is still far better.

Agreed. Though I don't think this app is directly comparable. Wunderlist is a better comparison. Posted via the Android Central App

How does Centrallo compare to Wunderlist? Better or worse? When what you're showing us, it looks like they're pretty much even.

Hey- avid user of productivity apps and I have a couple observations on this. Centrallo allows hierarchical lists in its free version. While Wunderlist allows notes and bullets within a list, Centrallo let's you add lists within lists within lists-- as many as you want. Centrallo also you to attach enriched media to any of these lists (sound clips, links, images, video, etc.) They both have a similar function in that they have a Wunderlist/Centrallo-specified inbox, so you can send something you want to work on later or an item for a list to your Wunderlist / Centrallo inbox and move it to it's appropriate section / list later (with Centrallo, you can move it to any list within list). Hope that helps. Would love to hear other people's thoughts.

Can't reorder a list? Absolute stupidity. Posted via the Android Central App

You can totally reorder any list. Use the sort order drop down. There is a manual option as well.

Hmmm I don't see this in the iOS version. I'll have to check Android version to see if it's a feature that is unique to Android for now.

Google Keep seems to still be better - all the functionality of this app from what I understand, plus some that it lacks like reordering items in a list.

Google Keep does not allow you to drop multimedia into an actual task item. Say you're buiilding a to do list and you want to share it with someone. The item is "fix website header". Google Keep (from my tests) lets you have one text field. Centrallo, on the other hand, lets you put the first line of the text field as the title, and then you can expand upon it just as if it were an Evernote notebook. You can add more text, add audio, add pictures, or whatever ofther detaled explanation you want to share with a designer (in this example). Google Keep looks very basic to me.