With FotoSwipe 3.0, sharing files, pictures, videos (even apps) has never been easier #BYEBYEBLUETOOTH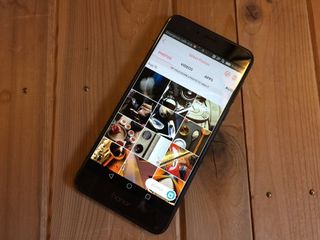 For those of you that have been reading Android Central for a while, you might remember us posting about FotoSwipe way back in 2014 and 2015.
Together, with the help of our awesome community, we helped the FotoSwipe team launch their app in iTunes and Google Play, and we've been super pumped about their progress. Check out some of the wicked new updates!
Okay, back up: What is FotoSwipe anyway?
FotoSwipe is a simple app that lets you share tons of files across multiple devices without any hassle. You can transfer pictures, videos, files, apps, music, WHATEVER!
Better yet, you can transfer files between two iOS devices, an iOS and Android, or two Android devices. It doesn't matter. It just works.
Why should you use it?
With services like Dropbox or a traditional cloud service, you have to upload your files, share the link, and wait a specific amount of time for things to load. That's way too many steps, honestly.
With FotoSwipe, it's as easy as tapping your photo, getting your code, typing it in, and BAM: your photo is downloaded instantly. Also, once you add a device in FotoSwipe, it remembers it forever, making it easy to share files whenever you need!
Some scenarios where you might find FotoSwipe a huge help:
Sharing photos quickly without the need to exchange contact info
Transferring photos between devices quickly at home (from iPhone to Android tablet, for example)
Authorizing a device once and then pushing photos to it (for example, your parents iPad. Authorize it once and easily share family photos with them whenever you like!)
Give it a try and let us know what you think!
FotoSwipe is free to download, and recently pushed version 3.0 to Google Play. Some really great improvements have been made including the ability to send large videos (500MB or more) and apps directly from one device to another.
If you're ready to give it a try, hit the button below to get started!
Download FotoSwipe 3.0 (free) (opens in new tab)
Get the Android Central Newsletter
Instant access to breaking news, the hottest reviews, great deals and helpful tips.
How does this compare to SuperBeam?

i use sendanywhere but wifi direct dont even work..
I am looking for an alternative and hope this have wifi direct

How about share it? It is great and supports almost all platforms. I believe it has wifi direct.

Looks handy. Do iPhones have Bluetooth yet?

Hmmm, good question. I don't think so.

What's the difference with share-it?

I'll have to try this out. My wife and I share pics all the time of the kids. I wonder if they have a W10 version?

I use Xender which is available in Google Play Store. Does all that's mentioned in the article. Transfers files of at least 1.5 GB. That's the largest I've needed to move so far. Simple and effective.

Any good app for doing this on PC?