BlackBerry may begin licensing its Android software to other manufacturers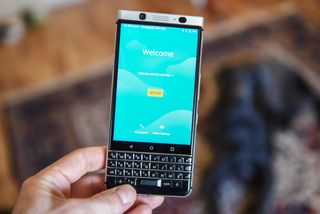 BlackBerry has been on a bit of a resurgence, at least in mindshare, since releasing its first Android phone. It hasn't exactly turned the company's financials around, and it has since licensed its named to TCL in order to shed the cost of developing hardware. That arrangement has TCL design and build the hardware, while BlackBerry maintains the software. It's a good arrangement.
Soon, BlackBerry may have that arrangement with other companies. The Economic Times reports that BlackBerry is in talks with various (unnamed) smartphone manufacturers to license its "BlackBerry Secure" OS — built on top of Android and including the Google Play Store. BlackBerry phones have consistently received monthly security updates at the beginning of each month, but they lag on feature updates for a long time. In addition to smartphones, BlackBerry is also looking towards building an operating system for televisions, wearables and medical devices, as well as Internet-of-Things (IOT) devices as a whole. The arrangement sounds similar to Cyanogen's initial business plan, but hopefully, this would end with better results.
On paper, an arrangement like this would make a lot of sense for BlackBerry. As Microsoft has proven, there is an awful lot of money in software licensing, with very few costs and risks compared to hardware development. BlackBerry already has a similar arrangement for its QNX-based software. QNX has low hardware requirements compared to other operating systems, making it suited for infotainment systems and other embedded systems that typically use older hardware. BlackBerry builds and manages the lower parts of the operating system, while vendors control the user interface. This gives vendors a distinct brand identity while also making sure the system is viable and secure. When we get robust theming control built-in to Android, it's not hard to manage a similar arrangement could work for smartphones that use Blackberry Secure.
BlackBerry has talked about licensing its operating systems before, back when its hardware ran BlackBerry 10. Now that its phones run Android, the risks are much lower.
Would you be interested if your favorite smartphone ran Blackberry Secure? Let us know down below!
Android Central Newsletter
Get instant access to breaking news, the hottest reviews, great deals and helpful tips
I think that all companies are divising ways to make much needed cash, that's not something that is unique to Blackberry. We just witnessed a Note 8 product launch that is designed to bring in much needed cash. Cash is still a much needed commodity. I'd absolutely buy a phone with BB OS if it was a major OEM, HTC, Sammy, LG...it would be nice if one of them could bust out a big old heavy 5"-5.4" brick with the latest internals, ip68, rugged, 5kmah battery, and bezels ❤️ THIS phone MIGHT be worth $960

Would be interested in this

I would love a Note 8 with BBRY security, and its launcher.
That would make the price acceptable to me.

I'd take a Note8 with the BB software keyboard. I miss it from my Z10!

If you search for the software on x d. a you can install it on any of your devices. It works nicely.

I installed it awhile ago, but went back to the Google Keyboard. I'm not sure why, but it just didn't feel as good to me as it did on my Z10. I love that BB made the Hub and Calendar apps available to everyone on Google Play. I just wish that the Hub would also handle messaging for non-email services (e.g. SMS, Slack), rather than kicking you over to their apps. I really miss that feature from BB10.

Agreed... I ported the APK for it from the CB forums last year when I first had the N7, and it wasn't the same. It was slow, and missing things like the emoji options that were available on the native keyboard, so I didn't bother going back after the recall. I stuck with the stock keyboard on my S7E. With this talk of BB licensing software, I hope there's a high end Samsung device one day. I too still miss BB10... it was really the best experience on an all touch device. I wasn't too happy with the Passport after my Z10 died, but it was the only way I could hold on to BB10 and the user experience. Once BB decided to move to Android OS, but mediocre hardware, I felt it was just time to move on because I could still use the HUB and Password Keeper on a higher end device.

I just needed an upgraded Z30!!!
Missing bb10...

I bought my dream phone---Blackberry Passport---Ebay $200. It was GREAT. Then I found that Cricket Wireless --as of June---doesn't support BB10! So I am collecting the Android phones. I have the PRIV and the DKTEK 50. Both very nice. The DTEK 60---pretty pricey still---maybe for Christmas. The camera on the PRIV was underated--I took some softball batting cages shots @ 6PM on it was great. Would love some lower price choices in the $400 range.

I'd definitely be interested. I wondering if it would be BlackBerry software with there hardware name or will it be BlackBerry branded phones. I'm down for either scenario but would prefer BlackBerry branding.

I have the HUB suite and BlackBerry virtual keyboard on my Samsung S7 Edge with Nova Launcher. As a long time BlackBerry user these keep me sane when comparing and using my many BlackBerry 10 devices along side Android. I still prefer BlackBerry 10 and swiping gestures with all touch devices.

I would be very interested. I am using the Blackberry Apps on my S8. Nothing better!

As a long time BlackBerry fan that wants a high-end all-touch device, it would be fantastic if I could pick up an LG V30 running BlackBerry Secure OS. My understanding is this new angle is that manufacturers would still be branding it as their own, but the secured Android (and other BlackBerry apps, potentially) would have a BlackBerry Secure branding as well, sort of like Intel Inside.

I would be all in for this. I dream about it on all my Droid devices

Can you imagine? Your favorite flagship or top smartphone with a "protected by BlackBerry" logo or watermark! I'd love to hear the haters complain...

I would but the blackberry launcher while good needs to be updated. I use the hub and password keeper. Using an S8 Active. Loving it. Miss the splat. Touch Wiz is actually really good as a launcher. Love the swipe up for the apps don't miss the app drawer.

That would be perfect. I would buy a Samsung Galaxy 8S with BlackBerry Android on it.
Android Central Newsletter
Get instant access to breaking news, the hottest reviews, great deals and helpful tips
Thank you for signing up to Android Central. You will receive a verification email shortly.
There was a problem. Please refresh the page and try again.