BlackBerry KEY2 Hands-On by MrMobile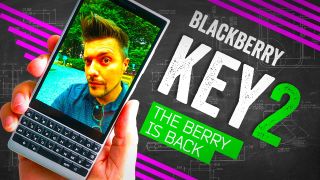 There's no getting around it: I'm a born-again BlackBerry addict. From the first hands-on through the second teaser and then the full review, it was pretty obvious how I felt about the BlackBerry KEYone. I loved it for re-addicting me to the physical keyboard, and I respected it for backing up that halo feature with incredible battery life. At the same time, the KEYone suffered many of the predictable pitfalls of your typical "reboot" product: my device's responsiveness slowed to a crawl shortly after the initial review period, and no amount of replacements or RAM upgrades could correct for that.
The BlackBerry KEY2, announced moments ago, packs a bevy of improvements that should correct for that. There's a newer processor under its textured rubber backplate; refined software riding atop a foundation of Android 8.1; and 50% more RAM than even the top-tier trim of the KEYone. The KEY2 also comes with a revised aluminum design that whittles away a lot of the bulk, making it more pocketable (and positively more pretty) than its predecessor. Best of all, the new BlackBerry's keys have been made 20% taller, and the slick glossy gelcoat has been replaced with a matte finish that evokes the BlackBerry Passport keyboard of years past.
Will those improvements make the BlackBerry KEY2 the next phone to grace your pocket – even at its newer, higher starting price of $649? Get an early look at every angle of the KEY2 in my BlackBerry KEY2 Hands-On – and be sure to check out Android Central's complete coverage so you don't miss the deeper dive!
Stay social, my friends
Get the Android Central Newsletter
Instant access to breaking news, the hottest reviews, great deals and helpful tips.