Best standing desk mats 2022
Here are the best standing desk mats in 2022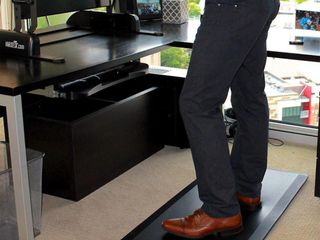 (Image credit: Sky Mats)
For those who work at a computer all day, you probably find yourself sitting for long periods of time. And that sedentary lifestyle isn't good for the body. Some people have invested in standing desks they can use for at least a part of the day to improve blood circulation, relieve or prevent muscle aches and pains, and get you energized. The best standing desk mats can help reduce pressure on your feet, knees, and back as well as improve your posture, and a convenient mat can keep your feet comfortable, too.
Standing while working is good for your health
Why you can trust Android Central Our expert reviewers spend hours testing and comparing products and services so you can choose the best for you. Find out more about how we test.
While you can't expect to stand at your desk for a full eight-hour shift, alternating between sitting and standing is an excellent way to keep the blood flowing, stretch your limbs and core, and get some much-needed relief so you don't end up with achy muscles. A good standing desk can help, especially one that adjusts so you can go from sitting to standing position and alternate throughout the day.
When it comes to the best standing desk mats, the Sky Mats Genius Mat is a great option thanks to the built-in rolling ball that will encourage you to stand for more extended periods since you can run your foot across the soothing ball for a soothing massage. And for those who tend to fidget when they stand, this can also distract your busy feet while you get work done.
For those who like to stay extra active, the FEZIBO Wooden Balance Board is a neat alternative to the basic floor mat that will encourage you to work your body's core muscles while also reducing fatigue. You might not be able to stand for as long as you would on the other mats, but to do this for a short period every day instead of sitting for hours on end can do wonders for your stress, blood circulation, and achy muscles.
If you're outfitting a cool, new home office, you might like the Kangaroo Standing Mat and its multitude of style, color, and size options to suit every office size and personal need. And for those who want to keep the mat tucked away when it isn't in use, the Ergodriven Topo Comfort Mat is convenient thanks to how easy it is to pull it out when you want and push it back in when you're done without having to bend down to grab it.
It's good for your body to get up intermittently while working at a desk to stretch your body and get some exercise. For some of us who can get caught up in work, it's easy to forget to do this. (Guilty as charged!) But having a standing desk and a comfortable mat so you aren't putting strain on your legs and feet while standing on the hardwood floor or harsh carpeting can make a huge difference.
Once you have your standing desk and desk mat ready to go, check out some of our work-from-home hacks to ensure a seamless work experience every day from the comfort of your residence.
Christine Persaud is a freelance writer for Android Central who has been writing about tech since long before the smartphone was even a "thing." When she isn't writing, she's probably working on her latest fitness program, binging a new (or old) TV series, tinkering with tech gadgets, or spending time with her school-aged son. A self-professed TV nerd, lover of red wine, and passionate home cook, she's immersed in tech in every facet of her life. Follow her at @christineTechCA.
Android Central Newsletter
Thank you for signing up to Android Central. You will receive a verification email shortly.
There was a problem. Please refresh the page and try again.