The best new Android games of August 2014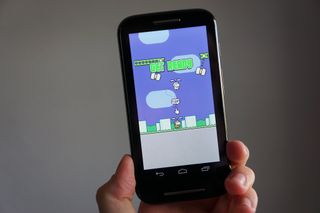 Summer is winding down, but the Android games sure aren't. August saw a ton of really great Android games come to the Google Play Store, including the latest from the creator of Flappy Bird. We've got a few extremely twitchy Android games, and a few for the more casual gamers.
Good to go? Dig in for our top five Android games to hit the Google Play Store in August.
Surgeon Simulator
Surgeon Simulator is a morbidly hilarious game where players have to perform life-saving operations with all the ineptitude that touch input has to offer. Would-be doctors hold their tools with one finger, then tap at the target location with the other. At first it might just seem like there's a lot of random flailing and blood everywhere, but every procedure has a process which you can review in your retro iZap PDA. There's an unhealthy array of surgical tools to learn and master over the course of a lengthy single-player campaign. Surgeon Simulator is available on tablets running Android 4.0.0 and up. No ART support, unfortunately. All in all, Surgeon Simulator is a bloody good time.
Swing Copters
Swing Copters is the latest game from Flappy Bird creator Dong Nguyen. Your goal is to guide a little orange dude with a propellor hat through gaps in girder that, for some reason, have hammers swinging through them. You do this by tapping the screen to make him switch directions before he careens wildly and crashes to the ground. Originally, Swing Copters was just as hard (if not harder) than Flappy Bird, but it has since been updated to be much more accessible.
Unpossible
Unpossible is a fast as hell racing game where players have to steer around a stark tube and avoid incoming obstacles as long as possible. The fluid gameplay and sharp Tron style to the game's visuals are both immediately impressive. The challenge ramps up to Super Hexagon (opens in new tab) levels very quickly. You can also try your hand at new daily challenges, or take it easy in zen mode.
Gluttons for punishment should most definitely pick up Unpossible.
Duet
Duet is a beautifully simple but intense reaction game. Players tap to the left and right of the screen to rotate two orbs, which stay the same distance from one another on a fixed axis while obstacles come flying down from above. Maneuver both orbs through the obstacles without popping either of them, or you'll get sent back to the beginning of the stage.
Pick up Duet for its pensive soundtrack, deep messages about partnership, and huge challenge curve.
Alone
The premise of Alone is simple: drag up and down on a the screen to pilot an escape pod through a deadly gauntlet of galactic debris. You get two levels of shields that can soak up a bit of punishment. Go for as long as possible in order to unlock higher difficulty levels. The controls are razor-sharp. You drag behind the ship to push it up or down (the direction is inverted by default and feels great, but you can flip that in the options). The sensitivity for this is really high, so you're just rolling your thumb on the screen rather than swiping. This is perfect for playing on small screens, but scales up to tablets just as well.
Alone is a modern, fast, and polished endless runner you won't soon forget.
Your favorite new Android games?
Those are the top five Android releases we've spotted in the Google Play Store this month, but hit us up in the comments with the new games you've been getting into. Stick around tomorrow, when we dig into the best non-game apps that came out in August.
Simon has been covering mobile since before the first iPhone came out. After producing news articles, podcasts, review videos, and everything in between, he's now helping industry partners get the word about their latest products. Get in touch with him at simon@futurenet.com.
You're not alone.... Posted via Nexus 7 2013 or Galaxy S5

Though we're far apart...

Stay in my heart..... Posted via the Android Central App

Ack, yes, of course, especially after how much I gushed about it. It was supposed to be in there, I swear.

The updates ruined Swing Copters.

I wanna know how swing copters is one of the best if it sucks. AC App via Nexus 5

yeah it's too easy now, Candy Copter is much better
https://www.androidcentral.com/e?link=https2F2F...

Is is there a game like minecraft pe that supports online multiplayer and is for android? Posted via Android Central App on 1+1

Just like Minecraft PE, Terraria let you do multi-player without coercing you to join a social network. However, it might be too much like Minecraft, if you are looking for something different.
I wish there were more multi-player games like Minecraft and Terraria. Kids enjoy playing against each other a lot, but social networks are not for kids. Only a stupid person and/or an desperate company would merge kid gaming with social networking. Why not just copy what the experts like Nintendo did?

I don't have the time to play minecraft being an adult, but love looking over what people have built, almost like going to a lego showing. Minecraft is great for people to open and express their creativity.

Blockheads is pretty good. 2D Mincraft with multiplayer worlds.

TurboFly HD HTC Desire S»HTC Desire HD»HTC One S»HTC M8 (Naked)

Mini warriors Posted via Android Central App

Mickey Mouse Castle of Illusion is temporarily 99c (usually $10) on the play store. That gets my shout out. It's kind of a side-scroller 3D platformer in the vein of Mario64. It's wonderful, charming, and the graphics are stellar.

one touch draw... ... ( 0ppo F5) ...

Is it just me or is Surgeon Simulator not compatible with Nexus 5..?

Yeahhh why make a list when you can make the suckers load our ads for each game

Super Bomb Noms is a cool multiplayer bomberman style game https://www.androidcentral.com/e?link=https2F2F...

I'm a fan of Colorun
https://www.androidcentral.com/e?link=https2F2F...

Great games! Btw, maybe you would try this one:https://play.google.com/store/...
It's very simple game, but it has a lot of challenges & hardcore levels.
Be careful, it's could be addictive. :)

http://www.1mobile.com/flip-running-2303828.html
Flip Running is from besties games also :D

Tap Jumper:- Checkout this cool simple and very challenging game... very difficult to score yet addicting
Get it on Google Play:
https://www.androidcentral.com/e?link=https2F2F...
Android Central Newsletter
Get the best of Android Central in in your inbox, every day!
Thank you for signing up to Android Central. You will receive a verification email shortly.
There was a problem. Please refresh the page and try again.