The best movies to stream for free with Amazon Prime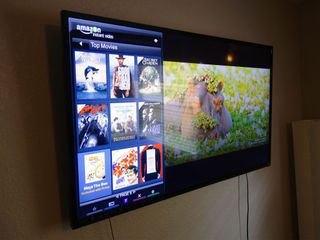 The benefits of signing up for Amazon Prime (opens in new tab) extend beyond the free 2-day shipping, ad-free access to Prime Playlists with over a million songs, and unlimited photo storage in Amazon's Cloud Drive. Prime Video grants you endless streaming of thousands of popular movies and TV shows at no additional cost — many of which aren't available through Hulu or Netflix. If you're currently an Amazon Prime member or are on the fence about signing up, check out these must-see titles that include some classics as well as current films.
Interstellar
Directed by Christopher Nolan, Interstellar is a gripping story of an ex-pilot played by Matthew McConaughey who must leave his family behind on Earth to lead an expedition into space to discover whether mankind has a future on another planet.
Year: 2014
Length: 2 hours, 49 minutes
Rating: PG-13
Watch Interstellar on Amazon Prime (opens in new tab)
Hook
This classic from Steven Spielberg features Peter Pan played by Robin Williams and Dustin Hoffman as Captain Hook. As a middle-aged lawyer and father who can't seem to keep his promises, Peter must revisit his past to rescue his children who were abducted by his old nemesis, Captain Hook.
Year: 1991
Length: 2 hours, 21 minutes
Rating: PG
Watch Hook on Amazon Prime (opens in new tab)
Pulp Fiction
An unforgettable classic from writer and director Quentin Tarantino, Pulp Fiction features a brilliant cast starring John Travolta, Samuel J. Jackson, Bruce Willis, and Uma Thurman. This entertaining and amusing story of a pair of hit men, their boss's wife, and a desperate prizefighter takes you through their "highs and lows" with Tarantino's classic flare.
Year: 1994
Length: 2 hours, 34 minutes
Rating: R
Watch Pulp Fiction on Amazon Prime (opens in new tab)
Planes, Trains and Automobiles
Steve Martin and John Candy share a love/hate relationship in this classic as main character, Neal Page tries to get home to Chicago to spend Thanksgiving with his family when his flight is rerouted to Kansas due to a snowstorm. When he meets the talkative Del Griffith, he can't seem to shake him or his annoying habits as they end up traveling together to reach their intended destination.
Year: 1987
Length: 2 hours, 32 minutes
Rating: R
Watch Planes, Trains and Automobiles on Amazon Prime (opens in new tab)
Fargo
This reality-based crime drama set in snowy Minnesota follows a desperate car salesman who's gotten himself so far in debt that he hires two thugs to kidnap his own wife. His plan to collect the ransom money from his wife's wealthy father falls apart when a state trooper gets caught in middle of their mess.
Year: 1996
Length: 1 hour, 38 minutes
Rating: R
Watch Fargo on Amazon Prime (opens in new tab)
Good Will Hunting
Closet-genius Will Hunting works as a janitor at MIT and decides to solve a graduate-level math problem left for Professor Lambeau's students. When he's finally found out, Lambeau attempts to guide Hunting to reach his true potential, but when Will gets arrested for attacking an officer he must agree to get treatment from therapist Sean Maguire (Robin Williams).
Year: 1998
Length: 2 hours, 6 minutes
Rating: R
Watch Good Will Hunting on Amazon Prime (opens in new tab)
Little Giants
In this feel-good kids classic, Rick Moranis plays a nerdy father whose daughter gets rejected from his brother's (Ed O'Neill) local youth football team. After being convinced to start-up a rival team and to prove himself against his brother, he begins coaching his team of misfits.
Year: 1994
Length: 1 hour, 46 minutes
Rating: PG
Watch Little Giants on Amazon Prime (opens in new tab)
Wolf of Wall Street
Jordan Belfort, played by Leonardo DiCaprio, takes an entry-level job at a Wall Street brokerage firm which ends up closing its doors on his first day as a licensed broker. Belfort decides to start a firm with his own band of brokers and make millions by defrauding wealthy investors, which ends up spiraling out of control in a sea of sex, drugs, and alcohol.
Year: 2013
Length: 2 hours, 59 minutes
Rating: R
Watch Wolf of Wall Street on Amazon Prime (opens in new tab)
Sin City
This gritty film follows the stories of a mysterious salesman and tragic co-dependency, a grizzled cop who ends the ambitions of a child-killer, a vigilante that scours through the criminal underworld in search of his lost love, and an ex-prostitute who evades her former pimp with assistance from her new boyfriend.
Year: 2005
Length: 2 hours, 4 minutes
Rating: R
Watch Sin City on Amazon Prime (opens in new tab)
Braveheart
Braveheart tells the story of legendary Scottish hero, William Wallace, as he rallies the Scottish against the English monarch after suffering a personal loss at the hand of English soldiers. Wallace and his amateur warriors fight for their freedom and show the English that they won't go down without a fight.
Year: 1995
Length: 2 hours, 57 minutes
Rating: R
Watch Braveheart on Amazon Prime (opens in new tab)
What's your favorite movie on Prime Video?
Those are just a handful of some excellent movies available for free with an Amazon Prime subscription (opens in new tab) and there are loads more to choose from in every category. Have a favorite movie on Prime Video that we haven't mentioned here? Let us know in the comments!
Sign up for a free 30-day trial of Amazon Prime (opens in new tab)
Amazon Prime's catalog is very "meh" for me (see how just one movie in this list is a new one and all others are old AF?) . I would add Ex Machina to this list though.

And that is why Amazon Prime Video is a free add-on to your Prime membership instead of a stand-alone paid service.

I haven't found the movie selection to be great but can usually find something to watch. The TV on the other hand we have used a lot. Several HBO series are on there that I always heard about but never had. All of Blue Bloods that cable didn't have on demand was there. Lots of PBS series. Other series: Justified, 24, Orphan Black, The Americans and now all the original Amazon stuff, My teen daughter has watched a lot of TV and movies too both kids stuff and not.

Note of these movies will make paying for Prime worthwhile.

When I tried the 30-day trial of Amazon Prime, we were very underwhelmed with the selection. The problem is that we've seen almost everything that's of interest (and our memory is pretty good), so we only rewatch a few exceptional series / movies - which we own. There aren't many new titles that catch our attention, so the Prime video catalog is pretty boring for us. We burned through Netflix pretty quickly too, but they have outstanding new shows (e.g., Daredevil, Jessica Jones).
Android Central Newsletter
Get the best of Android Central in in your inbox, every day!
Thank you for signing up to Android Central. You will receive a verification email shortly.
There was a problem. Please refresh the page and try again.